« The WTO Biotech Case, Revisited | Home | Battery Recycling? Not in my Backyard! »
By Keith R | March 22, 2007
Topics: Economics & the Environment, Energy & the Environment, Environmental Protection, Marine/Coastal Issues, Protection of the Ozone Layer, Renewable Sources | No Comments »
The United Nations Economic Commission for Latin America and the Caribbean (ECLAC) has just published the latest edition of its annual statistical yearbook for the region. As in recent years, one section covers natural resources and the environment.
If you are seeking a basic set of comparative environmental data for the region, this is not a bad place to start. It has its limitations, though. The data on forest cover, for example, duplicates that of the FAO's 2005 Global Forest Resources Assessment. The data on greenhouse gas emissions is mostly from the 1990s. The data on pesticide and fertilizer use ends at 2001, and thus is the same as ECLAC has published in prior year (why keep publishing the same data, instead of that actually updated since the last edition? Doesn't this duplication consume more resources?). Agricultural and arable land area figures end at 2003. Data on protected areas is only provided for eight nations. Figures on the size of motor vehicle fleets is only provided for 10 nations, with the most recent data missing for half of these (Bolivia, Colombia, El Salvador, Paraguay and the Dominican Republic), and curious omissions such as Argentina and Venezuela.
That said, there are some interesting charts providing some unexpected insights. These include: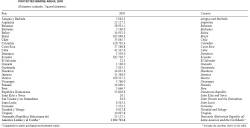 Marine protected areas in 2005 (click table to enlarge). Who has the largest marine areas under protection? If you glanced quickly at your wall map of the region and responded Brazil, you're wrong. Top honors go to Colombia, followed by Ecuador. Which Caribbean island nations have the greatest area designated for protection? Cuba, followed by the Bahamas and then the Dominican Republic.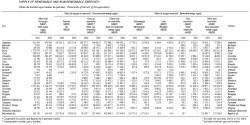 Supply of renewable vs. non-renewable energy as of 2004 (click table to enlarge). Who had the largest supply of renewable energy in 2004 other than hydro-electric and wood? Why, Brazil of course, at 602,013 kBOE. Second place but far, far behind was Mexico at 107,211 kBOE.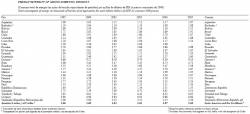 Energy-intensity of gross domestic product (GDP) in 2005 (click table to enlarge). I think the five most intense will surprise you: Guyana, Trinidad and Tobago, Haiti, Suriname and Paraguay.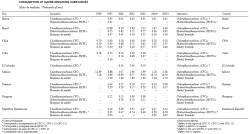 Consumption of ozone-depleting substances (ODS) in 2005. Which LAC nation is consuming the most ODS controlled by the Montreal Protocol? This ECLAC table (click to enlarge) suggests that it is by far Mexico, consuming 2,000 tons of chlorofluorocarbons (CFCs), 14,500 tons of hydroclorofluorocarbons (HCFCs) and 1,700 tons of methyl bromide.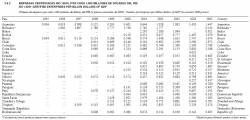 ISO 14001 Certification Intensity in 2005. That's my term for it, anyway. This table (click table to enlarge) measures how many certifications under the International Standards Organization's (ISO) 14001 environmental management standard there are in LAC nations per billion dollars of GDP. Who's tops? Bolivia, followed closely by Brazil, with Chile, Colombia and Costa Rica rounding out the top five.
Tags: agrotoxicos, arable land, áreas protegidas, Bahamas, Bolivia, Brasil, Brazil, CEPAL, certificação, certification, CFCs, Chile, chlorofluorocarbons, clorofluorcarbonos, Colombia, Costa Rica, Cuba, Dominican Republic, ECLAC, Ecuador, energía renovable, energia renovável, energy intensity, FAO, fertilizantes, fertilizers, forest cover, gases de efecto invernadero, greenhouse gases, Guyana, Haiti, HCFCs, hydroclorofluorocarbons, ISO 14001, marine protection areas, methyl bromide, Mexico, Montreal Protocol, ozone depleting substances, Paraguay, pesticides, plaguicidas, protected areas, Protocolo de Montreal, renewable energy, República Dominicana, Suriname, Trinidad and Tobago, vehicle fleet
Subscribe to My Comments Feed
Leave a Reply