« O futuro é hoje! | Home | Dia Sin Auto en Chile »
By Keith R | September 27, 2007
Topics: Design for the Environment (DfE), Economics & the Environment, Environmental Education, Environmental Governance, Environmental Protection, Waste & Recycling | No Comments »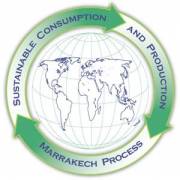 This past April São Paulo State's environment agency, CETESB, hosted Brazil's National Roundtable on Sustainable Sustainable Consumption and Production.
At the end of June the top body of the five-nation MERCOSUR (Argentina, Brazil, Paraguay, Uruguay, Venezuela), the Common Market Council (CMC), adopted a binding Decision calling for an action plan, program and common policy on sustainable production and consumption (SPC), as well as complementary actions and policies by MERCOSUR member states.
Next month (18-19 Oct.) São Paulo will host* a meeting for experts from various Latin America and the Caribbean (LAC) nations on regional cooperation regarding SPC.
What's going on here? Is LAC rushing to adopt the latest environmental policy fad from Europe?
Not quite!
Not Just for Europe Anymore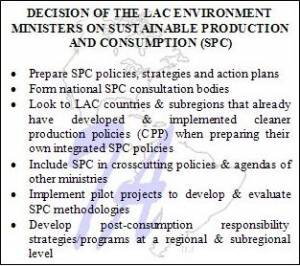 True, work on SCP started among among European nations [EU, UN Economic Commission for Europe (UN-ECE), Nordic Council], the OECD and the UN Environment Programme (UNEP) in the 1990s. However, in 2002 SPC purportedly became a preoccupation of all nations. In that year the World Summit on Sustainable Development (WSSD, also known as "Rio+10") held in Johannesburg, South Africa, committed all UN member states to work on the issue within a framework of meetings and programs that have since become known as the "Marrakech Process."
As part of that process, the LAC nations, prodded by UNEP's regional office for LAC (ROLAC) and the United Nations Department of Economic and Social Affairs (UN-DESA), formed a group of government experts on SPC that have met three times. Latin America also hosted the second global meeting on the Marrakech Process.
In November 2005 the biennial Forum of LAC Environment Ministers adopted a decision on SPC based on the recommendations of the group of government experts (see text box). Among other things, the Ministers called for the development of cleaner production policies (CPP) and post-consumption responsibility strategies/programs at the regional and subregional level.

MERCOSUR Acts
MERCOSUR was ahead of the game. It had already launched a CPP program in 2003 with help from Germany, later supplemented by Japan, the EU and UNEP.
And even as the Forum of LAC Environment Ministers issued its pronouncement on SPC, MERCOSUR was already negotiating a common policy on post-consumption responsibility that it finalized and adopted in Curitiba in March 2006. That policy calls for the Member States (Argentina, Brazil, Paraguay, Uruguay and eventually Venezuela too once its articles of adhesion to MERCOSUR are ratified by Brazil and Paraguay) to harmonize their norms on wastes, starting with a target list: electrical/electronic equipment (WEEE); batteries and piles; used tires; cellular telephones; lamps, thermometers, manometers and other mercury-containing equipment; biocide packaging and expired biocides; used vegetable and mineral oils from households, restaurants and small generators.
Then this past June the CMC adopted a "Policy of Promotion and Cooperation on Sustainable Production and Consumption in MERCOSUR" that the Member States are to incorporate into their national legislation and implement in a coordinated manner through MERCOSUR.
What exactly does the new SPC Policy call for?
Well, at the group level, the policy largely reminds me of that famous line in the movie Casablanca, "Round up the usual suspects!" The policy mostly talks of public-private partnerships, education, awards, research programs, exchange of experiences and information. It does, however, mention common work on "economic and financial instruments" to promote shifts away from unsustainable consumption and production standards.
I might add, though, that the CMC stresses that the list is only illustrative, and can be revised or supplemented. Also, the decision adopting the policy calls for MERCOSUR to ready by no later than July 2008 a plan of action for implementing these measures in a concrete fashion (so stay tuned!).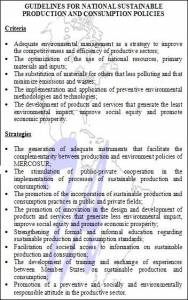 The policy also outlines basic elements Members States should observe in formulating their own SPC policies. These mostly parallel the group instruments envisioned (not surprising, since they are intended to be complementary).
The standout here though (to me, at least), is the stress on promoting "innovation in the design and development of products and services that generate less environment impact, improve social equity and promote economic prosperity." Can you say "eco-design," "sustainable design" or "design for the environment" (DfE)? However, the MERCOSUR leaders possibly neutralize the impact of this provision by forcing governments to promote design that balances environment, social equity and economic prosperity. While fine in theory on paper, how do you implement this in policy and practice in a meaningful fashion?
— Keith R
* The event is to be cohosted by CETESB, Brazil's National Confederation of Industry (CNI), the Federation of Industry of SP State (FIESP), and the Brazilian Chemical Industry Association (ABIQUIM). To view a provisional agenda, click this link.
Tags: ABIQUIM, CETESB, cleaner production, CNI, consumo sostenible, design for the environment, DfE, eco-design, eco-diseño, economic instruments, environmental design, environmental policy, FIESP, Marrakech Process, medio ambiente, meio ambiente, MERCOSUL, MERCOSUR, PNUMA, post-consumer responsibility, producción sostenible, public-private partnerships, Rio+10, ROLAC, São Paulo, sustainable consumption, sustainable design, sustainable production, UNEP, WSSD
Subscribe to My Comments Feed
Leave a Reply