« Electronic Recyclers of America Launches Joint Venture With Azcarraga Family to Recycle Mexican Electronic Waste | Home | What to Expect from WHO's New Director-General »
By Keith R | November 14, 2006
Topics: Climate Change, Energy & the Environment, Environmental Protection | No Comments »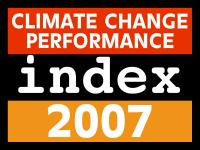 The Climate Action Network – Europe (CAN-Europe) and the German environment research organization, Germanwatch, have just released the 2007 version of their Climate Change Performance Index (CCPI) at the meeting currently underway in Nairobi of the Contracting Parties (CPs) of the United Nations Framework Convention on Climate Change (UNFCCC) and its Kyoto Protocol. Germanwatch first produced the Index earlier this year "to increase the political and societal pressure on those countries that have neglected their homework on climate change up to now." Its newer "2007" version, CAN-Europe and Germanwatch claim, shows the need for urgent and bold action.
The CCPI weighes three factors:
per-capita emission trend in recent years in four economic sectors: energy, transport, residential and industrial.
the absolute, energy-related CO2 emissions of a country.
national and international climate policies of a country.
The list only includes the 56 countries that contribute one percent or more to global carbon dioxide (CO2) emissions and together make up more than 90% of global CO2 emissions. As such, it only includes three Latin American nations: Argentina, Brazil and Mexico. All three fall within the top 16: Argentina at #6, Brazil #8 and Mexico #16.
In case you're wondering, Sweden was #1, and Denmark, the UK and Germany rated higher than the LAC representatives. Argentina and Brazil, however, rated better than France, India, Switzerland, and Belgium, and all three LAC nations fared better than Austria, China, Japan, the Netherlands, South Korea, Canada, Australia and the US.
The 2007 version of the CCPI can be downloaded at this link.
Tags: Alemanha, Alemania, Argentina, Australia, Austria, Belgium, Brazil, cambio climático, CAN-Europe, Canada, China, Climate Change, Denmark, Dinamarca, energy, França, France, Francia, Germanwatch, Germany, Holland, India, Japan, Japão, Japón, Mexico, mudanças climáticas, Netherlands, South Korea, Suiza, Sweden, Switzerland, transport
Subscribe to My Comments Feed
Leave a Reply