« Five Things You Should Know about Me | Home | Parque Nacional do Iguaçu será o primeiro do mundo a receber o ISO 14001 »
By Keith R | January 17, 2007
Topics: Conservation, Environmental Protection, Sustainable Forest Use | No Comments »
In recent weeks there have been several positive stories on the deforestation front in South America. Rather than recast the news, permit me to simply point to reliable sources on the items raised here. I am not at all reluctant to link and to give credit where I think it's due.
Brazil Gets Bold About Conservation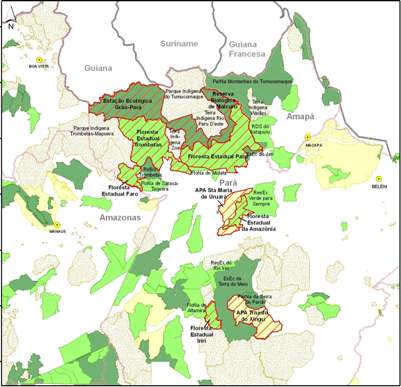 In early December Mongabay (a blog on conservation issues that I am a big fan of) reported about Brazil's decision to create the world's largest protected rainforest reserve in the northern state of Pará. Together with the existing reserves with which they link, the seven new protected areas created by decree from the state governor form a conservation zone bigger than England — 15 million hectares (57,915 square miles). Much of the territory chosen for protection was defined with the help of Conservation International (CI) and Brazil's Amazon Institute of Man and the Environment (Instituto do Homen e Meio Ambiente da Amazônia – Imazon).
Last Friday (12 Jan.), the federal government's Protected Areas Program of the Amazon (Programa Áreas Protegidas e Apoio – ARPA) reported that by the end of 2006 it had already surpassed its stated goal for 2007 of creating up to 18 million hectares of protected areas. ARPA says that it wants to place another 19.5 million hectares under protection, as national parks, biological reserves or "ecological stations" by 2009. ARPA is administered by the Brazilian Institute of the Environment and Natural Resources (IBAMA) with help from the World Bank, Global Environment Facility (GEF), WWF and the German technical cooperation agency GTZ.
Paraguay Extends Protection
With the arrival of the New Year, Mongabay reported that Paraguay has extended its so-called "zero deforestation" law that blocks farmers from clearing land in Eastern Paraguay's Atlantic Forest zone. Mongabay reports that WWF claims that the law has cut the annual deforestation rate to one-tenth its former pace, while still allowing local soybean production to increase.
Then last Friday (12 Jan.) the BBC reported that the UK-based charity World Land Trust has bought a huge section of Paraguay's portion of the world's largest wetlands, known as the Pantanal. [Paraguay shares the Pantanal with Bolivia and Brazil.] The very biodiverse Pantanal is currently under threat from deforestation. The Sid Templer Reserve is currently 3,600 hectares (about10,000 acres), but the Trust hopes to nearly triple it to 10,000 hectares. The Reserve is managed by a Paraguayan bird life charity.
Tags: áreas protegidas, ARPA, Atlantic Forest, BBC, Brasil, Brazil, Conservation International, deforestación, deforestation, desmatamento, GEF, GTZ, IBAMA, Imazon, Mongabay, Pantanal, Pará, Paraguay, protected areas, rainforest, Sid Templer Reserve, World Bank, World Land Trust, WWF
Subscribe to My Comments Feed
Leave a Reply