« Checking on the Green Protocol | Home | A Scorecard for Sustainable Palm Oil »
By Keith R | May 13, 2009
Topics: Environmental Protection, Extractive Sectors | No Comments »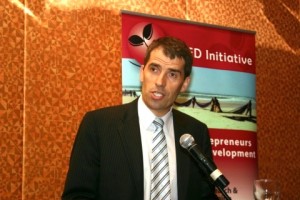 This year's recipients of the SEED Awards were announced yesterday by the SEED Initiative at a reception linked to this year's session of the United Nations Commission on Sustainable Development (CSD), and several of the recipients were from Latin America.
What is the SEED Award and who is the SEED Initiative? you ask.  The Initiative was founded in 2002 by two UN organs, the UN Development Programme (UNDP) and the UN Environment Programme (UNEP), and the World Conservation Union (IUCN) to contribute to achieving the UN's Millennium Development Goals and commitments made at the World Summit on Sustainable Development (Rio+10).  Since then the governments of Germany, India, the Netherlands, Norway, South Africa, Spain, Sweden, UK and US have joined the Initiative.  Each year the Initiative hands out awards to those projects that an international panel of judges finds to best represent innovation in local, environmentally responsible and sustainable entrepreneurship.
As they put it:
The SEED Awards are distinctive in the growing field of environment and development awards in that they identify, profile and support promising, locally-driven, start-up enterprises working in partnership in developing countries to improve livelihoods, tackle poverty, and manage natural resources sustainably.
Rather than a traditional monetary prize, applicants compete for a individualized package of capacity development that will help the winners to grow their business idea and establish lasting partnerships across sectors.
Of the 20 projects worldwide receiving the Award in 2009 out of 1140 submissions, six recipients are from Latin America — three from Brazil, two from Colombia, and one from Panama.  They are:
Brazil: "One Million Cistern Program (P1MC)". Local NGOs and local community associations have joined forces with the national government and international agencies to develop and build one million home cisterns to collect and store rain water in the semi-arid region, bringing access to potable water for poor rural families.
Brazil: "The sustainable use of Amazonian seeds". Regional development in the Brazilian Amazon is the aim of the partners, achieved by encouraging the organization of the local communities as a co-operative, and by transferring technologies and training the community in the production of oils made from Amazonian seeds, resulting in increased incomes for these communities.
Brazil: "Eco-Amazon Piabas of Rio Negro". A national NGO, a cooperative of small producers and public authorities are working together to build a niche market of specialty ornamental fishes and to introduce a fair trade system through socio-environmentally responsible fishing.
Colombia: "Oro Verde® – Facilitating market access for artisan miners". A national NGO and local community associations are engaged in an initiative to reverse environmental degradation and social exclusion produced by illegal and uncontrolled mechanized mining. A mining certification process and capacity building program have been created created. More than 1000 artisan mines are now following social and environmental criteria.
Colombia: "Camarones Sostenibles del Golfo de Morrosquillo". The partners of this project are a community-based organization, a local NGO and a small business which are aiming to establish an cooperative enterprise that includes families of traditional fishermen in the Morrosquillo Gulf, farming shrimp in a way which produces zero emissions.
Panama: "Planting Empowerment". An initiative involving a small business in partnership with a community-based organization and an international agency that is leveraging private capital to increase conservation and provide sustainable livelihood opportunities to the local population while improving natural resource conservation in fragile environmental areas.
Tags: agua potável, Alemania, Amazon, artisan mines, Brasil, Brazil, camarones, cisterns, Colombia, comercio justo, conservación, Conservation, CSD, España, fair trade, Germany, Golfo de Morrosquillo, Holanda, India, IUCN, Johannesburg Summit, MDGs, minería, mining, Netherlands, Noruega, Norway, ornamental fish, Oro Verde, P1MC, Panama, PNUD, PNUMA, potable water, poverty, rainwater collection, Rio Negro, Rio+10, SEED awards, SEED Initiative, seeds, shrimp, South Africa, Spain, Sudáfrica, technology transfer, UK, UNDP, UNEP
Subscribe to My Comments Feed
Leave a Reply