« IDB Creates Clean Energy Markets Cluster / BID crea conglomerado de actividades para promover mercados de energía limpia | Home | OAS Examines Climate Change Mitigation and Adaptation in the Caribbean »
By Keith R | January 20, 2007
Topics: Biofuels, Biotechnology, Environmental Protection, Sustainable Agriculture | 2 Comments »
The International Service for the Acquisition of Agri-biotech Applications (ISAAA) just released its annual "brief" on growth of genetically engineered crops ("biotech crops") worldwide, covering 2006. While the full report must be purchased, the executive summary is quite detailed and is available for download in several languages, including English, Spanish and Portuguese.
Among other things, the report for 2006 shows that seven of the top 22 biotech crop-growing countries are Latin American, and of the 14 "biotech mega-countries" (those growing 50,000 hectares or more of biotech crops), five are Latin American.
ISAAA is a not-for-profit organization created in the 1990s with the intention of transferring and delivering "appropriate biotechnology applications" to developing countries in the name of alleviating poverty, increasing crop production and income generation for resource-poor farmers while protecting the environment and promoting sustainable agricultural development. Donors include aid agencies such as USAID, DANIDA, GTZ and SIDA, private foundations such as the McKnight and Rockefeller Foundations, corporations such as Bayer CropScience, Cargill, Monsanto, Nestle, Novartis, Pioneer Hi-Bred and Syngenta, and the UN Environment Programme (UNEP). ISAAA's Americas Center is located at Cornell University in Ithaca, New York.
Highlights Relevant to Latin America and the Caribbean (LAC)
Global Context:
13% annual growth in area devoted to biotech crop growing
102 million hectares (252 million acres) planted globally in 2006, the first year the total figure exceeded 100 million
10.3 million farmers worldwide planted biotech crops, the first year the figure has exceeded 10 million (only 8.5 million planted in 2005)
Of the 10.3 million farmers, 90% were small, resource-poor farmers in developing countries.
Since 1996 51 countries have granted regulatory approvals for biotech crop imports for food and feed use and for deliberate release into the environment. Among the list of top approvers, only one is from LAC (Mexico). A total 539 approvals have been granted for 107 events for 21 crops. Genetically engineered maize is the most approved event (35), followed by cotton (19), canola (14) and soybean (7).
Of the 14 biotech "mega" growing countries (planting over 50,000 hectares), five are from LAC: Argentina (ranked #2 globally), Brazil (#3), Paraguay (#7), Uruguay (#9)and Mexico (#13). Among the other eight biotech crop growing countries, two are from LAC: Colombia (#15) and Honduras (#18).
While the US and India were first and second in terms of greatest new acreage planted with biotech crops, Brazil was third (with 2.1 million new hectares in 2006) and Argentina tied for fourth with South Africa (at 0.9 million new hectares apiece).
Since the start of commercialization of biotech crops in 1996, herbicide tolerance has been the dominant trait, at 68% of global biotech crops (principally soybean, maize, canola, cotton and alfalfa), followed by insect resistance (19%, mostly Bt crops) and stacked genes (13%) for the two traits. Stacked-trait products is the fastest-growing category.
The brief also tries to make the case for use of biotech crops helping reduce agriculture's contribution to global climate change, arguing three main points:
First, permanent savings in carbon dioxide emissions through reduced use of fossil-based fuels, associated with fewer insecticide and herbicide sprays; in 2005 this was an estimated saving of 962 million kg of carbon dioxide (CO2), equivalent to reducing the number of cars on the roads by 0.43 million. Secondly, conservation tillage (need for less or no ploughing with herbicide tolerant biotech crops) for biotech food, feed and fiber crops, led to an additional soil carbon sequestration equivalent in 2005 to 8,053 million kg of CO2, or removing 3.6 million cars off the road. Thus, in 2005 the combined permanent and additional savings through sequestration was equivalent to a saving of 9,000 million kg of CO2 or removing 4 million cars from the road. Thirdly, in the future, cultivation of a significant additional area of biotech-based energy crops to produce ethanol and biodiesel will, on the one-hand, substitute for fossil fuels and on the other, will recycle and sequester carbon. Recent research indicates that biofuels could result in net savings of 65% in energy resource depletion. Given that energy crops will likely occupy a significant additional crop hectarage in the future, the contribution of biotech-based energy crops to climate change could be significant.
[Perhaps it is just me, but this reckoning seems a bit of a stretch. I'd welcome the input of others who spend more time on climate change as to the validity of these arguments.]
The brief also argues that biotech will contribute significantly to biofuels production over the next decade, and that this should be done in such a way that it primarily benefits poor farmers in developing nations:
Biofuels should not only benefit the national economy of a developing country but also benefit the poorest people in the country, who are mainly in the rural areas, most of whom are small resource-poor subsistence farmers and the landless rural labor who are entirely dependent on agriculture and forestry for their livelihoods.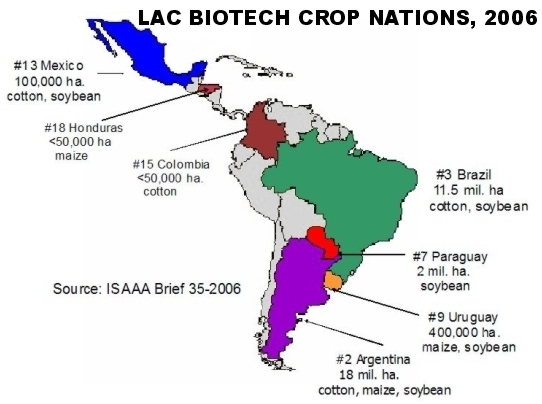 Tags: alfalfa, Argentina, Bayer CropScience, biodiesel, biotech crops, Biotechnology, biotecnologia, Brazil, cambio climático, canola, carbon sequestration, Cargill, Climate Change, Colombia, cotton, DANIDA, ethanol, GTZ, herbicide tolerant, herbicides, Honduras, insect resistance, insecticides, ISAAA, maize, McKnight Foundation, Mexico, Monsanto, Nestle, Novartis, Paraguai, Paraguay, Pioneer Hi-Bred, Rockefeller Foundation, SIDA, soja, soya, soybean, stacked genes, stacked-trait, Syngenta, UNEP, Uruguai, Uruguay, USAID
2 Responses to "LAC Use of Biotech Crops Grew in 2006"
Matt Says:
January 21st, 2007 at 4:21

A useful summary on what we call here in the UK, 'GMOs' – genetically modified organisms. Suspected that the US would still be pushing their GMO technology but didn't know they were concentrating so much on poor farmers, who will take anyone's money/technology. This is an incredibly cynical approach!

Keith R Says:
January 21st, 2007 at 12:45

Matt, I'm glad you found the summary useful – that was my goal. Welcome to The Temas Blog, I hope you return and comment often. I've long liked and linked your blog, as I too believe in discussion of the issues.

I would not be so quick to label it as the just US pushing its technology — let's recall that one of the biggest biotech crop firms is Syngenta, the result of a merger of elements of European firms — Astra (Sweden), Zeneca (UK) and Novartis (Switzerland), and the CEO is British. Bayer, also a biotech player, is a German firm.

I also caution about labeling ISAAA as a "front for biotech companies" (as you did on your blog) without looking into them more (I confess my knowledge of them is sketchy). "True believers in biotech" and its potential, yes, unquestionably. But I have met plenty of well-meaning people who are strong believers in modern biotech who are not fronts or lackeys of biotech companies per se. Part of my hesitation is the participation in ISAAA of such entities as DANIDA and SIDA, who in the past often have been accused of working against corporate interests rather than serving as the allies and supporters of corporate "fronts." I would also note that another ISAAA supporter, the Rockefeller Foundation, in recent years has been a primary funder of international projects exploring alternatives to the current biotech patent system that would favor the poor farmer.

Best Regards,
Keith
Leave a Reply