« Ecomoto Comes to Colombia | Home | Corfo Helps 53 Renewable Energy Projects in Chile / Corfo apoya 53 proyectos de energía renovable en Chile »
By Keith R | September 25, 2007
Topics: Biofuels, Energy & the Environment, Environmental Protection, Sustainable Transport | No Comments »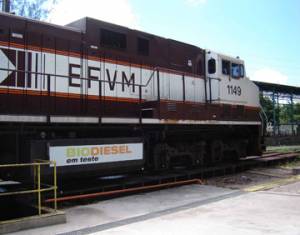 Last May the Doce River Valley Company (Companhia Vale do Rio Doce – CVRD) announced plans to use biofuels in its locomotives. I knew that was economically significant news, since in addition to being the world's second largest mining company, CVRD is Brazil's largest logistics operator, owning three railroads — Estrada de Ferro Carajás (EFC), Estrada de Ferro Vitória a Minas (EFVM) and Ferrovia Centro-Atlântica (FCA). By committing to biodiesel for its locomotives, CVRD committed a large chunk of Brazil's railroad network to biodiesel (EFVM alone handles 40% of Brazil's freight rail business) and guaranteed significant steady market demand for biodiesel producers.
But was it necessarily good news for the environment? Not sure of the answer, I decided at the time to hold off blogging about it.
Now comes the news that a well-respected engineering research institute in Rio de Janeiro, COPPE, has been checking CVRD's test runs on powering train locomotives with 20% biodiesel in the fuel mix (B20). The tests compared two locomotives running the same 119 km circuit over the course of 12 months, one utilizing common diesel, the other B20. Both carried a cargo weighing 1.8 million metric tons. During the test period 1.7 million liters of mineral diesel and 119,000 liters of palm (dendê) oil were consumed.
The researchers found that using B20 reduced the locomotive's emissions of unburnt hydrocarbons by 32% and its sulphur dioxide (SO2) emissions (one of those responsible for acid rain) by 30%. All this while providing better lubrication, no notable wear on the components in contact with the fuel, and never more than a 0.87% drop in power when accelerating.
As for the carbon footprint, COPPE calculates that using B20 in a locomotive over a year would reduce CO2 emissions by about 209,180 metric tons (Mt), which could rise to as much as one million Mt if the locomotives uses 100% biodiesel sourced from 30 thousand hectares of oil palms grown on degraded land in the Amazon, with the residual biomass (co-generation) and liquid effluent (biogas) also utilized. Using palm oil would also have the additional benefits, argues COPPE, of generating Amazonian employment outside of deforestation. [Temas Observation: I would like to know if this calculation is based on actual existing sources for the biodiesel that CVRD is using, or is it just a hypothetical. I also have to wonder how deep the analysis was of the full environmental impacts of utilizing palm oil grown in the Amazon as a source for the biodiesel.]
CVRD hopes that the use of biodiesel will also earn it carbon credits. Assuming a value of about US$10 per metric ton CO2e, using B20 would yield CVRD a US$2.1 million credit, using 100% biodiesel would get around US$10 million a year.
_____________________________________
Desde o Instituto Alberto Luiz Coimbra de Pós-Graduação e Pesquisa de Engenharia (COPPE):
COPPE testa e aprova uso de 20% de biodiesel em locomotivas da Vale

Com base nos resultados de testes feitos por pesquisadores da COPPE, a Companhia Vale do Rio Doce passará a utilizar biodiesel em suas locomotivas. Durante doze meses os pesquisadores acompanharam o desempenho de duas locomotivas da empresa que percorreram 119 mil km: uma delas usou diesel comum e a outra uma composição de 20% de biodiesel (B20) e 80% de diesel mineral. Os pesquisadores concluíram que a substituição deste 1/5 de combustível, associada à plantação de cerca de 30 mil hectares de espécies oleaginosas, como o dendê, possibilitará a redução total de emissão em torno de 800 mil a 1,1 milhão de toneladas de CO2 na atmosfera.

Segundo o professor Marcos Freitas, da COPPE, responsável pela coordenação do projeto, simplesmente substituir 20% de diesel por biodiesel não resultaria numa redução de emissão de gases significativa. Com esse percentual, seriam abatidos apenas 1/5 do total, ou seja, 209.180 toneladas de emissão de CO2. "A redução mais significativa ocorrerá devido ao plantio dos 30 mil hectares de palma (dendê) em terra degradada da Amazônia, o que pode gerar uma grande quantidade de empregos e renda fora das atividades do desmatamento, além de poder usar toda a biomassa residual (cogeração) e o efluente liquido (biogás)", diz o professor. Marcos explica que a planta captura o gás carbônico da atmosfera, possibilitando à redução de 100% do CO2 emitido. Assim, ao associar o uso do biodiesel ao plantio da oleaginosa, a empresa poderá anular o efeito de aproximadamente 1 milhão de toneladas que serão emitidas pelas locomotivas da Vale ao percorrer anualmente milhares de quilômetros, em ferrovias na Amazônia e em outras áreas do país.

A pesquisa realizada e coordenada pelo Instituto Virtual Internacional de Mudanças Globais (IVIG) da COPPE, que reuniu oito professores e pesquisadores dos Programas de Planejamento Energético e Engenharia de Transporte, e dos Laboratórios de Análises Químicas (LAQ) e de Máquinas Térmicas (LMT), levou 12 meses, e constatou que a substituição de 20% do diesel pelo biodiesel propiciou maior redução na emissão de outros gases poluentes, como os Hidrocarbonetos (HC), na ordem de 32%, e Dióxido de Enxofre (SO2) – um dos responsáveis pela chuva ácida-, em torno de 30%. O estudo concluiu que, além de benefícios ambientais, o biodiesel apresentou outras vantagens: o motor da locomotiva teve bom desempenho, apresentando perda máxima de 0,87% de potência durante a aceleração em alguns pontos do percurso; não houve alteração na durabilidade dos componentes em contato com o B20; a lubricidade do biodiesel, superior a do diesel, proporcionou menor desgaste na bomba injetora do trem.

O projeto também poderá gerar benefícios financeiros com o aquecimento do mercado de crédito de carbono, cuja cotação é de US$ 10,00 por tonelada. Marcos diz que com este valor, a Vale do Rio Doce poderá captar US$ 2,1 milhões, devido à redução das 209 mil toneladas de CO2, a partir do uso do B20, somente considerada a fase de substituição do diesel, e até US$ 10 milhões/ano caso seja considerado a contribuição para o desmatamento da Amazônia e o uso da biomassa residual e efluente líquido.

No período de teste, as duas locomotivas transportaram uma carga total de 1,8 milhões de toneladas e, ao todo, foram consumidos 1,7 milhões de litros de diesel mineral e 119 mil litros de biodiesel de dendê. Também foram realizados testes de laboratório levando-se em conta o uso de 100% de biodiesel.
Tags: Amazon, B20, biodiesel, Biofuels, biogas, biomasa, biomass, biomassa, Brasil, Brazil, carbon credits, carbon footprint, co-generation, cogeneração, COPPE, CVRD, deforestation, desmatamento, EFVM, freight rail, hidrocarbonetos, locomotivas, locomotives, palm oil, SO2
Subscribe to My Comments Feed
Leave a Reply