« Do Travelers Really Want to Minimize/Offset Their Eco-Impacts? | Home | Cidadania Ambiental »
By Keith R | September 20, 2007
Topics: Environmental Governance, Environmental Protection, Government Accountability | No Comments »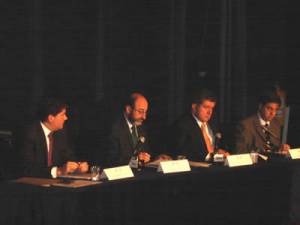 Synopsis in English: Last month Colombia's Environment Minister, Juan Lozano Ramírez, signed a Standard Internal Control Model (MECI) agreement between his Ministry (MAVDT) and the Comptroller General to signal his intention to have the Ministry utilize internal controls and audits to ensure proper handling of the resources under its purview.
He took the occasion to publicly call upon the numerous "autonomous regional corporations" (Corporaciones Autónomas Regionales – CARs) to implement internal control systems, review procedures, apply quality control management norms and generally operate in an accountable and transparent manner in order to avoid corruption and inefficient management. [While MAVDT makes and broadly oversees environmental policy, the CARs actually implement and enforce it on the ground.] He singled out two CARs — CARDER and Corpocaldas — as role models for the others to emulate.
Temas Observation: I like this move by Lozano. Environment officials in many Latin American and Caribbean (LAC) nations frequently give lip service to accountability and transparency, but do not put the machinery in place to actually implement and enforce it. Calling upon the CARs to follow the example of the Ministry and two of their peers hopefully will spur many to take the necessary steps. Having been married many years to an internal auditor/internal controls officer, I have no illusions that procedures and audits alone will be enough to minimize corruption and maximize efficiency and transparency. Much depends on the strong, clear and unwavering support of top management, the diligence and tenacity of the auditors, and the willingness of top officers to implement auditors' recommendations in spite of any political discomfort they might cause in doing so. All of which is asking a lot in any government (even in North America or Europe), much less than a LAC government. But it can be done, and Lozano has put Colombia's environmental institutions on that road.
______________________________
Desde el Ministerio de Ambiente, Vivienda y Desarrollo Territorial (MAVDT):
MINAMBIENTE PIDE A CORPORACIONES AUTÓNOMAS EFICIENCIA EN EL MANEJO DE SUS RECURSOS

El ministro de Ambiente, Vivienda y Desarrollo Territorial, Juan Lozano Ramírez, hizo un llamado hoy a todos los directores de las Corporaciones Autónomas Regionales del país para que manejen de manera eficiente y con total transparencia los recursos destinados a la gestión ambiental.

"El Ministerio le pide a todos los directores que implementen sus sistemas de control interno, que revisen sus procedimientos, que apliquen las normas de gestión de calidad, de manera que los recursos para la gestión ambiental no se desvíen ni en corrupción ni en desgreño, ni en ineficiencia", manifestó.

Durante la firma del convenio Modelo Estándar de Control Interno (MECI) entre el Ministerio y la Contraloría, se presentó el balance del desempeño de las instituciones del sector ambiental.

De acuerdo con la evaluación, el Ministerio de Ambiente y Vivienda presenta un muy buen desempeño, sobresaliendo con adecuados sistemas de control en la ejecución de sus recursos.

Entre las corporaciones la que obtuvo el mejor desempeño fue la Corporación Autónoma Regional de Risaralda (CARDER) y el menor la Corporación Autónoma Regional de Caldas (Corpocaldas).

El titular de la cartera señaló que los directores de estas entidades ambientales están obligados a tomar los correctivos y propender por la absoluta eficiencia.

"Es indispensable que se tomen todas las medidas para que los recursos del medio ambiente vayan efectivamente a la protección de nuestro entorno, de nuestro país y de nuestro planeta", manifestó.

Las corporaciones que presentaron un muy buen desempeño tienen que servir de ejemplo a sus colegas y a las otras instituciones, puntualizó Lozano Ramírez.
Tags: accountability, CARDER, Colombia, comptroller general, Corpocaldas, Juan Lozano, MAVDT, transparencia, transparency
Subscribe to My Comments Feed
Leave a Reply