« Funding Expansion of São Paulo's Water/Sanitation Services | Home | Estimating Climate Change's Probable Economic Impacts on Central America »
By Keith R | June 2, 2008
Topics: Conservation, Environmental Protection, Marine/Coastal Issues, Renewable Sources, Water Issues | No Comments »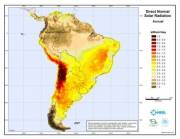 In a prior post on the Temas library of Latin American and Caribbean (LAC) legal texts for download, I promised to highlight other changes and additions to the updated site.
The biggest addition to the site has been the Temas Tools Section, a collection of references and tools that help in understanding, shaping and managing policy in Latin America and the Caribbean (LAC) regarding consumer protection, environmental protection, health and safety..
One of the most popular posts on The Temas Blog is the collection of solar and wind potential maps. The updated main site now includes standalone pages for both solar and wind maps, which will be updated regularly.
Added are a series of pages providing links to maps of all LAC's reefs.
Last but far from least, is a page with a collection of environmental atlases, interactive environmental maps, hydrological maps, maps of protected areas, wetlands and forest cover.
If you find a broken link, know of a LAC map that should be added, or have a wish list of LAC maps you'd like to find, contact me and I'll do my best to take care of it.
Tags: áreas protegidas, arrecifes, energía eólica, energía solar, environmental atlas, environmental maps, forest cover, hydrological maps, manglares, mapas, mapas ambientales, maps, protected areas, reefs, solar energy, solar maps, solar power, wetlands, wind energy, wind maps, wind power
Subscribe to My Comments Feed
Leave a Reply