« BNDES Aids Atlantic Forest Reforestation / BNDES apoia reflorestamento da Mata Atlântica | Home | São Paulo Adopts a WEEE Law »
By Keith R | June 9, 2009
Topics: Marine/Coastal Issues | No Comments »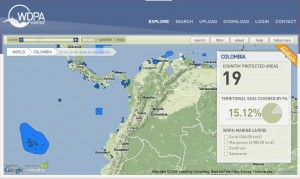 From the UN Environment Programme (UNEP):
UNEP launches new online system to view and study the world's marine protected areas

UNEP World Conservation Monitoring Centre in Cambridge, UK

At a time when the world's oceans are facing unprecedented pressures from human impacts in the marine environment, a new decision-making tool is being launched to provide the most current and relevant information about marine and coastal biodiversity and its protection status.

This marine protected areas tool (www.wdpa-marine.org), created by the United Nations Environment Programme's World Conservation Monitoring Centre (UNEP-WCMC) with the International Union for the Conservation of Nature (IUCN), is part of the recently redeveloped World Database on Protected Areas (WDPA) – the authoritative and most globally comprehensive list of marine and terrestrial protected areas.

"Marine protected areas are critical to the future of the oceans and they will ensure that the ecosystem services on which millions of people around the world rely for their livelihoods and existence will be maintained," explained Kristian Teleki, Head of the One Ocean Programme and Director of the International Coral Reef Action Network (ICRAN) at UNEP-WCMC. "Without Marine Protected Areas and the efforts of governments, conservation organisations and communities around the world to manage and conserve the marine environment, the future of the oceans and the diversity of life contained within them will be jeopardized."

Marine protected areas (MPAs) are locations which receive protection because of their environmental, scenic or socio-economic value. Although some countries have marine protected areas, these vary considerably in size and designation from country to country, depending on national needs and priorities, and on differences in legislative, institutional and financial support.

MPAs cover different marine and coastal environments from shallow coastal waters to the deepest sea, from polar oceans to tropical seas and often span national boundaries. When combined with other conservation measures such as spatial planning and ecosystem-based management, these areas can be very effective.

Achim Steiner, UN Under-Secretary General and Executive Director of the UN Environment Programme (UNEP), said: "Currently somewhere around 12 per cent of the land is held in protected areas, but less than one per cent of the marine environment has been given such status – so this needs to change, and to change fast too. It is our hope that the WDPA-Marine will help nations redress this imbalance and that in the next decade we will have achieved significant progress in protecting the seas through MPAs."

The WDPA-Marine serves as the data source for the marine protected area layer of Google Ocean through UNEP-WCMC's partnership with IUCN and the marine theme of IUCN's World Commission on Protected Areas (WCPA).

"Obtaining and promoting accurate information on marine protected areas is a top priority. I am therefore delighted on World Oceans Day that we are launching WDPA – Marine as another critical tool alongside Protect Planet Ocean and Google Ocean to show the world how much of our seas are protected," said Dan Laffoley, Chair of IUCN's WCPA – Marine. "These new innovative approaches show everyone the urgent need for governments and all of us to radically scale up MPA networks as well as the ambition and effectiveness by which we manage marine resources."

As one of the foremost repositories of information on marine protected areas, WDPA-Marine is intended to help managers and decision makers to better understand the nature of the marine environment where human activity is regulated or restricted in order to maintain the integrity and biodiversity of the ecosystem. It is the culmination of contributions from many governments, regional partnerships, NGOs, and academicians who have participated greatly in the development and improved quality and quantity of MPA data over the past decades.

This new system allows users to view information on marine protected areas in their web browser, to visualise them in Google Earth, to download data, to bring together other important data like species and ecosystem information into the same portal and more.

The WDPA-Marine "has been designed with marine protected area practitioners, stakeholders and policy makers within conservation organisations, governments, UN agencies and multinational environmental agreements in mind," Teleki said.

UNEP-WCMC Director Jon Hutton added, "The most important element of this project is that it allows the "repatriation" of critically important biodiversity information to coastal nations which may not have their own systems. I look forward to working with many of them as they develop their capacity based around this data, which is being made freely available for the first time."

The WDPA-Marine comes as nations, communities and people around the globe mark World Oceans Day – a day designated by the United Nations to raise awareness of the current challenges faced by the international community in connection with the oceans and to seek solutions such as those offered through the establishment of marine protected areas.
________________
Desde el Programa de las Naciones Unidas para el Medio Ambiente (PNUMA):
El Centro de Seguimiento de la Conservación Mundial del Programa de las Naciones Unidas para el Medio Ambiente en Cambridge, Reino Unido

Un nuevo sistema online para ver y estudiar las áreas marinas protegidas del mundo

En tiempos en los que los océanos del mundo afronta presiones sin precedentes debido al impacto humano sobre el medio ambiente marino, se estrena una nueva herramienta de toma de decisiones para proporcionar la información más actualizada y relevante sobre la biodiversidad marina y costera y su estado de protección. Esta herramienta de áreas marinas protegidas (www.wdpa-marine.org), creada por el United Nations Environment Programme's World Conservation Monitoring Centre (UNEP-WCMC) – Centro de Seguimiento de la Conservación Mundial del Programa de las Naciones Unidas para el Medio Ambiente – y la Unión Internacional para la Conservación de la Naturaleza (UICN), forma parte de la recién renovada Base de Datos Mundial de Áreas Protegidas (WDPA) – la fidedigna lista de áreas protegidas marinas y terrestres de mayor cobertura global.

"Las áreas marinas protegidas son cruciales para el futuro de los océanos y asegurarán que los servicios ambientales de los que dependen millones de personas de todo el mundo para su sustento y existencia puedan salvaguardarse", explicó Kristian Teleki, Jefe del Programa One Ocean y Director de la Red de Acción Internacional para Arrecifes Coralinos (ICRAN) en UNEP-WCMC. "Sin áreas marinas protegidas y los esfuerzos de los gobiernos, organizaciones conservacionistas y comunidades de todo el mundo que gestionen y conserven el medio ambiente marino, el futuro de los océanos y de la diversidad de la vida que contienen estarán en peligro".

Las áreas marinas protegidas (AMPs) son zonas que reciben protección por su valor ambiental, escénico o socio-económico. Aunque varios países tienen áreas marinas protegidas, éstas varían considerablemente en extensión y designación de un país a otro, dependiendo de las necesidades y prioridades nacionales, y de diferencias en el apoyo legislativo, institucional y económico que reciben. Las AMPs abarcan distintos ambientes marinos y costeros, desde las aguas costeras poco profundas hasta el mar más profundo, desde océanos polares hasta mares tropicales, a menudo atravesando fronteras nacionales. Estas áreas pueden ser muy efectivas cuando se combinan con otras medidas de conservación, como planeamiento espacial y un manejo basado en los ecosistemas.

Achim Steiner, Subsecretario General de las Naciones Unidas y Director Ejecutivo del Programa de las Naciones Unidas para el Medio Ambiente (PNUMA), señaló: "En la actualidad, alrededor del 12 por ciento de la tierra firme se encuentra dentro de áreas protegidas, pero esta designación se le ha dado a menos del uno por ciento del ambiente marino – esto por lo tanto debe cambiar, y cambiar rápido. Esperamos que la WDPA-Marina ayude a las naciones a resolver este desequilibrio y que en la próxima década hayamos conseguido realizar un progreso significativo en la protección de los mares a través de las AMPs."

La WDPA-Marina sirve como la fuente de datos para la capa de áreas marinas protegidas de Google Ocean gracias a la asociación de UNEP-WCMC con la UICN y la sección marina de la Comisión Mundial de Áreas Protegidas de la UICN (WCPA).

"Obtener y promover información precisa sobre áreas marinas protegidas es de máxima prioridad. Estoy por tanto encantado de que, en el Día Mundial de los Océanos, estemos lanzando la WDPA-Marina como una herramienta crucial más, junto con Protect Planet Ocean y Google Ocean, para mostrar al mundo cuánto de nuestros mares está protegido", declaró Dan Laffoley, Presidente de la WCPA-Marina. "Estos nuevos e innovadores enfoques le muestran a todo el mundo la necesidad urgente de que los gobiernos y todos nosotros aumentemos la red de AMPs y la ambición y efectividad con que manejamos los recursos marinos."

Siendo uno de los más importantes almacenes de información sobre áreas marinas protegidas, la WDPA-Marina está pensada para ayudar a gestores y a quienes toman las decisiones a entender mejor la naturaleza del ambiente marino donde las actividades humanas están reguladas o restringidas para mantener la integridad y biodiversidad del ecosistema. Es la culminación de las contribuciones de muchos gobiernos, socios regionales, ONGs, y académicos que han participado enormemente en el desarrollo y la mejora de la calidad y cantidad de datos de AMP a lo largo de las pasadas décadas.

Este nuevo sistema les permite a los usuarios ver información sobre áreas marinas protegidas en su buscador de internet, para visualizarlas en Google Earth, descargar datos, combinarla con otros datos importantes, como información sobre especies y ecosistemas, y más.

La WDPA-Marina "ha sido diseñada pensando en los profesionales de las áreas marinas protegidas, interesados y políticos de organizaciones conservacionistas, gobiernos, agencias de la ONU y acuerdos ambientales multinacionales" señaló Teleki.

El Director de UNEP-WCMC, Jon Hutton, añadió: "El elemento más importante de este proyecto es que permite la "repatriación" de información tremendamente importante sobre biodiversidad a naciones costeras que pueden no poseer sus propios sistemas. Espero trabajar con muchas de estas naciones mientras desarrollan su capacidad gracias a estos datos, que por primera vez se están haciendo disponibles de manera gratuita."

La WDPA-Marina llega en un momento en el que naciones, comunidades y gentes de todo el planeta celebran el Día Mundial de los Océanos – un día designado por las Naciones Unidas para concienciar sobre los desafíos afrontados en la actualidad por la comunidad internacional en relación a los océanos, y para buscar soluciones como las proporcionadas a través del establecimiento de áreas marinas protegidas.
Tags: ambientes costeros, ambientes marinos, áreas marinas protegidas, biodiversidad, Biodiversity, Cambridge, coastal environment, Día Mundial de los Océanos, environment, Google Earth, Google Ocean, ICRAN, IUCN, marine environment, marine protection areas, medio ambiente, PNUMA, UNEP, WCMC, WDPA, World Oceans Day
Subscribe to My Comments Feed
Leave a Reply