« More IDB Support for Mexico's Climate Change Agenda | Home | Rio Adopts Law on Used Oil and Motor Oil Filters »
By Keith R | September 18, 2009
Topics: Marine/Coastal Issues, Waste & Recycling | No Comments »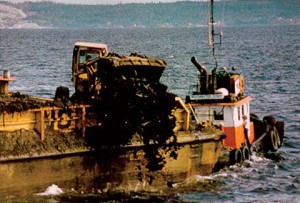 President Bachelet has sent the 1996 Protocol to the London Convention on Dumping to the Chilean Congress for ratification, and initial indications are that both houses view ratification favorably.  If they do so, it will change Chilean law on disposing of wastes at sea and make Chile only the sixth Latin American and Caribbean (LAC) nation to ratify this multilateral environment agreeement (MEA). Perhaps ratification by Chile will even prompt some of its South American neighbors to follow suit.
The original London Dumping Convention is best known for banning ocean dumping of industrial and radioactive wastes and incineration at sea of industrial wastes and sewage sludge.  The Convention, one of the first MEAs to address marine pollution, was opened for signature in 1972, and entered into force in 1975. It has been ratified by 86 nations so far —  including Chile and 19 other LAC nations.* Its secretariat is the London-based International Maritime Organization (IMO).
The 1996 "London Protocol" was agreed to modernize the Convention and, eventually, replace it. One key difference is that the Protocol explicitly includes the prcautionary principle as a general obligation.  Also, instead of banning item-by-item, the Protocol prohibits all dumping except those on a positive "reverse list" of possibly acceptable wastes (although nations can also ban items from this list if they so choose):
dredged material;
sewage sludge;
fish wastes;
vessels and platforms;
inert, inorganic geological material (e.g., mining wastes);
organic material of natural origin;
bulky items primarily comprising iron, steel and concrete; and
carbon dioxide streams from carbon dioxide capture processes for sequestration.
The Protocol entered into force on 24 March 2006.  Currently there are 37 contracting parties to the Protocol.  Among LAC nations, only Barbados, Mexico, St. Kitts and Nevis, Suriname, and Trinidad and Tobago have ratified.  Argentina and Brazil signed the Protocol, but have yet to ratify.
_______________
* Antigua and Barbuda, Argentina, Barbados, Belize, Bolivia, Brazil, Chile, Costa Rica, Cuba, Dominican Republic, Guatemala, Haiti, Honduras, Jamaica, Mexico, Panama, Peru, Saint Lucia, St. Vincent & the Grenadines, Suriname. When it ratified the Convention, the UK also declared the ratification applied to its Caribbean dependencies, namely the British Virgin Islands, Cayman Islands, Montserrat and the Turks and Caicos Islands.  The Netherlands did the same for the Dutch Antilles. Absent from the ratification rolls are the Bahamas, Colombia, Ecuador, El Salvador, Guyana, Nicaragua, Paraguay, Uruguay and Venezuela.

Tags: acero, Argentina, Barbados, Brazil, bulky wastes, buques, carbon sequestration, Chile, concrete, contaminación del mar, Convenio de Londres, desechos de minas, desechos industriales, dredging, environment, fangos cloacales, fish waste, hierro, hormigón, IMO, incineración, incineration, iron, lodos de aguas residuales, London Dumping Convention, London Protocol, marine pollution, maritime platforms, materiales de dragado, MEAs, medio ambiente, Mexico, Michelle Bachelet, mining waste, ocean dumping, OMI, plataformas marítimas, precautionary principle, principio de precaución, Protocolo de Londres, radioactive waste, residuos industriales, residuos radioactivos, secuestro de carbono, sewage sludge, St. Kitts and Nevis, steel, Suriname, Trinidad and Tobago, vertimiento, vessels, waste
Subscribe to My Comments Feed
Leave a Reply