« Keep Children Lean and Active, Prevent Cancer Later in Life / Prevengamos el cáncer promoviendo hoy una infancia activa | Home | IFC Supports Chile's First Project-financed Wind Farm / IFC Apoya el Primer Parque Eólico Financiado en Chile »
By Keith R | February 8, 2009
Topics: Marine/Coastal Issues, Waste & Recycling | No Comments »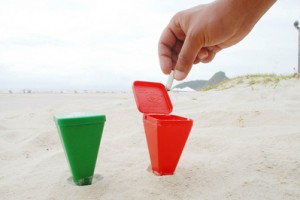 In the first few months after I launched The Temas Blog, I came across a an article in regional Brazilian periodical about a couple of professors in a Paraná university who had this interesting idea. Cognizant of data showing that a large percentage of trash found on beaches consists of small items such as cigarette butts, bottle caps, popsicle sticks, cotton candy cones and drink straws, they proposed making available at all beaches a series of lixeirinhas ("mini-bins") made of recycled plastic that could be spiked into the sand and used by beach goers for collecting such trash and turned in as they leave the beach area.
Although intrigued by the concept, I was not sure it would ever go beyond the drawing board or novelty stage.  I decided to file notes on it for follow-up later rather than blog on it then.
Well, the idea has taken off, in part through the support of municipalities and environment agencies.  One example is the Environment and Water Resources Secretariat (SEMA) of Paraná, which this summer (it is summer in Brazil right now, you know!) is distributing thousands of these mini-bins at the public showers on beaches across the state.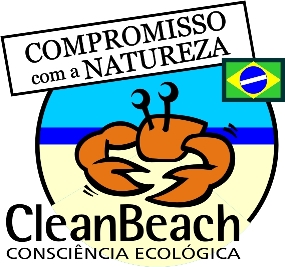 SEMA started doing this in 2006, when Professors Rodrigo Reis and Walter Widmerand of the Federal University of Paraná (UFPR) first brought the proposal to the the Paraná Environment Institute (IAP).  100 mini-bins were distributed that year on one popular beach on a test basis.  This year it is 5,000, across all PR beaches.  SEMA says the increasing demand indicates broad acceptance of the lixeirinhas among vacationers.  They also say that it has reduced beach pollution by "small trash" by 70%.
A company, Clean Beach, has been created to produce and market the idea.  They claim to be producing 200,000 units per month just to keep up with demand in Brazil.  One of their ideas to further promote the mini-bins is to offer to put brand names on the bins for corporate sponsors of clean beach programs.
__________________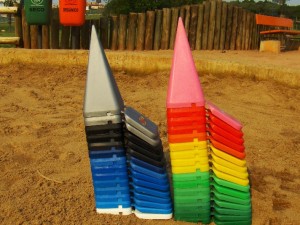 Desde Instituto Ambiental do Paraná (IAP):
IAP começa a distribuição de cinco mil minilixeiras de praia neste final de semana

A Secretaria do Meio Ambiente e Recursos Hídricos inicia neste final de semana (07 e 08) mais uma distribuição de minilixeiras individuais de praia. Confeccionada em formato semelhante a uma casquinha de sorvete, a mini-lixeira tem tampa, pode ser enterrada na areia durante sua utilização, possui apoio lateral para o cigarro e ainda traz a mensagem "O ideal é não fumar e nem poluir, guarde sua bituca aqui".

"Todos os anos temos distribuído este material e a procura pela lixeirinha é grande, o que demonstra a aprovação dos veranistas. Devido à grande demanda da temporada, providenciamos um novo lote do produto para atender aos veranistas", disse o secretário do Meio Ambiente, Rasca Rodrigues. Segundo ele, projetos como esse sempre terão espaço e apoio por parte do governo do Estado. "Turistas e órgãos ambientais aprovaram a iniciativa", destaca o secretário.

As cinco mil lixeirinhas poderão ser encontradas em todas as barracas de balneabilidade do IAP, instaladas na orla. Segundo o secretário, a experiência das temporadas anteriores, têm comprovado a eficácia no uso das minilixeiras para o depósito de pequenos resíduos.

"Os garis informaram que a redução na quantidade de pequenos resíduos encontrados na areia foi superior a 70% nos balneários de Ipanema e Caiobá, por exemplo, após a distribuição das lixeirinhas", contou Rasca.

A coordenadora do programa "Nossa Praia é Limpeza", do IAP, Adriana Ferreira, explica que principal objetivo da minilixeira é facilitar o depósito de pequenos resíduos como, por exemplo, bitucas de cigarro, palitos de picolé, algodão doce, canudos, tampinhas de garrafa e outros pequenos resíduos.

"Na última temporada a procura pelas minilixeiras nas barracas de balneabilidade foi superior à procura pelas sacolas plásticas", mencionou Adriana.

ESTUDO – A iniciativa do projeto é dos professores da UFPR Litoral, Rodrigo Reis e Walter Widmer, que apresentaram a idéia ao IAP, em 2006 e, após um mês de testes, foi aplicado em todos os balneários do Paraná durante a temporada. "A idéia é eliminar não apenas as bitucas de cigarro, que ficam espalhadas pela areia e nem sempre são recolhidos pelos garis, mas também livrar a praia desse tipo de resíduo prejudicial ao turismo e ao meio ambiente e sem retorno financeiro para catadores de material reciclável", afirma a coordenadora do "Nossa Praia é Limpeza".

Em janeiro de 2006 foram distribuídas 100 minilixeiras por dia na Praia Mansa de Matinhos e no Balneário de Ipanema, em Pontal do Paraná, para avaliar o retorno do produto. A escolha dos balneários se deveu ao público diferenciado economicamente que freqüenta estes locais. "O objetivo foi avaliar se havia variação de comportamento, em relação ao lixo, de acordo com a classe social", disse Adriana.

Estagiários distribuíram um questionário ao entregar as lixeiras e orientaram os veranistas para que as esvaziassem ao fim do dia. Posteriormente, o lixo recolhido das minilixeiras foi levado a laboratório para avaliar o peso e se foi utilizada para a finalidade desenvolvida. Segundo Adriana, outro ponto avaliado foi a porcentagem de lixeiras deixadas nas praias.
Tags: algodão doce, beaches, bitucas de cigarro, bottle caps, Brasil, Brazil, canudos, cigarette butts, cotton candy, IAP, lixeirinha, mini-lixeira, palitos de picolé, Paraná, popsicle sticks, praias, residuo, SEMA, straws, tampinhas de garrafa, UFPR, UFPR Litoral, waste
Subscribe to My Comments Feed
Leave a Reply