« World No-Tobacco Day in LAC: Touting Uruguay's Example | Home | What the WWF-Coke Freshwater Partnership Means for LAC »
By Keith R | June 5, 2007
Topics: Biodiversity, Climate Change, Environmental Protection | No Comments »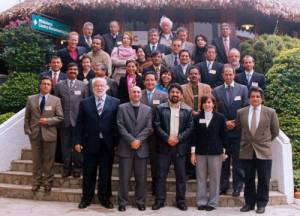 Synopsis in English: Officials responsible for environmental protection and sustainable development in the member states of the Andean Community (Comunidad Andina – CAN), meeting recently in Santa Cruz, Bolivia, agreed with CAN's new Secretary-General and called on CAN to assume the leadership role for the subregion on the issue of climate change.
Recognizing that "Andean ecosystems may be very vulnerable" to the impacts of global climate climate, they asked that the CAN secretariat to (1) step up efforts to elaborate a common climate change strategy; (2) help the mayors of Quito and Guayaquil organize the October 2007 Clima Latino ("Latin Climate") event intended to raise public awareness and understanding of climate change and the challenges it poses to the region; (3) intensify efforts to develop a coordinated Andean position on various climate change, biodiversity and integrated management of water resources issues before the December 2007 Conference of Parties for the UN Framework Convention on Climate Change as well as the Fifth Latin America-European Union Summit, at which CAN will be seeking EU help in carrying out its "Andean Environment Agenda."
Desde la Comunidad Andina (CAN):
Autoridades ambientales andinas plantean que CAN asuma liderazgo regional en el tema de cambio climático

Las autoridades de Medio Ambiente y Desarrollo Sostenible de los países de la Comunidad Andina plantearon la necesidad de que la CAN asuma el liderazgo regional en el tema de cambio climático y que intensifique las acciones para la elaboración de la estrategia andina en esta materia, dando prioridad a iniciativas que contribuyan al desarrollo sostenible y a la erradicación de la pobreza.

En una reunión celebrada la semana pasada en Santa Cruz, Bolivia, las autoridades ambientales andinas reiteraron su compromiso en seguir apoyando la implementación de la Agenda Ambiental Andina 2006-2010, como carta de navegación para la región en los temas ambientales.

En una Declaración suscrita al término de la reunión, las autoridades de Medio Ambiente reconocieron que los "ecosistemas andinos son muy vulnerables" y reafirmaron su compromiso con su conservación, "como países depositarios de la gran mayoría de los mismos, especialmente del páramo y bosque andino, que prestan importantes servicios ambientales…"

Acogieron, además, la propuesta de realizar, a finales de octubre del presente año, un gran evento de difusión y creación de conciencia sobre los problemas del cambio climático, denominado Clima Latino, y solicitaron a la Secretaría General de la CAN apoyar a las Alcaldías de Quito y Guayaquil en la realización de dicho foro.

Acordaron intensificar los esfuerzos para coordinar posiciones andinas comunes respecto al cambio climático, biodiversidad y gestión integrada de los Recursos Hídricos, propiciando que éstas converjan con el proceso preparatorio tanto de la XIII Conferencia de las Partes de la Convención Marco sobre Cambio Climático (Dic. 2007) como de la V Cumbre de la Unión Europea, América Latina y el Caribe (ALC-UE).
Tags: Agenda Ambiental Andina, Andean Community, Andean Environment Agenda, biodiversidad, Biodiversity, Bolivia, bosque andino, cambio climático, Clima Latino, Climate Change, Colombia, Comunidad Andina, desarrollo sostenible, Ecuador, European Union, Guayaquil, Peru, Quito, recursos hídricos, Santa Cruz, UNFCCC, Unión Europea, water resources
Subscribe to My Comments Feed
Leave a Reply