« More IDB "Infrastructure" Funds with an Environmental Twist / Mas financiamiento del BID para "infraestructura" con dimensiones ambientales / Mais financiamento do BID para "infra-estrutura" com dimensões ambientais | Home | Colombia Seeking Clinton Help in Negotiating Diesel Imports »
By Keith R | July 31, 2007
Topics: Climate Change, Environmental Protection | No Comments »
Synopsis in English: The top environment authorities of Mexico and the countries of Central America (Belize, Costa Rica, El Salvador, Guatemala, Honduras, Nicaragua, Panama), meeting recently in Mexico City, have decided to form a special alliance on climate change that they call the Mesoamerican Common Front Against Climate Change. The Front will be overseen by a newly formed Mesoamerican Council of Ministers. The Front will formulate common stances that the nations will take at the next Meeting of Parties of the Kyoto Protocol scheduled for Bali, Indonesia. It will also work out common strategy and joint action regarding climate change mitigation, adaptation and evaluation of the sub-region's vulnerability to the phenomenon. Mexico will host two follow-up meetings to get things rolling, one on global warming, the other on formulating a common strategy.
The meeting of Ministers and Deputy Ministers also agreed that Mexico should stregthen its cooperation with Central America on the issues of the Mesoamerican Biological Corridor, the Mesoamerican Initiative for the Sustainable Development of Plan Puebla-Panama, and protection of the Mesoamerican Reef.
_____________________________________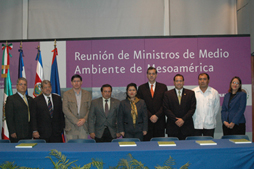 Desde a Secretaria de Medio Ambiente y Recursos Naturales (SEMARNAT) de Mexico:
CONFORMARÁN PAÍSES DE MESOAMÉRICA UN FRENTE COMÚN CONTRA EL CAMBIO CLIMÁTICO

Se reunieron en nuestro país ministros y viceministros de Medio Ambiente de la región

Los ministros de Medio Ambiente de la Región Mesoamericana, convocados por México, acordaron sumar esfuerzos y formar un frente común, a fin de proteger los recursos naturales y ecosistemas de la zona, así como promover un esquema de cooperación en materia de cambio climático que permita desarrollar capacidades para la mitigación, adaptación y evaluación de la vulnerabilidad del área.

Dicha alianza busca garantizar que el crecimiento económico y social se traduzca en oportunidades reales para un desarrollo sustentable, por lo que decidieron también constituir un Consejo Mesoamericano de Ministros que dé seguimiento a estas iniciativas.

Así lo informó el Secretario de Medio Ambiente y Recursos Naturales de nuestro país, Ing. Juan Rafael Elvira Quesada, durante la conferencia de prensa que se llevó a cabo, posterior a la reunión que sostuvieron en esta capital ministros y viceministros de los ocho países que conforman dicho bloque: México, Guatemala, Belice, Honduras, El Salvador, Nicaragua, Costa Rica y Panamá.

En cuanto a cambio climático, el titular de la Semarnat explicó que se tomarán en cuenta las estrategias de cada una de las naciones, para elaborar una sola postura, la cual será presentada en la próxima reunión del Protocolo de Kioto en Bali, Indonesia.

"México ha ofrecido todo su apoyo y creemos que podemos beneficiarnos del intercambio de experiencias y del trabajo coordinado con otros países de la región, para presentar posiciones comunes".

En este sentido, destacó que se implementarán acciones conjuntas de adaptación, ante la creciente presencia de huracanes que se espera como resultado de la variación climática.

Para iniciar este trabajo, agregó Juan Rafael Elvira Quesada, en breve México encabezará dos reuniones: una sobre calentamiento global y otra para integrar una estrategia común de los países del área.

Finalmente, el Secretario de Medio Ambiente y Recursos Naturales de nuestro país dijo que se acordó seguir apoyando la consolidación del Corredor Biológico Mesoamericano, como uno de los principales proyectos de conservación regional, así como la Iniciativa Mesoamericana para el Desarrollo Sustentable del Plan Puebla-Panamá y el Sistema Arrecifal Mesoamericano.

En la conferencia estuvieron: Marco Antonio González, Secretario Ejecutivo de la Comisión Centroamericana de Ambiente y Desarrollo (CCAD); Juan Mario Dary Fuentes, Ministro de Ambiente y Recursos Naturales de Guatemala; Carlos José Guerrero, Ministro de Ambiente y Recursos Naturales de El Salvador; Mayra Janeth Mejía del Cid, Secretaria de Recursos Naturales y Ambiente de Honduras; Servulo Baeza, Viceministro de Recursos Naturales y el Ambiente de Belice; Jorge Rodríguez Quirós, Viceministro de Ambiente de Costa Rica; Raomir Manzanarez, Secretario General de Medio Ambiente y Recursos Naturales de Nicaragua; y Aleida Salazar, Directora de Áreas Protegidas y Vida Silvestre de Panamá.
Tags: América Central, Arrecife Mesoamericano, Belice, Belize, cambio climático, CCAD, Central America, Climate Change, Consejo Mesoamericano de Ministros, Corredor Biológico Mesoamericano, Costa Rica, desarrollo sustentable, El Salvador, Guatemala, Honduras, Kyoto Protocol, Mesoamerican Biodiversity Corridor, Mesoamerican Council of Ministers, Mesoamerican Reef, Mexico, Nicaragua, Panama, Plan Puebla, Protocolo de Kioto, SEMARNAT
Subscribe to My Comments Feed
Leave a Reply