« If You Can't Find It Here, You May Not Find It | Home | Mato Grosso's E-Waste Law / A Lei de Mato Grosso Sobre E-lixo »
By Keith R | May 31, 2008
Topics: Biodiversity, Conservation, Environmental Protection, Marine/Coastal Issues | No Comments »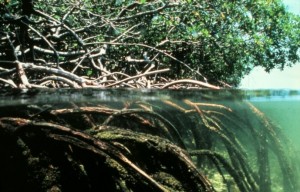 Mangroves matter.
Why? Among other reasons:
Their dense root systems keep sediment from rivers and off the land from going out to sea. This helps stabilize the coastline and provides some protection from hurricanes and tropical storms. [Studies have shown storm damage is usually greater in coastal areas where mangroves have been cleared.] It also prevents nearby reefs and seagrass from being smothered by sediment runoff.
They serve as nursery and/or home to a wide variety of fish, shrimp, crabs and mollusks. A study of Mesoamerican Reef off the coast of Central America, for example, found that fish populations in reefs were as much as 25 times larger near mangroves.
Mangroves also can provide medicinal plants, rot-resistant wood for building, and animal fodder. And in some areas of Latin America and the Caribbean, they are becoming attractive snorkeling destinations to view all the underwater species that live in them.
In my "Basics" piece long ago I stressed the importance of having good diagnosis as a foundation for good policy and enforcement. Mexico, like so many countries in the Americas, has had a spotty and inconsistent record on protecting these important wetlands. Part of the problem, they say, has been uncertainty and disagreement over just how much mangrove forest they have to protect, where they are, and what shape (ecologically speaking) they are in.
To correct this, several government agencies — primarily the national statistics institute (INEGI), the national forestry commission (Conafor) and the national biodiversity commission (Conabio) — put together and published earlier this year a national inventory of mangroves. The resulting database will be the foundation of a monitoring program. The inventory also identified 55 areas that will be targeted for special protection and rehabilitation.
_____________________________________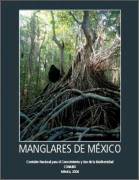 Desde (SEMARNAT):
El Inventario Nacional de Manglares, herramienta fundamental para la conservación del ecosistema: Elvira Quesada

El Secretario de Medio Ambiente y Recursos Naturales, Ing. Juan Rafael Elvira Quesada, señaló que con el Inventario Nacional de Manglares se cuenta por primera vez con un instrumento confiable que nos permite conocer con certeza la cobertura de manglar que existe en nuestro país.

Precisó que este documento fue elaborado a partir de imágenes satelitales registradas en los dos últimos años; además, se utilizaron los mapas de vegetación y uso del suelo del Instituto Nacional de Estadística, Geografía e Informática (INEGI), el Inventario Nacional Forestal y las bases de datos de la Comisión Nacional Forestal (Conafor) y del Sistema Nacional de Información sobre Biodiversidad de México, de la Comisión Nacional para el Conocimiento y Uso de la Biodiversidad (Conabio).

Dijo qe al contar con la mejor información científica posible, el Gobierno Federal tiene la oportunidad de establecer políticas públicas para proteger y conservar los manglares de México, lo cual es una tarea prioritaria de la presente administración, ya que estos ecosistemas constituyen una parte importante de la riqueza natural del país a lo largo de la línea de costa de ambos litorales y es considerado uno de los ecosistemas más ricos del planeta.

Al respecto, el titular de la Semarnat explicó que del año 1973 al 2005 se han formulado en México distintos reportes para evaluar la cobertura del manglar a través de diversos métodos, por ello las cifras entre unos y otros fluctúan de manera considerable y no corresponden al comportamiento real del recurso, ya que éste es un ecosistema muy dinámico.

Indicó que la elaboración del Inventario Nacional de Manglares termina con este problema de metodología de evaluación y proporciona elementos sólidos para saber que actualmente existen en nuestro país 655 mil hectáreas de manglar, y ahora sí se podrán conocer, con total certeza científica, las variaciones registradas en este ecosistema, ya que así como pudo haber disminuido, también pudo haber aumentado.

Precisó que las metodologías que se habían utilizado anteriormente para evaluar el desarrollo del manglar, no contaban con herramientas eficientes como las que hoy se tienen y que permiten, sin temor a equivocarnos, precisar la dimensión exacta del manglar en México.

En este sentido, añadió que la Antena de Recepción de Información Satelital, instalada en abril pasado en Chetumal, Quintana Roo, incrementará la disponibilidad de información de alta calidad sobre el tema.

Reiteró que actualmente la Semarnat elabora una estrategia nacional para reforzar la protección y conservación del manglar y cuida de manera puntual que se respete la Ley General de Vida Silvestre, por lo que no ha permitido que se liberen manifestaciones de impacto ambiental que vulneren el manglar.

No obstante, apuntó, el decreto por sí mismo no protege al ecosistema, por lo que es necesario pagar a los pobladores a través de servicios ambientales, que podrían estar incorporados en el Programa PROÁRBOL, a fin de que las comunidades participen en la conservación del manglar y conozcan la importancia del mismo.

"El manglar es de vital importancia para la subsistencia de la pesquería, ya que funcionan como incubadora para la mayoría de las especies comerciales, juegan un papel relevante en la absorción de contaminantes del agua, y sirven como protección frente a fenómenos meteorológicos extremos".

Finalmente, Juan Rafael Elvira Quesada comentó que la dependencia a su cargo, a través de la Conabio, trabaja en la conformación de una red de monitoreo de manglares en México, a fin de conocer y organizar a los grupos que se dedican a estudiar el tema, y apuntó que hasta el momento se tienen registradas 56 instituciones en 22 estados de la República mexicana.

Cabe señalar que en la elaboración del Inventario Nacional de Manglares colaboraron la Secretaría de Marina (Semar), el Instituto Nacional de Ecología (INE), el Instituto Nacional de Estadística, Geografía e Informática (INEGI), la Comisión Nacional Forestal (Conafor) y la Comisión Nacional de Áreas Naturales Protegidas (Conanp).

Asimismo, diversos investigadores del Instituto de Ecología (INECOL), Instituto de Biología de la UNAM, de las Universidades de Guadalajara, Autónoma de Tamaulipas y Juárez Autónoma de Tabasco, así como del Centro de Investigación en Alimentación y Desarrollo (CIAD), Unidad Mazatlán.
Tags: Arrecife Mesoamericano, biodiversidad, Biodiversity, Chetumal, CIAD, Conabio, Conafor, crabs, Elvira Quesada, imágenes satelitales, INE, INECOL, INEGI, inventario, inventory, manglares, manguezais, Mesoamerican Reef, Mexico, mollusks, Quintana Roo, red de monitoreo, reefs, satellite imagery, Semar, SEMARNAT, shrimp, UNAM, Universidad Autónoma de Tamaulipas, Universidad de Guadalajara, Universidad Juárez Autónoma de Tabasco, wetlands
Subscribe to My Comments Feed
Leave a Reply