« CO2 Emission Labels for Vehicles | Home | Biodegradable Containers Made from Sugarcane Waste »
By Keith R | August 4, 2008
Topics: Environmental Protection | No Comments »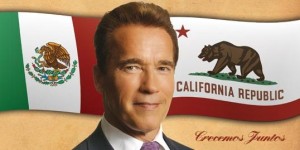 In February, when this blog was on hiatus while I worked on projects and expanding/updating the main Temas site, Mexico and the State of California signed a "Memorandum of Understanding" (MOU) on cooperation in environmental matters.
To be honest, I didn't pay it much attention at the time. Not just because I was busy with other matters, but also because in the 27 years I have been doing international I have seen oh so many MOUs come and go, a good many of them not amounting to much in terms of influencing policy or concreting solving key issues of the day. So I reacted to the news reports with a "that's interesting," sought out the MOU text, downloaded it and filed it "to look over soon." You guessed it — I never did.
Not until I saw Mexican Environment Secretary Juan Rafael Elvira Quesada praise it during a recent meeting to sign the Plan of Action to implement the MOU.  [Also, California's lead role in getting the multi-state scrap tire agreement concluded and signed also piqued my interest in what else the Golden State might be doing in environmental cooperation with Mexico.]  As a result, I went back and read it, and then re-read what SEMARNAT, CalEPA and California's Resource Agency (the major parties to the accord) all have to say about it.
Stripping away all the usual boring legal language about information exchanges, exchanges of experts, workshops, seminars, capacity building and mutual benefit and respect, there are some interesting aspects to the MOU.  It envisions extensive cooperation in many environmental policy fields, including:
climate change;
air quality;
fuel quality standards;
water resources;
wildlife and habitat conservation;
water quality;
sustainable urban development, and housing;
integrated management of waste in the border region;
enforcement of their respective laws;
any other area agreed between them.
The two sides agreed to draw up formal annual work plans and then implement them through bilateral theme-based working groups.  The approval of the first such work plan was the occasion for Elvira Quesada's remarks (see press release in Spanish below).  Among other things, the first action plan contemplates Californian help in drafting new Mexican standards on fuel quality and a new Mexican regime for controlling the entry at the border of used cars that would not meet new emission standards.  California also will help several Mexican border states upgrade their rules and management regimes for solid wastes and hazardous substances.
Last but not least, California will work with Mexico on climate change policy, including the possible admission of some Mexican states into the Western Climate Initiative (WCI).  Six Mexican states (Baja California, Chihuahua, Coahuila, Nuevo Leon, Sonora, Tamaulipas) are already observers at the WCI.
________________________
Desde a Secretaria de Medio Ambiente y Recursos Naturales (SEMARNAT):
Establece Semarnat plan de acción con el Gobierno de California para trabajar en proyectos ambientales

Con el acuerdo se inicia un novedoso proceso de coordinación entre la Semarnat y el estado de California hacia el desarrollo sustentable: Elvira Quesada
El Plan de Acción Ambiental permitirá coordinar esfuerzos en temas como cambio climático, manejo de aguas transfronterizas y gestión integral de residuos

La Secretaría de Medio Ambiente y Recursos Naturales y las Agencias del Estado de California firmaron el Plan de Acción en el Marco del Memorándum de Entendimiento sobre Cooperación Ambiental, a fin de generar sinergia y atraer inversión en aspectos de interés común, como cambio climático; estándares de calidad en combustibles; conservación de vida silvestre y hábitat, manejo de aguas transfronterizas, gestión integral de residuos y residuos peligrosos en la región.

Al destacar la importancia del acuerdo, el titular de la Semarnat, Ing. Juan Rafael Elvira Quesada, señaló que con este plan se inicia un novedoso proceso de coordinación para sumar esfuerzos entre la dependencia que encabeza y el estado de California, hacia el desarrollo sustentable, mediante la promoción coordinada en aspectos de gestión ambiental, investigación técnica y científica y desarrollo de capacidades.

La razón de que el acuerdo se estableciera con California, explicó el funcionario, obedece a que dicho estado, durante 40 años ha sido líder mundial en materia ambiental y en la lucha contra la contaminación del aire, en el impulso de tecnologías novedosas y aplicación de estándares de emisión de contaminantes.

"Si California fuera un país, ocuparía el octavo lugar entre las naciones más avanzadas en la aplicación de políticas públicas en materia ambiental".

Informó que en el acuerdo se contempla la realización de actividades específicas, como la utilización de vehículos usados que entran a México por California, los cuales tendrán una regulación especial para cuidar que no haya un impacto en la atmósfera.

Explicó que se definen plazos fijos para alcanzar resultados, mismos que permitirán establecer y consolidar mecanismos formales de cooperación, a través de: intercambio de información; financiamiento conjunto de estudios y proyectos; desarrollo y divulgación de publicaciones; transferencia de tecnología; intercambio de becarios y expertos; diseño de programas de capacitación; realización conjunta de seminarios, talleres, conferencias, cursos, visitas técnicas y diplomados.

Añadió que en las negociaciones del Plan de Acción Ambiental participan la Comisión Nacional del Agua (Conagua), el Instituto Mexicano de Tecnología del Agua (IMTA) y el Instituto Nacional de Ecología (INE); la Agencia de Protección Ambiental de California, el Departamento de Alimentación y Agricultura de California y la Agencia de Recursos de California.

Juan Rafael Elvira Quesada precisó que las acciones y logros alcanzados en aspectos de interés común generarán sinergias y se traducirán en mecanismos efectivos para la transferencia de tecnología, el fortalecimiento de capacidades y la disposición de recursos financieros adicionales para la región.

Por lo anterior, indicó, se destaca la importancia de desarrollar principios de beneficio mutuo en materia de cambio climático, sumando esfuerzos hacia iniciativas existentes como el Registro Climático y la Iniciativa Climática de los Estados del Oeste (Western Climate Initiative) del Estado de California.

Asimismo, estandarizar la calidad en combustibles para disminuir la emisión de Gases de Efecto Invernadero a la atmósfera y la reducción de vehículos usados contaminantes; manejar sustentablemente los recursos hídricos de las cuencas compartidas; investigar en relación a los ecosistemas y las especies transfronterizas y fomentar su conservación.

Además, agregó, fortalecer el monitoreo de la calidad de cuerpos de agua; el intercambio de información sobre el manejo del recurso hídrico y promover programas de capacitación para operadores de plantas potabilizadoras y tratamiento de aguas residuales; así como, el apoyo a gobiernos estatales en el manejo sustentable de residuos y el manejo de sustancias tóxicas.

Finalmente, el Secretario Elvira Quesada comentó que la Semarnat y el gobierno de California informarán sobre los avances, logros y cumplimiento de los objetivos trazados en este Plan de Acción Ambiental, que buscan brindar un medio ambiente más sano y próspero para los habitantes de la región que las partes involucradas comparten.
Tags: aguas residuales, aguas transfronterizas, Baja California, CalEPA, calidad del agua, calidad del aire, calidad en combustibles, California, cambio climático, Chihuahua, Climate Change, Coahuila, Conagua, conservación, conservati, especies transfronterizas, gases de efecto invernadero, gestión integral de residuos, greenhouse gases, habitat conservation, hazardous waste, IMTA, INE, Juan Rafael Elvira Quesada, Mexico, MOU, Nuevo Leon, recursos hídricos, residuos peligrosos, residuos sólidos, SEMARNAT, solid waste, Sonora, sustancias peligrosas, sustancias tóxicas, Tamaulipas, transboundary species, transboundary waters, urban development, used cars, vehicle emissions, vida silvestre, waste policy, water quality, water resources, Western Climate Initiative, wildlife
Subscribe to My Comments Feed
Leave a Reply