« Using Steel Waste as Fertilizer? | Home | OECS Goes Proactive Regarding Fake Medicines »
By Keith R | June 9, 2008
Topics: Environmental Protection | No Comments »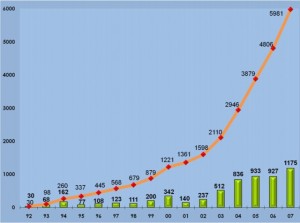 Mexico has an interesting environmental audit program. In many countries, environmental audits are voluntary assessments done internally by companies, or by accredited third parties they hire, following their own design and the results of which usually are utilized internally to adjust practices and ensure compliance.
In Mexico, the National Environmental Audit Program (PNAA) is also voluntary, but it follows a formula created by the Federal Environment Prosecutor (Profepa), must be approved by Profepa and serves as the basis for an accord between the company and Profepa on the steps the former will take to bring identified activities fully into compliance with Mexican environment law. Once a company meets the commitments in the accord, it is certified as "Clean Industry" (Industria Limpia) (see logo below).
When it started the program, Profepa insisted that large state-owned firms such as the hydrocarbons giant PEMEX and the power generation giant CFE undertake audits. Gradually the Program's coverage has spread to public and private firms of all sizes in nearly every sector, including services and retail, and more recently, even municipalities. By the end of April 2008, 6,609 firms were in the program, 628 just since the start of the year, a 10.5% increase. In the automotive, cement and flat glass industries, participation is now 100%, while other sectors are fast approaching such status — electrical accumulators (battery arrays) (97%), steel (95%) and detergents (90%).
Why do companies enter the program? Besides the environmental and operational efficiency gains (energy and water savings, waste reduction, etc.), firms certified by the audit are allowed to take an immediate tax deduction for their investment in certain fixed assets. They also tend to get higher valuations on the Mexican stock market and better access to credit. Last, but far from least, by getting audited and certified while working with Profepa, companies can get peace-of-mind about compliance if they find few or no problems, and more lenient treatment from Profepa if they identify and confess early any noncompliance issues.
________________________
Desde la Procuraduría Federal de Protección al Ambiente (Profepa):
EN MEXICO HAY 6,609 EMPRESAS DENTRO DEL PROGRAMA DE AUDITORIA AMBIENTAL

En el primer cuatrimestre del 2008, se incorporaron 628

El Programa Nacional de Auditoría Ambiental (PNAA), que nació en 1992 con la Procuraduría Federal de Protección al Ambiente (Profepa), tenía incorporadas al cierre de abril un total de 6,609 empresas –de todos los tamaños, tanto federales como privadas– que han sido certificadas como Industria Limpia o están en busca de ese proceso.

Tan sólo en los primeros cuatro meses del 2008, han ingresado al PNAA un total de 628 empresas, lo que representa un 10.5% de aumento respecto al cierre del 2007 (5,981 incorporadas).

La implementación del Programa Nacional de Auditoría Ambiental se ha reflejado en una sensible mejora de la reducción de gases de efecto invernadero, ahorro y uso eficiente del agua, así como disminución del consumo de energía y de recursos naturales, y una menor generación de residuos de toda índole.

Cabe destacar que independientemente de los beneficios anteriores para el medio ambiente, las empresas certificadas como Industria Limpia también han resultado ganadoras, ya que pueden utilizar la deducción inmediata de la inversión de bienes nuevos de activo fijo en el año fiscal; su certificación les apoya en una cotización más alta en la Bolsa Mexicana de Valores, les favorece en la exportación de sus bienes y servicios y en la obtención de créditos bancarios con mayor facilidad al comprobar su compromiso y desempeño ambiental.

Hoy en día existen sectores completos que están ya certificados al cien por ciento. Tales son los casos de la industria automotriz, cementera, cervecera y de vidrio plano. Le siguen otros como el de la producción de acumuladores (97%), de detergentes (90%) y de acero (95).

El PNAA surgió como un complemento de las acciones de verificación obligatoria que lleva a cabo la Profepa sobre la industria de competencia federal (básicamente, instalaciones de PEMEX y de la CFE). Con el tiempo, el campo de aplicación del Programa se diversificó y alcanza hoy en día los servicios, comercios y hasta municipios.

La auditoría ambiental es un examen de la contaminación y el riesgo ambiental que generan los procesos de producción de bienes y servicios de una empresa, y del grado de de cumplimiento de la normatividad al ambiental y de las buenas prácticas de operación, define las medidas preventivas y correctivas.

Este proceso se inicia con la incorporación al PNAA y a su término, se suscribe un plan de acción mediante un convenio con la Profepa, en el que la empresa asume un conjunto de compromisos vinculantes. Una vez concluido este plan de acción, la empresa se hace acreedora a un Certificado de Industria Limpia, a través del cual la Profepa avala que está cumpliendo plenamente en materia ambiental.
Tags: acero, acumuladores, auditoria ambiental, Bolsa Mexicana de Valores, CFE, commerce, créditos bancarios, desempeño ambiental, detergentes, eco-audit, environment, environmental audit, flat glass, gases de efecto invernadero, industria automotriz, industria cementera, industria cervecera, industria limpia, medio ambiente, Mexico, PEMEX, PNAA, Profepa, services, steel, uso eficiente del agua, vidrio plano, waste reduction
Subscribe to My Comments Feed
Leave a Reply