« El Salvador Launches Green Network on Corporate Environmental Responsibility | Home | A Temas Anniversary »
By Keith R | August 28, 2008
Topics: Environmental Governance, Environmental Protection, Extractive Sectors | 1 Comment »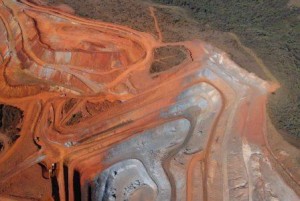 Last year I blogged about how the Brazilian state of Minas Gerais was giving its environment inspectors the digital tools they need to make their jobs easier.
Since then I have kept one eye on Minas and the inspectors of its State Environment System (Sisema), not only because of the changes in enforcement that they are undertaking, but for the example Minas tends to set for other Brazilian states. Minas is Brazil's second most populous state (behind São Paulo), the third biggest contributor to national GDP (behind SP and Rio de Janeiro), and a national leader in agriculture and heavy industry. It also boasts more municipalities than any other state, over 800. Its environmental and enforcement challenges thus are many and varied. How it handles them is watched by other states.
It's been particularly interesting lately, as the state's Management Committee for Integrated Environmental Inspection (CGFAI) has organized coordinated enforcement sweeps. The CGFAI plans joint activities by the various state environmental inspection forces in the State Environment Foundation (FEAM), the State Forestry Institute (IEF), the Minas Gerais Water Management Institute (IGAM) and the environment elements of the Military Police.
The sweeps have been both sectoral — such as forestry or mining — and regional (different sectors of the state).
In one such recent sweep, for example, targeted enterprises in or around seven municipalities (Itatiaiuçu, Brumadinho, Rio Acima, Itabirito, Congonhas, Belo Vale and Moeda), with a particular focus on mining (a principal activity in the sector). In the process 8 of the 25 establishments inspected were penalized, paralyzed or closed by inspectors: three mines, two sand extractors and a slaughterhouse. The enterprises paralyzed by inspectors have just 20 days to seek an "environment regularization" agreement with the appropriate agency of Sisema. In this particular sweep R$520,000 in fines were assessed.
Two of the cases are instructive. In one the inspectors checked out one of the mines of Gerdau Açominas, a large well-known metals/mining company. Finding irregularities in the mines use of water resources and unauthorized activities in a protected area, they got a judge to issue an injunction freezing operations at the mine and they imposed a fine of R$208,000.
In the other case, involving Aglofilito Indústria e Comércio Ltda., the mine was already the subject of a January 2007 terms of conduct adjustment (TAC) agreement with FEAM in which it was given 60 days to fix environmental irregularities. The inspectors found none of the measures promised in the TAC taken, so they closed the mine. [Temas Observation: why did inspectors wait over a year to check on compliance with the TAC? Shouldn't they scheduled timely checks on all enterprises with a TAC whose deadlines have passed?]
The CGFAI says that by year-end it will have conducted 14 such sweeps this year.
Targeted, coordinated and particularly tough on recidivists and people who take TACs lightly.  I'm favorably impressed, and think some of its fellow states could learn from Minas.  For that matter, so could some LAC nations.  I'd like to say such an approach to environment enforcement is common or becoming common in LAC, but it isn't — not yet.  But more on that in an upcoming "Basics" blog entry I am working on the subject of enforcement and compliance.
________________________
Desde a Secretaria de Estado do Meio Ambiente e Desenvolvimento Sustentável (SEMAD):
Fiscalização fecha mais uma mineradora na Serra da Moeda

Na segunda semana da operação de fiscalização na Serra da Moeda, agentes do Sistema Estadual de Meio Ambiente (Sisema) mantêm a busca por irregularidades no uso dos recursos naturais na região. Nessa terça (29), uma mineradora localizada no município de Igarapé foi fechada. É a sexta empresa paralisada desde o início da operação.

As atividades da Aglofilito Indústria e Comércio Ltda. foram suspensas em função do descumprimento das medidas estabelecidas no Termo de Ajuste de Conduta (TAC), firmado pela empresa com a Fundação Estadual do Meio Ambiente (Feam) em janeiro de 2007. De acordo com o documento, o empreendimento se comprometeu a dar continuidade ao processo de regularização ambiental e corrigir irregularidades que vinham causando a degradação do meio ambiente.

O analista ambiental da Feam, Gérson de Araújo Filho, explica que o TAC estabeleceu um prazo de 60 dias para que a empresa tomasse as medidas necessárias. "Nenhuma condição foi cumprida pelo empreendedor, que também não deu seqüência à regularização ambiental da atividade", afirma.

O técnico destaca a falta de segurança como um dos principais problemas do empreendimento. "A mina está instalada a poucos metros da BR–381 e não possui mecanismos para garantir a segurança das pessoas e veículos que passam pela rodovia e nem de seus funcionários", observa.

Mineração

A operação Serra da Moeda, coordenada pelo Comitê Gestor de Fiscalização Ambiental Integrada (CGFAI) do Sisema, fiscaliza empreendimentos em sete municípios da região: Itatiaiuçu, Brumadinho, Rio Acima, Itabirito, Congonhas, Belo Vale e Moeda.

Desencadeada no dia 21 de julho, a operação seria finalizada no dia 25, mas foi estendida até a próxima sexta (1º). "Para fiscalizar o grande número de empresas localizadas na Serra e garantir uma verificação adequada de todos os aspectos ambientais foi necessário o prolongamento da ação", explica o coordenador da operação e gerente de Fiscalização Ambiental da Feam, Gilberto Soares.

A ação teve como principal objetivo as empresas de mineração, principal atividade econômica da região. Entre os dias 21 e 25 de julho, 25 empresas foram fiscalizadas. Oito delas foram autuadas e seis fechadas: três mineradoras, duas empresas de extração de areia e um matadouro. No total, foram aplicados cerca de R$ 520 mil em multas. As empresas cujas atividades foram paralisadas terão 20 dias para solicitar a regularização junto ao Sisema.

Na sexta (25), os agentes vistoriaram a mina Várzea do Lopes, da Gerdau Açominas, no município de Itabirito. A empresa teve suas atividades suspensas por liminar concedida no dia 22 de julho de 2008, pelo juiz Manoel dos Reis Morais, da 6ª Vara da Fazenda Pública Estadual, porém a fiscalização do empreendimento já estava prevista no cronograma da operação. Gilberto Soares afirma que apesar de cumprir a determinação da Justiça, a área da mina apresenta diversas irregularidades como a utilização de água e intervenções em Áreas de Preservação Permanente sem autorização. A empresa foi multada R$ 208 mil.

Fiscalização integrada

O secretário-executivo do CGFAI, Paulo Teodoro de Carvalho destaca que as operações de fiscalização integrada são parte do trabalho do Governo de Minas para garantir o uso sustentável dos recursos naturais do Estado. Ele explica que as ações reúnem agentes de todos os órgãos ambientais estaduais: Feam, Instituto Estadual de Florestas (IEF), Instituto Mineiro de Gestão das Águas (Igam) e Polícia Militar de Meio Ambiente.

"Os técnicos identificam e buscam formas de eliminar as irregularidades que podem gerar prejuízos ao meio ambiente", afirma Paulo Teodoro. O secretário-executivo do CGFAI afirma que em 2008 está prevista a realização de 14 operações em todas as regiões de Minas Gerais, além das ações específicas de cada instituição.
Tags: Belo Vale, Brasil, Brazil, Brumadinho, CGFAI, Congonhas, environment, environmental inspection, FEAM, fiscalização, Gerdau Açominas, IEF, IGAM, Igarapé, injunction, Itabirito, Itatiaiuçu, matadouro, meio ambiente, Minas Gerais, mineração, mining, Moeda, regularização ambiental, Rio Acima, Serra da Moeda, SISEMA, slaughterhouse, TAC, termo de ajuste de conduta
One Response to "Minas Gets Tough on Environmental Enforcement"
MyNetFaves Says:
September 25th, 2008 at 10:35

[…] saved by ericd543 | 0 days ago At the bus station… First saved by julians | 1 days ago Minas Gets Tough on Environmental Enforcement First saved by helgaust | 1 days ago The 15th Anniversary of Fundacao Neotropica do Brasil […]
Leave a Reply