« GEF Funds Binational Ecosystem Management Project / Donación del GEF para la gestión de un ecosistema binacional | Home | World Heart Day – Are You Caring for Your Heart? »
By Keith R | September 28, 2007
Topics: Environmental Protection, Packaging, Waste & Recycling | No Comments »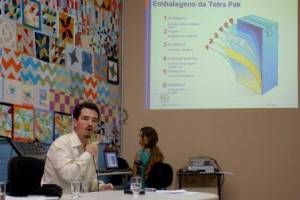 Paraná forced a deal on Tetra Pak regarding waste from its long-life packaging (aseptic) packaging; now Minas Gerais (MG) wants a dialog about the same issue. If I were Tetra Pak executives, I'd start being concerned about the direction the drink packaging waste issue is taking in Brazil (if they aren't already).
As I mentioned in an earlier post, one of the functions of the new Minas Reference Center on Waste (Centro Mineiro de Referência em Resíduos – CMRR) is serve as the focal point for conferences, seminars, workshops, lectures, debates and discussions about waste issues affecting one of Brazil's most economically powerful (and diverse) states.
The CMRR plans a monthly debate spotlighting "sustainability and waste," and recently kicked it off with "Long Life Packaging: What is its Responsibility?" ["long-life packaging" is what the Brazilians call aseptic packaging.] The unmistakable target of the debate: Tetra Pak, whose packaging state government officials would like see recovered and recycled more in Minas.
The debate moderator, the manager of sanitation of the the state's environment technical and enforcement body, the State Environment Foundation (Fundação Estadual do Meio Ambiente – FEAM), pointed out that aseptic packaging is accumulating in mineiro landfills, is little recycled in the state and frankly "the recycling of these milk and juice packaging is a reality apart from those of catadores and the [recycling] market."
An engineer from Tetra Pak, Edy Merendino, initiated the debate. Eng. Merendino explained that Teta Pak recovered 46,000 metric tons of post-consumer tetra brik in 2006, which represents about 24% of that produced in Brazil. [Temas Note: yes, but did it represent 24% or more of tetra brik consumed in Brazil during 2006? That's the more relevant comparison for recycling purposes.] Tetra Pak thinks that technology — specifically, plasma — which the company uses to separates out the plastic and aluminum layers from the packaging to create liquid paraffin and aluminum ingots that can be returned to the production chain.
The FEAM official, Denise Bruschi, acknowledged the advantage of aseptic packaging for protecting products for long periods, but complained about the difficulty of recycling the packs. She also noted how the used pack material can be transformed into useful construction materials, and speculated that if these recycling alternatives were better known and practiced more in Minas, Tetra brik might be collected and recycled more.
Nícia Mafra of the environmental education group Tzedaká, that promotes recycling in Minas, noted that in the capital (Belo Horizonte) alone, 300 metric tons of Tetra brik are thrown away. She suggested that part of the problem was educating more people about the importance and value of recycling aseptic packaging.
Nícia mentioned the example being set by the Regional Electoral Tribunal (TRE), which recently started separately collecting aseptic packaging (primarily drink boxes), giving the collected materials to Tzedaká to recycle the paper. She noted that Tetra Pak recently gave her group a special press that allows them to recycle the plastic and aluminum as well as transform it into boards that can be used to make notebooks, agendas, and writing tablets. The press is small, however, and will largely be used for educational projects.
______________________________
Desde a Agencia Minas:
Campanha pode melhorar reciclagem de embalagem longa vida

As dificuldades de mobilização e logística para recolhimento e venda das caixas longa vida colocam Belo Horizonte na relação dos municípios brasileiros que acumulam nos aterros sanitários grande parte das caixas Tetra Pak descartadas pela população, assim como outros resíduos que alcançam apenas 3% de taxa de recuperação. "A reciclagem dessas embalagens de leite e sucos ainda é uma realidade um pouco distante das associações de catadores e do mercado", afirmou a gerente de Saneamento da Fundação Estadual do Meio Ambiente (Feam), Denise Bruschi, que foi mediadora do debate "Embalagens Longa Vida: Qual a sua Responsabilidade", realizada pelo Centro Mineiro de Referência em Resíduos (CMRR), na última sexta-feira (10).

Aproximadamente 100 pessoas, entre representantes de associações de catadores, Ongs, professores e estudantes, tiveram a oportunidade de discutir sobre as alternativas para aumentar os índices de reciclagem das caixas longa vida. Para iniciar o debate, o engenheiro do Departamento de Meio Amiente da Tetra Pak, Edy Merendino, apresentou os trabalhos desenvolvidos pela empresa, responsável pela fabricação das embalagens cartonadas, feitas de papel (75%), plástico polietileno (20%) e alumínio (5%).

De acordo com os dados apresentados por Edy Merendino, em 2006 foram recicladas no Brasil 46 mil toneladas de embalagens da Tetra Pak – índice que representa 24% do total produzido. Para aumentar os números, a empresa vem apostando na inovação tecnológica. "A Tetra Pak desenvolveu no Brasil a tecnologia de reciclagem a plasma, que permite a separação do plástico e do alumínio contidos na embalagem, após a retirada do papel. Transformados em parafina líquida e lingotes, o plástico e o alumínio voltam para a cadeia produtiva como matérias-primas", ressaltou o engenheiro.

Segundo a gerente de Saneamento da Feam, Denise Bruschi, a falta de divulgação das novas alternativas de reciclagem, que transformam as embalagens em telhas e placas para a construção civil, contribui para o baixo percentual de reciclagem. "Os órgãos ambientais vêem-se diante de uma questão: se, por um lado a combinação de materiais representa efetiva vantagem para a conservação de produtos, por outro trouxe o problema da dificuldade de reciclagem e reaproveitamento desse resíduo", completou.

Para Nícia Mafra, coordenadora do projeto Tzedaká, que também participou do debate do CMRR, o desafio é a mudança de comportamento. "É um processo demorado, de mudança de paradigmas e que envolve da fonte consumidora ao descarte correto, ao catador até o comerciante ou diretamente às indústrias de reciclagem", argumentou. Levantamento apresentado por Nícia Mafra revela que em Belo Horizonte são descartadas por mês cerca de 300 toneladas de caixas da Tetra Pak.

Campanha educativa

Entre as soluções apresentadas durante o debate, o primeiro passo é a realização de uma campanha para a conscientização dos atores envolvidos na cadeia da reciclagem e da população em geral. "Em setembro, com a ampliação da coleta seletiva nas regionais de Belo Horizonte, estamos nos organizando para iniciar uma campanha educativa", disse Nícia Mafra.

Iniciativas isoladas e com resultados positivos já vêm sendo realizadas em instituições, como o Tribunal Regional Eleitoral (TRE), na capital mineira. Na sede do órgão, os funcionários aprenderam o valor que uma embalagem longa vida possui e os impactos que causam ao meio ambiente quando acumuladas nos lixões e aterros sanitários. "As caixas longa vida do TRE são encaminhadas ao projeto Tzedaká, onde o papel é reciclado", explicou Nícia Mafra. Neste mês, o projeto, que tem sede em Belo Horizonte, recebeu da Tetra Pak uma prensa especial para a recuperação e transformação do alumínio e do plástico em placas formato A4, que serão aplicadas em produtos ecosustentáveis para capas de blocos, cadernos, agendas, entre outros produtos. "É uma prensa de pequena escala, que será utilizada em caráter educativo", completou.

Diálogos

O debate sobre a destinação das embalagens longa vida foi o primeiro encontro da série "Diálogos – Sustentabilidade e Resíduos", que será realizado mensalmente pelo Centro Mineiro de Referência em Resíduos. O evento tem como objetivo estimular a discussão sobre a inovação de processos e produtos que visam reduzir a geração de resíduos. Inaugurado no dia 12 de junho passado pelo governador Aécio Neves, o CMRR é um programa da Secretaria de Estado de Meio Ambiente e Desenvolvimento Sustentável (Semad) e da Fundação Estadual do Meio Ambiente (Feam), em parceria com o Serviço Voluntário de Assistência Social (Servas).
Tags: alumínio, aluminum, aseptic packaging, aterros sanitários, Belo Horizonte, Brasil, Brazil, caixas longa vida, catadores, CMRR, embalagem, embalagem longa vida, envase, FEAM, juice packaging, leche, leite, long-life packaging, milk, Minas Gerais, packaging, packaging waste, papel, placas, plastic, polietileno, reciclagem, reciclaje, recycling, residuos, resíduos de embalagens, residuos de envase, SEMAD, Servas, sucos, taxa de recuperação, telhas, Tetra-brik, Tetra-Pak, TRE, waste
Subscribe to My Comments Feed
Leave a Reply