« Unique Customs Cooperation Pact on Multilateral Environmental Agreements | Home | Can Rio Negro Implement an E-Waste Regime? »
By Keith R | December 29, 2008
Topics: Biodiversity, Environmental Protection, Sanitation, Waste & Recycling, Water Issues | No Comments »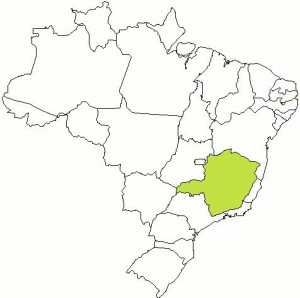 Minas Gerais is seeking to take the lead among Brazilian states in environmental protection, and they want everyone to know it!  [Look out, Paraná, Rio Grande do Sul and São Paulo!]  At year-end the state environment secretary José Carlos Carvalho released a report card on mineiro environment policy achievements and plans for 2009.  He particularly boasted about policy developments regarding solid waste and water resources, enforcement, advances in management tools and combating deforestation and global warming.
Some of the points he made:
In 2008 Minas' State Environment System (Sistema Estadual de Meio Ambiente – Sisema) had its biggest budget in history, R$340 million;
In 2007-08 Minas invested R$95 million in regularizing the state's conservation unit (UCs) — greater than all the prior investment by the State Forestry Institute (IEF) in that field put together.  In just 2008, the IEF regularized 31,977 hectares in the Cerrado Conservation and Atlantic Forest Recovery Project;
Minas is protecting more biodiversity through the creation of CUs and expanding ecological corridors.  Minas currently has 33.8% of its area covered by vegetation, the highest among the states of southeastern Brazil.
Deforestation in the state has fallen by 29.5% over the past two years;
Sewage treatment in the state has risen 600% over the past five years;
Minas spent R$12 million in 2008 on improving the state's ability to combat forest fires;
The water quality monitoring network for the state's rivers was expanded by 41 new stations in 2008, 32 along the Doce River and nine among the Grande River;
The water quality monitoring network for groundwater already has 43 stations, and during 2009 30 more will be added for aquifers in the Piracicaba and Jaguari river basins.  Minas will also augment monitoring of the water quality in its portion of the international Guarani Aquifer;
In November Minas released a state inventory of greenhouse gas (GHG) emissions;
The state energy firm, Cemig, is conducting studies about the potential of Serra do Espinhaço for wind power generation.
The secretary said that the challenges the state will focus on will be the fight against deforestation and improvements in sewage treatment and municipal solid waste management.   "Despite the significant progress in these areas and Minas is in a strong position in Brazil, we will continue investing and focusing our actions to achieve even more daring levels."
___________________
Desde Agencia Minas:
Meio Ambiente apresenta ações e investimentos em 2008

As políticas de resíduos sólidos e recursos hídricos, a fiscalização, os avanços nas ferramentas de gestão e o combate ao desmatamento e ao aquecimento global foram, de acordo com o secretário de Estado de Meio Ambiente e Desenvolvimento Sustentável, José Carlos Carvalho, os principais focos de ação dos órgãos que compõem o Sistema Estadual de Meio Ambiente (Sisema) em 2008. O Sistema encerra o ano com a execução do maior orçamento de sua história, R$ 340 milhões, destacou o secretário, durante coletiva à imprensa, nesta sextafeira (19).

Uma importante marca alcançada pelo Sisema foi o investimento de R$ 95 milhões, em 2007 e 2008, na regularização fundiária de Unidades de Conservação (UCs) estaduais. "Este valor é maior que a soma de todo o investimento do Instituto Estadual de Florestas (IEF) nesse campo desde sua criação", informou Carvalho. Somente em 2008, em ação do Projeto Estruturador 'Conservação do Cerrado e Recuperação da Mata Atlântica', o IEF promoveu a regularização fundiária de 31.977,47 hectares.

O esforço de proteção à biodiversidade por meio da criação de UCs é uma das experiências mais bem sucedidas na área ambiental do Estado. "O trabalho é desenvolvido com foco na manutenção e ampliação de corredores ecológicos, necessários à conservação e reprodução da biodiversidade ", disse o secretário. Minas possui atualmente 33,8% de sua área coberta por vegetação, o maior índice entre os estados do sudeste brasileiro. "O IEF cada vez mais atua como um órgão voltado à proteção e recuperação das florestas", completou.

Na área do combate aos incêndios florestais, o secretário destacou o investimento, em 2008, de R$ 12 milhões em infra estrutura, equipamentos e treinamento de brigadas no âmbito do Programa de Prevenção e Combate a Incêndios Florestais (Previncêndio). "Estamos entregando hoje à comunidade mineira as obras de ampliação da base da Força-Tarefa em Curvelo, onde foram investidos R$ 680 mil. Minas é o único estado com uma base desse porte em operação, que conta com helicópteros e aviões de combate a incêndios prontos para entrarem em ação ", ressaltou.

O secretário também destacou a ampliação da rede de monitoramento da qualidade das águas superficiais e subterrâneas de Minas.  O monitoramento, realizado em Minas desde 1997, foi ampliado com a criação de 41 novas estações de amostragens em 2008. Este ano, foram beneficiadas as bacias do rio Grande, com nove pontos de monitoramento, e do rio Doce, com 32 pontos.

O Estado também possui 43 estações de amostragem de águas subterrâneas implantadas na região Norte. Em 2009, a previsão é a instalação de 20 novos pontos de monitoramento das águas subterrâneas na bacia dos rios Piracicaba e Jaguari. "Iremos monitorar a qualidade da água do aqüífero Guarani, uma das maiores reservas mundiais e que abrange vários países da América do Sul", anunciou o secretário.

Mudanças Climáticas

Outro ponto destacado na coletiva foi o avanço de Minas no combate aos efeitos negativos ocasionados pelo aquecimento global. Carvalho enfatizou o alcance nacional e internacional do 1º Inventário de Emissões de Gases de Efeito Estufa de Minas Gerais, lançado pelo Sisema em novembro e que já foi apresentado ao presidente Lula na reunião do Fórum Brasileiro de Mudanças Climáticas e à comunidade científica mundial na 14 ª Conferência das Partes da Convenção da ONU para Mudanças Climáticas (COP 14), realizada em dezembro em Poznan, na Polônia.

Em termos do fomento a novas fontes de energia, o secretário destacou que em Minas o enfoque é o desenvolvimento da utilização da energia renovável. "Já existem estudos que comprovam que a Serra do Espinhaço possui grande potencial para a produção de energia eólica. A Cemig já está realizando estudos para viabilizar essa nova fonte" informou.

Desafios para 2009

Na avaliação de Carvalho o Estado continuará avançando na gestão ambiental em 2009. O secretário avaliou que os maiores desafios são o combate ao desmatamento, o tratamento de esgoto e a gestão dos resíduos sólidos urbanos. "Apesar do avanço significativo nessas áreas e de Minas estar em posição favorável no Brasil, vamos continuar investindo e focando nossas ações para atingirmos níveis ainda mais ousados ", pontuou.

Atualmente 45,90% da população urbana do Estado é atendida por sistemas adequados de tratamento e disposição final de resíduos sólidos urbanos. O desmatamento caiu 29,5% nos últimos dois anos e o tratamento de esgoto cresceu 600% nos últimos cinco. "São números expressivos, mas a meta é chegarmos em 2010 com um quadro ambiental melhor e com ganho da qualidade de vida para todos os mineiros", finalizou José Carlos Carvalho.
Tags: águas subterrâneas, águas superficiais, aquecimento global, aquifers, Aqüífero Guarani, Atlantic Forest, biodiversidade, Biodiversity, Brasil, Brazil, cambio climático, Cemig, Cerrado, Climate Change, Conservation, deforestation, desmatamento, energía eólica, energia renovável, estradas, florestas nativas, forest fires, gases de efeito estufa, global warming, greenhouse gases, groundwater quality, IEF, incêndios florestais, Mata Atlântica, Minas Gerais, mudanças climáticas, Previncêndio, renewable energy, residuos sólidos, Rio Doce, Rio Grande, Rio Jaguari, Rio Piracicaba, Serra do Espinhaço, SISEMA, sugarcane, surface water, unidades de conservação, waste policy, water resources, wind energy
Subscribe to My Comments Feed
Leave a Reply