« Dia Sin Auto en Chile | Home | The Need to Improve the Safety of Children's Medicines »
By Keith R | September 27, 2007
Topics: Environmental Protection, Waste & Recycling | No Comments »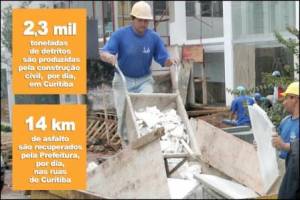 Last December I blogged about a new mayoral decree in South America's largest city, São Paulo, that required the use of recycled civil construction and demolition (C&D) wastes in some city projects (primarily paving).
Not to be outdone, Beto Richa, the mayor of what many consider to be South America's "greenest" metropolis, Curitiba (the capital of the southern Brazilian state of Paraná, pop. 1.1 million), signed a similar decree in mid-August.
Curitiba generates 2,300 metric tons of C&D waste every day. The city administration says that it repairs 14 kilometers' worth of asphalt pavement every day.
Richa hopes that this new green procurement requirement will give a significant boost to C&D waste recycling in the metro area. Quality specifications for recycled materials to be used in paving contracts are slated to be issued within 180 days.
Natal Wants to Join In
Meanwhile in the capital of the northeastern state of Rio Grande do Norte (RN), Natal (pop, 751,000), negotiations are near completion on establishing the city's own R$50,000 C&D waste recycling facility. The city administration, the environment section of the Public Ministry (Ministério Público), the state branch of the trade association for the civil construction industry, Sinduscon-RN, and the RN chapter of the Civil Construction Cooperative (Coopercon-RN) are working out the details of a facility that would have the capacity to process 600 cubic meters (m3) per day.
The plan is to create it on land in the Bom Pastor neighborhood donated by the city, with other three "ecopoint" transfer/triage stations placed strategically around the city so that much of the sorting is done before the C&D waste reaches Bom Pastor. The designer of the project reckons that with the recycling facility Natal can recover about 50% of the C&D waste collected, and resale it at about a price 40% lower than similar virgin material and in the process cover the investment and operating costs. Currently in Natal most C&D waste is deposited in illicit dumps in spots such as Mãe Luiza, Pajuçara and Candelária/Pitimbu.
______________________________
Desde a Prefeitura Municipal de Curitiba:
Prefeitura usará lixo da construção civil para fazer calçada e rua

O prefeito Beto Richa assinou decreto determinando o uso de material proveniente da reciclagem de caliças da construção civil (pedra-brita e areia) nas obras e serviços de pavimentação de ruas e calçadas públicas. Além de benefícios ao meio ambiente, a medida servirá também como incentivo para instalação de empresas de reciclagem em Curitiba e região.

"Além de combater o desperdício, a iniciativa ajuda a economizar recursos naturais e evita o despejo de caliças em áreas impróprias, como rios, fundos de vale e terrenos baldios. A medida também estimula a instalação de empresas do ramo de reciclagem na região", diz Richa. A estimativa é de que em Curitiba sejam produzidas por dia 2.300 toneladas de resíduos da construção civil.

Os resíduos da construção civil são problemas enfrentados pela maioria das grandes cidades. Além da reciclagem, a forma mais adequada de destinação destes materiais são os aterros licenciados. Caso contrário, os materiais acabam parando em fundos de vale, rios e até em bueiros, provocando alagamentos e enchentes.

O decreto assinado por Richa prevê 180 dias, contados da data de publicação, para que os projetos das obras e serviços de pavimentação da Prefeitura apresentem as especificações técnicas de uso do agregado da construção civil. O uso do agregado reciclável será utilizado nas camadas abaixo do asfalto, como base, sub-base e subleito, e também como antipó.

A Secretaria Municipal de Obras Públicas também estuda a possibilidade de aproveitar o material nas obras de manutenção de edificações e, futuramente, na produção de pré-fabricados, como meios-fios.

Para ser usado nas obras da Prefeitura, os materiais reciclados deverão seguir os critérios estabelecidos pela Associação Brasileira de Normas Técnicas (ABNT). Ficam dispensadas do decreto obras de caráter emergencial ou quando a utilização é tecnicamente inviável e também na falta de material no mercado.

"A Prefeitura está dando um importante passo para ajudar a solucionar um dos maiores problemas ambientais enfrentados hoje pelos grandes centros urbanos, que é o depósito irregular de caliças e entulhos", diz o secretário municipal do Meio Ambiente, José Antonio Andreguetto.

"Além de dar um destino ambientalmente correto, este material é importante na manutenção viária da cidade, que recupera 14 quilômetros de pavimento ao dia", afirma o secretário municipal de Obras Públicas, Mário Tookuni.
Tags: ABNT, asfalto, asphalt, Beto Richa, Bom Pastor, Brasil, Brazil, C&D waste, civil construction, construção civil, Curitiba, eco-points, green procurement, materiais reciclados, Ministério Público, Natal, Paraná, reciclagem, reciclaje, recycled materials, recycling, residuos, Rio Grande do Norte, waste
Subscribe to My Comments Feed
Leave a Reply