« More LAC Wind and Solar Maps | Home | PAC'ing Brazil: Overview & Environmental Licensing »
By Keith R | March 1, 2007
Topics: Environmental Protection, Waste & Recycling | 7 Comments »
In "Recycling Coconuts" Parts I and II, I mentioned that a number of Brazilian municipalities and states were looking at the experiences of Rio de Janeiro and Fortaleza (Ceará) in recycling green coconut husks — most of them collected after people sipped agua de coco from the coconuts — to make useful products (plant pots, growing walls, mats, etc.). Just got this release from Mato Grosso in my inbox about a similar project underway in the state capital, Cuiabá, and the nearby municipalities of Várzea Grande and Jangada. The project was developed by the State Secretariat for Labor, Employment, Citizenship and Social Assistance (Secretaria de Trabalho, Emprego, Cidadania e Assistência Social – Setecs) and the nongovernmental organization Amaterra.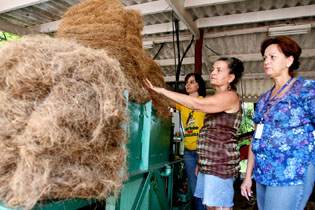 Desde a SETECS:
Projeto utiliza fibra de coco verde para gerar renda

Vasos para plantas, mantas, capachos, escovas e até estofados para carros. Estes são alguns dos produtos que podem ser confeccionados a partir do reaproveitamento do resíduo do coco verde.

O projeto, elaborado pela Secretaria de Trabalho, Emprego, Cidadania e Assistência Social (Setecs) e a Ong Amaterra, está em andamento há quase dois anos e já concluiu as duas primeiras fases de execução, em parceria com a Fapemat, Empaer, Finep e Cefet, entre outros.

A unidade experimental, com as máquinas e os equipamentos necessários para extrair a fibra e o substrato do coco, já está em funcionamento, no laboratório regional da Empaer, em Várzea Grande.

De acordo com as pesquisas de viabilidade técnica e econômica realizadas durante o início do projeto, os municípios de Cuiabá, Várzea Grande e Jangada consomem juntos mais de 5,6 mil cocos por dia. "É muita matéria-prima que está sendo desperdiçada porque tem o lixo como destino final", afirmou a secretária adjunta de Projetos Estratégicos da Setecs, Neide Mendonça.

Segundo ela, quando a unidade de processamento do resíduo do coco verde estiver em pleno funcionamento, será possível gerar trabalho para muitas pessoas. "No caso de vendedores de rua de água de coco e catadores de materiais recicláveis, por exemplo, o reaproveitamento do coco culminará no aumento da renda familiar", explicou a secretária adjunta.

Vale lembrar também que o benefício ambiental do projeto também é muito grande. "O substrato do coco verde tem alto teor de tanino, uma matéria orgânica poluente, que em contato com a água entra em processo de fermentação ou em contato com o solo entra em processo de acidificação", explicou a pesquisadora Margarette Regina Borges, presidente do Instituto de Povos, Cultura e Natureza Sustentáveis.

Ela disse ainda que, com pesquisas e investimentos certos, é possível produzir compensados e telhas ecológicas, por exemplo, a partir da fibra do côco. "Outro bom exemplo seria também agregar pluma de algodão à fibra para tecelagem, ou quem sabe utiliza-la como enchimento de colchões", exemplificou Margarette.

O projeto foi encaminhado para Furnas Centrais Elétricas e concorre a um concurso nacional que premia bons projetos com incentivos financeiros.
Tags: agua de coco, Amaterra, catadores, Cefet, Coco Verde, coconut husks, coconuts, Cuiabá, Empaer, Fapemat, fibra de coco, FINEP, Jangada, reciclagem, recycling, Setecs, Várzea Grande
7 Responses to "More Coconut Recycling / Mais Reciclagem de Coco"
Leave a Reply