« BNDES cria linha de apoio para catadores de materiais recicláveis | Home | Como tener éxito trabajando con "basura" en Latinoamérica »
By Keith R | November 21, 2006
Topics: Environmental Protection, Waste & Recycling | 52 Comments »
In a prior entry I introduced you to Brazilian experiments with constructing homes using PET bottles. Today I'll introduce you to Andreas Froese, a man who not only did it first in Honduras, but has gone much beyond the experimental stages to actually build over a dozen homes and community centers made of PET bottles, as well as water cisterns, bus stop benches and even a replica of a Roman aqueduct.
The next entry in the Temas Blog will be a guest blog from Andreas himself, discussing the challenges he faced in putting together these projects and the lessons learned that can be applied by those contemplating similar projects in other Latin American and Caribbean (LAC) nations.
CCAD award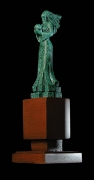 An Award-Winning Eco-Firm with a Social Purpose
The Central American Commission on Environment and Development (Comisión Centroamericana de Ambiente y Desarrollo – CCAD) recently announced the 2006 recipients of the "Award for Environmental Innovation in Central America" to publicly recognize regional experiments in eco-innovation. The CCAD is the intergovernmental institution in charge of coordinating policy work on natural resources and the environment among the nations of the Central American Integration System (Sistema de la Integración Centroamericana – SICA). The biennial Awards were launched in 2002 to prompt greater interest in the seven nations (Belize, Costa Rica, El Salvador, Guatemala, Honduras, Nicaragua, Panama) in ecodesign, cleaner production, and promoting energy efficiency and greater use of renewable energy sources. Sponsors of the prize include USAID and the governments of Finland and the Netherlands.
The 2006 recipient for "innovation in sustainable products (ecodesign)" [innovación de productos sostenibles (ecodiseño)] was a small Honduran firm, Eco-tec, for construction of water tanks (cisterns, or cisternas as they are known in Spanish) using "trash" (recycled materials). This was the second time Eco-tec won the CCAD award: the first, in 2002, was for transforming a Honduran farm into a tourist center and center for training in the application of "clean" technologies.
Eco-tec is the brainchild of Andreas Froese, a German who has made Honduras his home for over a dozen years. Although technically a for-profit firm, all Eco-tec projects have a strong social focus. The structures built using wasted materials, for example, have not only taught communities lessons about the economic value of such materials and the utility of recycling them, but also trained the poor and/or handicapped in useful and employable design and construction techniques and skills while providing cheap but attractive housing, bus stops, kiosks, community centers and even a "book house" (mini-library).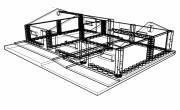 Froese, a construction worker in his native Germany, originally worked primarily in eco-tourism in early years in his new home, Honduras. He came up with the idea of using "trash" as construction material while helping clean up an eco-park after Semana Santa in 2000. He saw the huge quantities of nonreturnable beverage containers (primarily PET soft drink bottles) collected, and wondered how to convert them into useful inputs or end-products. Thus Eco-tec was born.
All images courtesy of Eco-tec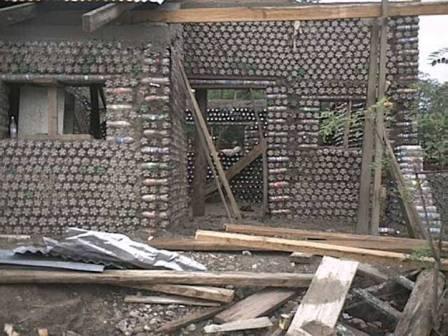 As can be seen in the picture to the right, some 70% of the structures built by Eco-tec consist of PET bottles recovered in clean-up campaigns and recycling drives, and then filled with sand and sealed.
Froese insists that the filled PET bottles make a tougher, more durable construction material than common concrete blocks used in most Central American building. He offers a video on his website of a worker pounding on a filled bottle with a hammer to prove it. He points out that PET can last as long as 300 years (undoubtedly longer than the cement used to bind the bottles together in the walls!).
Also heavily used in Eco-tec's construction projects are end-of-life vehicle wheel rims (rines), which often form the core of building columns, but sometimes serve as the baseline of walls as well.
"Casas Ecológicas" Made with PET
The following three pictures (click on each thumbnail to see a larger version) are of Eco-tec's casa ecológica ("ecological house") constructed in Honduras using some 8,000 PET bottles, in the process freeing up an estimated 12 cubic meters (m3) in the local landfill.
The house also features a "living roof" (sometimes called a "green roof") of sod and turf. Such roofs not only have aesthetic appeal, but tend to insulate the house better than conventional roofs, lowering heating and cooling costs. They are also cheaper than conventional roofs.
When wet, the 102 square meter (m2) living roof of the casa ecológica can weigh as much as 30 metric tons (Mt, toneladas). The PET bottle walls can support the weight.
The following four thumbnails (click on each to see a larger version) are from a larger project, Casa de la Fé ("Faith House"), intended to provide shelter for all visitors coming to town seeking treatment at the Honduran Foundation for the Rehabilitation and Integration of the Handicapped (Fundación Hondureña de Rehabilitación e Integración del Limitado – FUHRIL).
This colorful structure is Campo Cielo, which reputedly has the world's first roof made of PET bottles. It also has several mosaics made of bottle caps. The fellow on the right in the middle picture is Andreas.
"Water for All" — Cisterns Made of PET Bottles for Marginal Communities
The following pictures (click on each to see a larger version) are examples of the cisterns built using sand-filled PET bottles as the primary construction material. One of these pictured here is a 3,500 liter cistern built at a school, with the help of the school children — a hands-on lesson in both recycling and the building trade. It was just such a project that won Eco-tec this year's CCAD Environmental Innovation Award.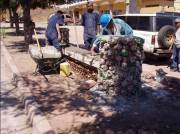 Other Types of Structures Made with Scrap Soda Bottles
The picture at right (click to enlarge) is one of the bus stop benches Eco-tec built in a city using handicapped workers. The project intended in part to demonstrated to the community that almost any type of urban infrastructure could be built using PET bottles.
As mentioned above, Eco-tec has also used PET bottles in the construction of kiosks, a casa de libros, and a whimsical project — a replica of a Roman aqueduct. It has also demonstrated that "camping igloos" three meters in diameter and just over two meters high could be mass produced as temporary housing in times of natural disasters using only 2000 plastic bottles per "igloo."
What Next?
Eco-tec is currently experimenting with the use of bamboo as a construction material, while Andreas himself is working to bring Eco-tec's style of eco-social project to Colombia.
— Keith R
Technorati Tags: recycling construction Environment plastics residuos packaging waste reciclaje residuos solidos Central America Honduras Colombia clean technology green building ecodesign ecodiseño ecodesenho USAID CCAD living roof
Tags: aqueduct, bamboo, basura, Belize, botellas PET, bus stops, casa ecológica, CCAD, cisternas, cisterns, Colombia, community centers, construction, construction materials, Costa Rica, creative recycling, desechos, drink bottles, eco-design, eco-diseño, Eco-tec, El Salvador, Finland, Finlandia, FUHRIL, garrafas PET, Guatemala, Holland, Honduras, housing, kiosks, lixo, Netherlands, Nicaragua, Panama, PET bottles, reciclagem, reciclaje, recycled materials, recycling, residuos, SICA, trash, USAID, waste, water tanks
52 Responses to "More Construction with PET Bottles"
Carlos Says:
September 1st, 2016 at 7:20

Hello Keith,

I am currently living in an urban area in the US in an old house that I'm trying to cover into a fully sustainable homestead for me and my family.I've been thinking of building a 2 1,500 gallon cistern in our basement for two reasons 1) it gets pretty cold here so I must maintain it below the frost line 2)I don't want to call to much attention to myself. I've seen other builders makes cistern out of aluminum cans, chicken wire, and cement or mortar, but they are all constructed outdoors. Do you think it's safe to building one in a basement and if so how would you secure it to the pre-existing basement floor(it's cement). And do have any plans on how to build a cistern. Thanks

David Kuter Says:
May 18th, 2017 at 6:14

Terrific post however I was wanting to know if you could write a litte more on this topic? I'd be very thankful if you could elaborate a little bit further. Thank you!
Leave a Reply