« Gas Flaring, LAC & Climate Change | Home | Eco-certifying Tourism / Eco-certificación de Turismo »
By Keith R | October 7, 2007
Topics: Environmental Education, Environmental Protection, Packaging, Waste & Recycling | No Comments »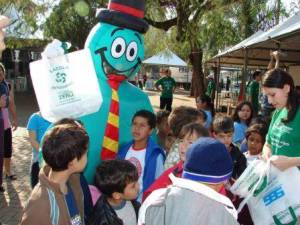 When discussing recovery/recycling among packaging materials in Brazil, glass sometimes suffers by comparison. Brazil is a world leader in recycling PET and aluminum cans, and high among recyclers of corrugated cardboard (77%).
Brazil's 45% annual recycling rate for glass packaging is better than the glass packaging rate for the US (but then again, the US recycles ten times the volume), but is nowhere near that of Italy (61%), Norway (76%), Belgium (90%), Germany (91%) or Switzerland (96%).
But as a state that has adopted "zero waste" as its official goal and targeted packaging waste for special action, Paraná (PR) wants to do far better than 45% for glass. Thus it's not really a surprise that the Zero Waste Program of PR's Secretariat of the Environment and Water Resources (SEMA) has teamed up with the Brazilian Association of the Automated Glass Industry (Associação Brasileira das Indústrias Automáticas de Vidro – Abividro) to launch a campaign to significantly increase the glass packaging recovery and recycling rates in that state.
This effort was kicked off recently in Foz do Iguaçu (pop. officially 311,000, double that if you include surroundings), the PR city adjacent to the world-famous Iguazu Falls.
Why Foz? Well, there's the fact that it has grown to become PR's third most populous city, so any recycling campaign to raise the state's stats needs to include it. There's also the fact that it's probably the state's biggest tourism focal point, with significant turnover of bottled beverages (the largest segment of glass packaging) (it's estimated that Foz produces about 150 metric tons of glass waste every month) and a fairly well-organized hospitality sector (bars, restaurants, hotels).
But there's another reason, one you might not consider unless you're from the border zones in the Southern Cone: combating piracy (counterfeiting).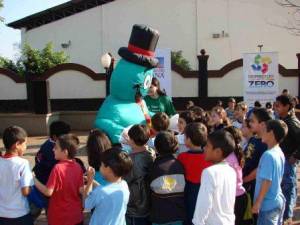 Education, Education, Education
As with most paranasense environment campaigns, this "Vidraço" (as they are dubbing the glass recycling campaign) had a major educational component. Some 2,500 residents and school children got to see a simulation of the glass product cycle, from creation to post-consumer recycling, and demonstrations of glass blowing.
Further, through theater presentations, they learn that glass is 100% recyclable, about the environmental benefits and virtues of glass recycling, and how to properly separate glass packaging. [That's Abividro's big green mascot "caquinho" ("little shard") handing out info packs to the kids in the photo.]
Perhaps by now my friends well-versed in glass packaging, beverage container and waste issues are scratching their heads and muttering, but why all the emphasis on recycling and no mention of the benefits of refilling and reuse? Some argue that multiple use of refillable bottles provides more environmental benefit than recycling.
The answer is the other theme of the educational programs presented to Foz audiences during the "Vidraço": the problems caused by "pirates." You see, there is a thriving smuggling and product piracy trade along the frontier, and sometimes drink bottles — for spirits such as whiskey, for example — are refilled with counterfeit spirits, recapped and sold as the original brand. Authorities feel that if they can mount a successful glass recycling campaign in the border regions, they can deprive the pirate operations of a key tool.
Partners in the Process
In conjunction with this campaign, glass collection points were set up in Foz, particularly among member establishments of the trade association representing hotels, bars and restaurants (Sindicato dos Hotéis, Restaurantes, Bares e Similares – Sindihoteis). A company licensed by the Environment Institute of Paraná (IAP), Ambiental Vitare/Mercofrigue, picks up the accumulated and separated glass without charge to the collectors (whether schools, business establishments or community eco-points). They deliver bottles/shards to member companies of Abividro, who utilized it as inputs in the production of new packaging and products.
Is the new campaign having an impact? State environment officials say that within one week of the first "Vidraço," Foz had collected 54 metric tons of glass packaging (about 44% more than average week's intake in the past).
It Doesn't Stop in Foz de Iguaçu
The second "Vidraço" was held in the state capital and largest city, Curitiba, on 02 October. The pitch for glass recycling made there by state environment officials and Abividro was largely unchanged from that made in Foz — which is interesting, given that Curitiba is far from the border. But then, perhaps SEMA/IAP and Abividro calculate that Curitiba is a major end-market for counterfeit drink products…or a prime source of empty bottles? Curitiba generates about 900 metric tons of glass packaging waste per month.
Other "Vidraço" events are scheduled around the state in coming months. If successful in significantly raising glass recovery and recycling in the state, the model might be duplicated elsewhere in Brazil.
______________________________
Desde a Agência Estadual de Notícias:
Governo lança em Foz programa de recolhimento de vidro inédito no país

A Secretaria do Meio Ambiente e Recursos Hídricos iniciou nesta quinta-feira(23), em Foz do Iguaçu, um Programa de Coleta Seletiva de vidro inédito no país, segundo avaliação da Associação Brasileira das Indústrias Automáticas de Vidro (Abividro), que será parceira na ação. O projeto faz parte do Programa Desperdício Zero.

O trabalho deverá retirar do aterro sanitário de Foz 150 toneladas de vidro geradas mensalmente pela cidade e, posteriormente, cinco mil toneladas de vidro geradas e destinadas irregularmente em todos os demais municípios do Paraná. Além disso, a ação evitará a reutilização das embalagens de vidro para a falsificação de produtos como, por exemplo, bebidas alcóolicas na região da fronteira.

"O Paraná merece um aplauso porque o trabalho iniciado hoje em Foz do Iguaçu é único no Brasil. Temos muitas iniciativas de reciclagem no país mais nenhuma delas atua de maneira tão contundente na educação ambiental e conscientização das pessoas, envolvendo ainda as indústrias. Queremos estar presentes em todos os municípios do Paraná nesta parceria", declarou o superintendente da Abividro, Luciem Belmonte.

O superintendente esteve ao lado do secretário do Meio Ambiente, Rasca Rodrigues, no "1o Vidraço" promovido na Praça Mitre, em Foz, onde cerca de 2,5 mil moradores e alunos das escolas públicas puderam conhecer desde a produção até o processo de reciclagem do vidro.

"Toda a política de recolhimento de lixo deve ter uma logística e a nossa meta é conscientizar a sociedade a separar o resíduo e, ao mesmo tempo, aproximar grandes geradores das empresas recicladoras, aumentando a rentabilidade do produto", explicou o secretário Rasca Rodrigues.

LOGÍSTICA – O coordenador do Programa Desperdício Zero, Laerty Dudas, destacou que as parcerias são fundamentais para o sucesso da ação. Como exemplo ele citou o Sindicato dos Hotéis, Restaurantes, Bares e Similares (Sindihoteis), de Foz, que irá separar o vidro gerado nos estabelecimentos comerciais.

"Em contrapartida, a empresa Ambiental Vitare/Mercofrigue – licenciada pelo Instituto Ambiental do Paraná (IAP), fará a coleta sem custo algum para a população ou para os estabelecimentos. Posteriormente os cacos de vidros serão enviados às indústrias vidreiras associadas à Abividro para produção de novas embalagens e produtos", detalhou Dudas. Com o inicio da campanha espera-se criar pontos voluntários de coleta de vidro, inclusive em parceria com as prefeituras.

REDUÇÃO DOS RECURSOS NATURAIS – "Não queremos eliminar todo o lixo que é enviado aos aterros, e sim o desperdício. O vidro se destaca por ser uma material 100% reciclável e para isso não precisa estar em sua forma original, pois os cacos podem ser transformados em novas embalagens", declarou o secretário Rasca Rodrigues.

Segundo ele, outra grande contribuição da reciclagem do vidro está na redução do consumo de matérias-primas naturais e não-renováveis, pois 72% do vidro é feito de areia e 28% de outros minerais como o calcário, que com a ação do calor transformam-se em vidro.

"Utilizando cacos em sua confecção podemos preservar em 90% os recursos naturais consumidos e ainda, ao diminuir o tempo de fusão, podemos economizar 30% de energia", destacou o secretário.

CIRCUITO DO VIDRO – Durante o "1o Vidraço" a comunidade pôde ver a simulação da produção de vidros, onde técnicos da Abividro produziam o mascote "caquinho", como aquecimento do material. Por meio de apresentações teatrais os participantes puderam aprender sobre a separação do vidro e problemas causados pela indústria da pirataria. Técnicos da Abividro estavam presentes simulando o processo chamado "soprado soprado" (blow and blow) onde a embalagem é formada através do ar comprimido.

A diretora da Escola Municipal Parigot de Souza, Viviane Marques, elogiou as ações de estímulo à reciclagem que vem sendo promovidas pelo governo em Foz. "Depois do 'Pastelaço' começamos a recolher óleo de cozinha na escola e agora faremos o mesmo com o vidro que pensávamos ser um problema sem solução", declarou a diretora ao levar os 408 alunos de sua escola para percorrer o circuito do vidro.

NÚMEROS – O Brasil hoje recicla 45% das embalagens produzidas, isso significa uma quantia de 390 mil ton/ano. Esse número ainda é simbólico uma vez que países como Alemanha e Suíça chegam a reutilizar mais de 80% de suas embalagens.
Tags: Abividro, Alemanha, Alemania, Ambiental Vitare, basura cero, Bélgica, Belgium, beverage containers, beverages, Brasil, Brazil, caquinho, counterfeiting, Curitiba, desperdício zero, eco-points, embalagens de vidro, Foz de Iguaçu, Germany, glass, glass packaging, IAP, Iguazu Falls, Italia, Italy, lixo, Noruega, Norway, Paraná, reciclagem, reciclaje, recovery rates, recycling, recycling rates, residuos, reutilização, SEMA, shards, Sindihoteis, Suíça, Suiza, Switzerland, Vidraço, vidrio, vidro, waste, zero waste
Subscribe to My Comments Feed
Leave a Reply