« Greening the IDB / A Verdecer el BID | Home | Vaccination Week in LAC »
By Keith R | April 22, 2007
Topics: Biodiversity, Climate Change, Energy & the Environment, Environmental Protection | No Comments »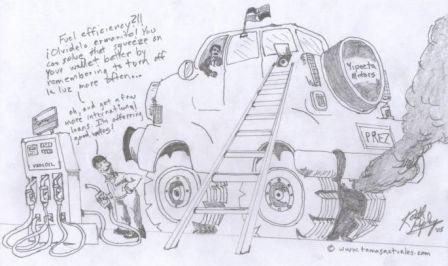 Last weekend I read a column by Clarence E. Pilgrim in the Antigua Sun [yes, I read online news from around LAC everyday, just usually do not have the time to convey or comment on what I gather] that gave me further hope that more and more Caribbean opinion-makers understand the environmental challenges facing their nations and want their leaders to step up to the plate. The true challenge, as often the case in most nations, is getting the policymakers to do just that very thing.
Mr. Pilgrim starts the column by noting that Caricom's current Chairman, Dr. Ralph Gonsalves, has said that his priority for Caricom will be the "ennoblement of Caribbean civilization." Pilgrim suggests that this must include environmental issues such as climate change, biodiversity and use of alternative energy sources.
A multi-disciplinary approach is needed, he posits, with special attention paid to the role of, and impact upon, agriculture. Also needed, he suggests are more environmental cooperation and technology sharing agreements like the one just concluded between Cuba and the Dominican Republic, and adoption by Caribbean legislatures of "meaningful energy legislation as soon as possible" that reduce the use of fossil fuels and promote "appropriate technologies." He thinks all Caribbean nations should set themselves the "realistic goal" of cutting their gasoline consumption by 20% over 12 years.
To get the ball rolling, he calls on government officials to show leadership and change their use of government vehicles. Government fleets are "sometimes too large to be justified" or simply not efficiently managed. [Temas comment: Mr. Pilgrim is being too diplomatic. Too many governments have stocked their fleets or given their officials large gas-guzzling "status vehicles," many of them oversized SUVs, as if gasoline was only US$1 per gallon. Not only is it environmentally unfriendly, but it introduces enormous wastage in the budget and contributes negatively to the fuel import bill. Why do most Caribbean citizens stay silent about such wastage of their tax dollars?]
Mr. Pilgrim calls for a five-step program to change this:
STEP 1 : Governments must first of all adopt a policy of only purchasing fuel efficient vehicles!

STEP 2 : Governments must do an inventory on departmental needs to make sure that assigned vehicles are used in a manner they were intended to be used.

STEP 3: There must be an effective monitoring system established to ensure compliance with vehicle usage guidelines.

STEP 4: Disciplinary action must be taken for confirmed breaches of policy.

STEP 5: Beginning in the next three years, governments should begin to acquire vehicles which use alternative fuels, fuel blends, fuel economy, hybrids, and idle reduction. This is to be done within an overall national transportation development plan.
I think this is a sensible plan of action, and would like to second Mr. Pilgrim's motion!
I also suspect I will be reading more of Mr. Pilgrim's columns. He sounds like the type of voice of reason the Caribbean could use more of.
— Keith R
Tags: alternative energy, alternative fuels, Antigua Sun, Biodiversity, Caribbean, Caribe, CARICOM, Climate Change, Cuba, Dominican Republic, energía alternativa, fuel efficient vehicles, hybrids, SUVs, vehicle fleet
Subscribe to My Comments Feed
Leave a Reply