« Argentina's First Consumer Defense School | Home | Malaria in the Americas: Still Formidible / Malaria en las Américas: formidable todavia »
By Keith R | October 9, 2007
Topics: Environmental Protection, Renewable Sources, Waste & Recycling | 6 Comments »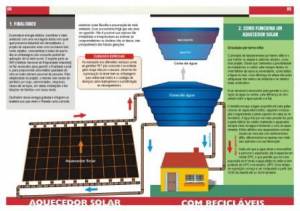 One of the most popular recent posts here on The Temas Blog has been the one about the inexpensive solar water heater being built around Paraná state out of used PET bottles and aseptic packaging (tetrabrik). For reasons I can't quite work out, it has proven particularly popular in Asia…
Given the level of interest, I thought I'd pass on a couple of related items.
The first is that that Paraná has put together and offers free for download an illustrated instruction manual on how to build one of your own solar heaters with PET bottles and tetrabrik. Sure, at present the manual is only offered in Portuguese, but that should not pose a significant challenge for any able to read Spanish well. And frankly, the illustrations are so numerous and well-done that even people fluent in other languages might be able to follow along. It certainly is easier to follow than the assembly manual (supposedly written in English, but apparently by someone not very familiar with the language) I received with my last purchase of a large item of furniture.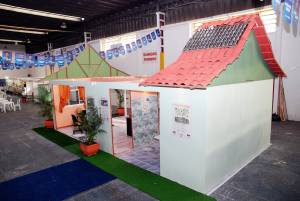 The second related item is the news about a new wrinkle in the efforts of Paraná's state housing entity, the Companhia de Habitação do Paraná (Cohapar), to build thousands of cheap, basic casas verdes ("green houses") homes for low-income families. These homes prominently feature the solar water heater made from recycled materials. PR's neighbor, the state of Santa Catarina (SC), recently signed an agreement with PR to share the paranasense design and know-how for the casa verde so that it can build them for its low-income families.
PR has the casa verde down to a low-cost (about R$ 9,000 per) pre-organized kit that can be assembled in just weeks. [Click the image at right of a cutaway mock-up of the house — note the solar water heater incorporated into the roof.] The 46 square meter (m2) houses are constructed using wood either seized from illegal shipments or certified by authorities as coming from reforestation projects.
Tags: aseptic packaging, Brasil, Brazil, casa verde, Cohapar, garrafas PET, manual, Paraná, PET bottles, reciclagem, reciclaje, recycled materials, recycling, residuos, Santa Catarina, solar water heater, Tetra-brik, waste
6 Responses to "More on the Solar Water Heater Made of PET Bottles"
Leave a Reply