« Chile Finally Gets an Environment Minister…Well, Almost | Home | Dell Offers Recycling Throughout LAC? Not Yet! »
By Keith R | March 16, 2007
Topics: Climate Change, Environmental Protection | No Comments »

Synopsis in English: Ecuadorian Freddy Ehlers Zurita only took the oath of office as the new Secretary-General (SG) of the Andean Community (CAN) three weeks ago, but he has wasted no time or opportunity to stress that he thinks that the Community must become high profile on the issue of global climate change. When he assumed office on 22 February, he announced that sustainable development will be a top priority of his administration, with special stress on climate change. "This General Secretariat proposes, Messrs. Ministers, that this be the subject of our special concern, so that we may design a different alternative for development that will lead us to form what Ecuadorean President Correa calls the Great Sustainable South American Nation." Today his office issued a press release (see below) calling on CAN to create a "collective consciousness" about the issue involving every segment of its four member nations (Bolivia, Colombia, Ecuador, Peru).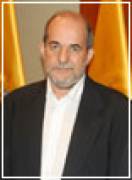 Desde la Secretaría General de la CAN:
Secretario General de la CAN plantea crear conciencia colectiva sobre calentamiento global

El Secretario General de la CAN, Freddy Ehlers, consideró urgente promover la creación de una conciencia colectiva sobre el problema del calentamiento global y pidió involucrar a todos los sectores de la población, desde los funcionarios y especialistas hasta los empresarios y estudiantes.

Indicó que la gravedad del problema amerita no sólo una acción mancomunada mundial de especialistas, asesores y funcionarios para estudiar, analizar y definir el problema sino también que la población mundial tome conciencia de lo que le espera en el inmediato futuro si no se toman las medidas del caso.

Refirió que en la Comunidad Andina este tema, que hasta hace sólo cinco años estaba ausente de la Agenda de la integración, ya está incorporada en ella como una prioridad y se ha comenzado a trabajar en el diseño de una estrategia andina, así como en la puesta en marcha del Instituto Andino de Biodiversidad que permitiría investigar, entre otras cosas, las especies naturales, teniendo en cuenta que sólo dos por ciento de ellas han sido investigadas.

El Secretario General de la CAN consideró importante "estar alerta" a las señales cada vez más preocupantes que han comenzado a verse como el crecimiento de las mareas, como la ola de calor que recientemente ha provocado incendios en Colombia; las torrenciales lluvias en Bolivia; las temperaturas extremadamente altas que se registran en Ecuador, entre otras.

Indicó que quizá la señal más clara de lo que está ocurriendo es la pérdida acelerada de la densidad de los glaciares andinos, que constituyen las reservas sólidas de agua dulce. Refirió que, según el IPCC (panel de la Organización de las Naciones Unidas que agrupa a las deferentes investigaciones internacionales sobre el cambio climático), muchos de estos glaciares desaparecerán completamente en 20 o 30 años.

Recordó que en América Latina, los glaciares tropicales están ubicados mayoritariamente en la Cordillera de los Andes. "El 71% está en Perú; 20% en Bolivia; 4% en Ecuador y 4% en Colombia", anotó, citando datos contenidos en un informe presentado en una reunión de científicos celebrada en Huaraz (Perú) en octubre de 2005.
Tags: agua dulce, Andean Community, Andes, Bolivia, calentamiento global, cambio climático, Climate Change, Colombia, Comunidad Andina, Ecuador, glaciares andinos, Instituto Andino de Biodiversidad, Peru
Subscribe to My Comments Feed
Leave a Reply