« Brazil to Invest R$25 Million by 2012 on Anti-HIV Vaccines / Brasil vai investir R$25 milhões até 2012 em vacinas anti-HIV | Home | Electric Cars for Colombia »
By Keith R | October 6, 2008
Topics: Environmental Protection, Green Purchasing, Waste & Recycling | No Comments »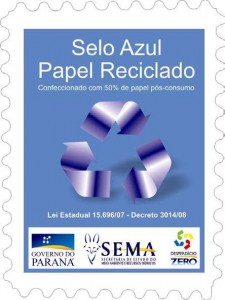 The basic idea was straightforward: stimulate recycling by requiring all state agencies, entities and offices to buy only paper products with high recycled content (50%).
That was the requirement set by a new law adopted by the southern Brazilian state of Paraná in November 2007.  The Law said that it must apply to all paper products — envelopes, cards, forms, blocks, drafts, bills, receipts, letterhead, publications, proceedings, newsletters, even packaging.  The implementing decree released in July called for 30% of public purchases of paper products during the July-December 2008 period to meet the recycled content rule, 50% January-June 2009, and 100% by July 2009.
It also required that the public entities only purchase paper products certified by the state Environment Secretariat (SEMA) as meeting the legal requirements.  Products so certified would bear a special "Blue Seal" (Selo Azul).  A separate implementing rule released in July set out the award criteria for the Seal, what it looks like  (see example at right) and how it should be placed on products
Just one problem: so far, it's not working.
Why?  State Environment Secretary Rasca Rodrigues blames companies for not doing their homework.  Several companies have asked for the Seal, he says, but no one yet meets the criteria.  "It's not just enough for a firm to request putting the Seal on their packaging," stressed Laerty Dudas, SEMA's waste coordinator.  "They have to have all their documentation up-to-date."
My View
To my thinking, the documentation demands are one of the two principal problems SEMA created for itself in the implementation of this law.  SEMA is not just demanding technical proof from an accredited laboratory that the paper products in question have 50% recycled content — a demand that I would expect and support.  They also demand a sample of the product and a certification from the chain of custody showing that the recycled content is actually post-consumer fiber (as opposed to use of production waste — scraps, cuttings, loose ends, etc.).  This last demand may be difficult for many suppliers in Brazil to meet, since many of the paper products on the market have recycled content, but not post-consumer content.
SEMA further wants (1) proof from all federal, state and municipal authorities that the manufacturer of the paper product has paid all his taxes (including INSS and FGTS), in the form of documents (certidão negativa) from each stating so; (2) a written and notarized "social contract" by the firm of their commitment to continue providing paper with post-consumer recycled content; (3) a copy of a current and valid environmental operating license.
I don't have any quibble with making sure that the state buys from companies with solid compliance records, although I am certain that the time-consuming red tape involved may discourage some companies.  And I understand the intent behind the "social contract" demand.  I think, though, that SEMA might have been wiser to introduce this requirement later in the process, once suppliers had a chance to gauge the true size and demand of this new market for recycled paper products.  In essence, SEMA is asking them to commit to a market upfront, mostly on faith.
The second major problem SEMA created for itself in the implementation of this law was the implemtation schedule it set in the decree.  SEMA required public entities to immediately commit 30% of their paper product purchases to high recycled content — in the same month that they issued new rules demanding heavy and time-consuming documentation from manufacturers.  Worse yet, they sought to ramp up state puchases of such products to 100% in just under a year.
They would have been wiser to allow for a grace period of a few months first for manufacturers to digest the new rules, gather and submit the documentation and test data, and get their Seal applications processed before the public entities were forced to only buy Blue Seal products.  SEMA also should have allowed for a slower, more gradual phase-in on the purchasing requirements, permitting state purchasers time to sort through available suppliers and their product offerings, and the shape of the state demand for such products to become more apparent and draw in even more suppliers.
Will SEMA make adjustments to the process and its rules?  Or will it simply try to ride it out, and hope that the Law's implementation works out in the end, although perhaps months later and not quite they way they envisioned?  Stay tuned.
____________________
Desde a Secretaria do Meio Ambiente e Recursos Hídricos (SEMA):
Fabricantes de papel não atendem critérios para receber Selo Azul

Passados quase três meses do lançamento do "Selo Azul-Papel Reciclável", certificado criado pela Secretaria do Meio Ambiente e Recursos Hídricos para comprovar a confecção de papel com pelo menos 50% de matéria-prima reciclada, ainda nenhuma empresa fabricante de papel recebeu a certificação.

Segundo o secretário do Meio Ambiente, Rasca Rodrigues, algumas empresas solicitaram o selo à Secretaria, mas não atenderam aos critérios exigidos pela resolução SEMA 040/08. "Estamos com as portas abertas para todas as empresas que fabricam, segundo nossas exigências, o papel reciclável. No entanto, até agora nenhuma delas estava com a documentação solicitada para que pudesse receber o Selo Azul", disse.

Com a sanção da lei estadual 15.696, no começo de julho deste ano, todas as instituições de poder público estadual começaram a substituir gradativamente o tradicional papel branco usado em cartões, recibos, papéis timbrados, publicações, processos e embalagens, pelo produto reciclado.

De acordo com a legislação, até dezembro deste ano, 30% papel usado nas instituições deve ser confeccionado com pelo menos 50% de matéria-prima reciclada, o papel certificado pelo Selo Azul. "Por isso solicitamos aos fabricantes que tenham interesse em fornecer o produto reciclável aos órgãos públicos que se apresentem. Esta cadeia ajudará a reduzir o passivo ambiental do Estado e contribuirá para a geração de novos empregos de forma indireta", afirmou Rasca.

Selo – Para a obtenção do Selo Azul, as empresas devem estar devidamente regularizadas, apresentar certidão negativa (federal, estadual e municipal) e contrato social, por exemplo. Além desta documentação, também deverá ser anexada cópia de Licença de Operação do empreendimento e laudo técnico da composição do papel emitido por laboratórios credenciados à Secretaria que comprovem a porcentagem de fibras provenientes de papel pós-consumo.

Ainda é necessário que as empresas com eventuais irregularidades se adeqüem às normas exigidas pela lei e compareçam à Secretaria com a documentação correta e a certificação emitida pelos laboratórios credenciados para receber o Selo Azul e então efetuar a venda de produtos recicláveis com pelo menos 50% de material pós-uso. "Não adianta uma empresa simplesmente pedir a emissão do Selo nas suas embalagens, ela tem que existir, ou seja, ter toda a documentação em dia", afirmou o coordenador de Resíduos Sólidos da Secretaria, Laerty Dudas.

Após apresentar a documentação solicitada pela Secretaria, o fabricante terá o símbolo do Selo Azul impresso em seus produtos e poderá vendê-los para órgãos públicos.
Tags: bills, blocos, Blue Seal, boletins, Brasil, Brazil, cards, cartões, certidão negativa, contrato social, eco-certificação, eco-certification, ecolabeling, embalagens, envelopes, environmental licensing, FGTS, forms, formulários, INSS, laboratory, laudo técnico, letterhead, licenciamento ambiental, material pós-uso, newsletters, notas, packaging, papéis timbrados, papel, papel reciclável, paper, Paraná, proceedings, processos, produtos recicláveis, publicações, publications, Rasca Rodrigues, rascunhos, receipts, recibos, reciclagem, recycled content, recycling, Selo Azul, SEMA, social contract
Subscribe to My Comments Feed
Leave a Reply