« Tackling Chronic Diseases in the Caribbean / Atacando enfermedades crónicas en el Caribe | Home | LAC Explores Sustainable Consumption and Production Policy »
By Keith R | September 27, 2007
Topics: Environmental Protection | No Comments »
It is a pleasure to welcome a second guest post by Brazilian Federal Deputy Arnaldo Jardim — for a full introduction please see his "Cidadania Ambiental." As I mentioned in that post, for those of you who cannot read Portuguese, you can always use the handy translation button in the righthand column of this blog.
É um prazer introduzir um segundo artigo pelo Deputado Federal Brasileiro Arnaldo Jardim — para uma introdução completa dele, por favor consulta seu "Cidadania Ambiental."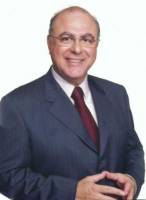 O futuro é hoje!
Eventos climáticos extremos como tempestades e enchentes, pandemias e doenças respiratórias crônicas, escassez de água, extinção de culturas agrícolas, testemunhamos tais "fatalidades" como isoladas, mas já é consenso que são sintomas do acelerado processo de degradação do meio ambiente promovido pelo Homem. Qual o custo desta insustentabilidade ambiental para a sociedade?
O Relatório Stern causou alarde ao concluir que PIB mundial poderá sofrer uma perda de 3% (cerca de US$ 1,3 trilhão), caso a temperatura média global suba três graus Celsius. Pesquisas da Cepagri – Centro de Pesquisas Meteorológicas e Climáticas Aplicadas à Agricultura da Unicamp, apontam que culturas agrícolas sofrerão uma queda de produtividade drástica com o aumento da temperatura. Nos próximos 20 anos, dois terços da população mundial sofrerão com a escassez de recursos hídricos, segundo as Nações Unidas (ONU).
Discussões globais como a Eco-92, o Protocolo de Kyoto, os Princípios do Equador, a busca por energia renovável, a negociação de créditos de carbono, levam a mudanças de condutas e hábitos, desdobrando-se nas fábricas, nas fazendas, nas nossas casas.
A população em geral pode não estar a par da complexidade de medidas para reduzir a contaminação do meio ambiente, estimular práticas ecoeficientes e preservar nossos recursos naturais, mas sofre com as conseqüências e paga um alto custo pelo descaso ambiental.
Empresas, bancos, organizações não-governamentais, integrantes da administração pública e da comunidade acadêmica erceberam que o desafio da sustentabilidade não é simplesmente "bom mocismo" ou marketing ambiental, na ponta do lápis, investir em preservação é o diferencial econômico deste século.
O anuário Análise – Gestão Ambiental (2007) demonstra que esta prática tornou-se comum entre as 500 maiores empresas do país. 59% delas têm uma política ambiental integrada as demais políticas da organização; 82% possuem relatórios de impacto ambiental; 86% delas fazem coleta seletiva de lixo; 12 mil hectares é o total de área natural mantida por elas; 56% das empresas conscientizam seus funcionários sobre o consumo de água e energia elétrica; R$ 4,6 bilhões foram gastos com passivos ambientais, nos últimos três anos.
Pesquisa da Pricewaterhouse corrobora: o tratamento e o transporte de resíduos, assim como correções de problemas, fizeram com que empresas brasileiras investissem R$ 1,2 bilhão em 2005, R$ 1,4 bilhão em 2006, e para este ano espera-se que desembolsem mais de R$ 1,6 bilhão.
Hoje, o Brasil possui 61 empresas certificadas com créditos de carbono emitidos pela ONU, que efetivamente estão recendo dinheiro por isso. Estimativas apontam que o mercado de créditos de carbono no país – com base no preço médio de 8 euros por tonelada de CO2 (2006) – gire em torno de R$ 240 milhões. A Prefeitura de São Paulo, por exemplo, deve embolsar nove milhões de euros com a venda de créditos de carbono do Aterro Sanitário de Bandeirantes.
A BM&F (Bolsa de Mercadorias & Futuros) acaba de lançar o Mercado Brasileiro de Redução de Emissões (MBRE) para estruturar negociações de créditos de carbono. No Banco de Projetos é possível fazer o registro eletrônico de projetos e empreendimentos que promovam a redução de emissões ou o seqüestro de gases de efeito estufa da atmosfera.
Concomitantemente a preocupação com prejuízos advindos de passivos ambientais, no mundo corporativo, certificações ambientais, respeito à legislação trabalhista, responsabilidade social, adoção de práticas ecoeficientes e de eficiência energética estão se tornando diferencias de competitividade e uma oportunidade de novos negócios no comércio global. No desafio de consumir menos recursos naturais, mitigar a geração de resíduos e aumentar a produtividade, o setor produtivo se vê obrigado a promover uma revolução no "chão da fábrica", com investimentos maciços em inovação e pesquisa para evitar o desperdício e atender a uma sociedade cada vez mais consciente das mazelas do consumo desenfreado.
Neste contexto, há necessidade de políticas públicas capazes de nortear um crescimento econômico aliado à justiça social e a preservação ambiental. O estabelecimento deste marco regulatório aumenta a responsabilidade do Poder Legislativo de "dar forma" a um arcabouço ambiental capaz de delinear nosso desenvolvimento sustentável neste Século XXI. Após longos 16 anos, chega ao Congresso Nacional o projeto de lei que institui a Política Nacional de Resíduos Sólidos, uma oportunidade para tratarmos o assunto de forma definitiva, com uma visão inovadora e equilibrada, a exemplo da experiência bem sucedida com a lei paulista sobre o tema.
Cabe a sociedade civil organizada cobrar rapidez, o cumprimento de prazos e a implementação destas práticas no seu cotidiano, para que as boas idéias não fiquem apenas no papel ou apenas na retórica. Neste compromisso com o futuro, ações voltadas à sustentabilidade ambiental devem ser responsabilidade de todos.
— Deputado Arnaldo Jardim
arnaldojardim@arnaldojardim.com.br
www.arnaldojardim.com.br
Tags: Arnaldo Jardim, aterro sanitário, bancos, banks, Brasil, Brazil, cambio climático, carbon credits, cidadania ambiental, Climate Change, coleta seletiva, créditos de carbono, desarrollo sostenible, desenvolvimento sostentável, doenças respiratórias crónicas, eco-certificação, eco-certificación, eco-certification, efeito estufa, eficiencia energética, EIA, energía renovable, energia renovável, Informe Stern, Kyoto Protocol, lixo, MBRE, pandemias, passivos ambientais, política de resíduos, práticas ecoeficientes, Pricewaterhouse, Princípios do Equador, Protocolo de Kyoto, recolección selectiva, Relatório Stern, relleno sanitario, renewable energy, responsabilidade social, RIAs, São Paulo, selective collection, Stern Review, sustainable development, tratamento dos resíduos, tratamiento de los residuos, Unicamp, waste policy
Subscribe to My Comments Feed
Leave a Reply