« Ideas for Reforming "Global Environmental Governance" | Home | Human Pressure on the Amazonian Rainforest »
By Keith R | January 15, 2007
Topics: Environmental Protection, Waste & Recycling | 2 Comments »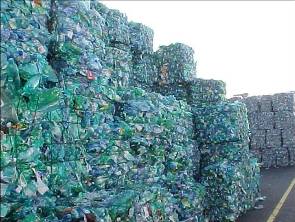 Take Three Guesses
Who does the title above refer to? No peeking ahead!
Not a particular recycling firm. I'm talking countries here!
Nope. Wrong! Not the US! Not some European country.
Okay, you've used up your three guesses. The answer is (drumroll please!): Brazil. In 2005 it recycled 174 metric tons, representing about 47% of the PET sold in the country during that year. Some 90% of the Brazilian PET recycled in 2005 was post-consumer, up from 89% pós-consumo in 2004. This means that Brazil recycles at nearly double the rate that the US does, and about 10 percentage points higher than Europe, Japan or Australia.
Surprised?
If you don't follow plastics, packaging or recycling closely, you probably are. I'm guessing there are even some people in those fields who would be surprised to find that Brazil surpasses Europe in recycling any resin.
Ten years ago, as I prepared the first edition of my book on waste and recycling in Latin America and the Caribbean (LAC), I noted the rapid rise of PET consumption in Brazil, the much slower rise in the PET recycling rate, and proposals in the Brazilian Congress and Rio de Janeiro state assembly regarding PET packaging. I warned that unless the industry worked hard to achieve high recycling rates without legal mandates to do so, they would see many plastic packaging waste bills become law — in the states at least, and maybe at the federal level too.
While market conditions surely helped, after many years of talking to both the industry and its critics (some of whom are no longer critics), I know that some of it also is due to some very hard work by some in the industry. A look at the Second Census of PET Recycling in Brazil (Portuguese only) recently released by the Brazilian Association of the PET Industry (Abipet) shows how far they've come. All of the graphics that follow are taken from that presentation with the permission of Abipet.
How Much and Where From?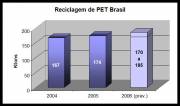 This bar graph (click to enlarge) shows the gross tonnage of post-consumer PET recycled in 2005 versus 2004, plus the anticipated final range for 2006. Tonnage recycled had rapid growth at the turn of the century, but in recent years has settled into a slow-but-steady growth pattern. Although the recycled PET ("rPET") market in Brazil had a bad first half in 2006, it has already recovered to the extent that final figures for 2006 are expected to show that numbers equalling or improving on 2005.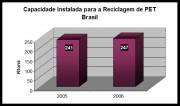 This bar graph (click to enlarge) shows that the installed capacity in Brazil for PET recycling has increased only modestly in 2006, up to 247 kilotons (Kt) from 241 Kt in 2005. [Note: the first Abipet "census" released at the end of 2005 had shown 284 Kt, but some facility closures and survey fine-tuning have adjusted the 2005 capacity figure downward to 241.]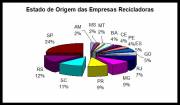 This pie graph (click to enlarge) shows in which states the PET recyclers are located. The acronyms for the states are: AM = Amazonas, BA = Bahia, CE = Ceará, ES = Espírito Santo, GO = Goiás, MG = Minas Gerais, MS = Mato Grosso do Sul, MT = Mato Grosso, PE = Pernambuco, PR = Paraná, RJ = Rio de Janeiro, RS = Rio Grande do Sul, SC = Santa Catarina, SP = São Paulo. As this makes clear, SP still claims a quarter of the PET recyclers (not really surprising, given that SP remains the industrial heart of Brazil and the country's principal packaging pole), and its three Southern neighbors (SC, RS, PR) together account for another 32%, but slowly the industry is becoming more spread out across the nation.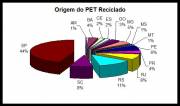 This pie graph (click to enlarge) shows from which states the PET recycled in 2005 came. While the cast is the same as in the last graph, the distribution of shares differs. São Paulo (SP) has the lion's share at 44% — again, hardly a surprise given the state's population density, per capita consumption patterns, and logistical sophistication.
Second comes Rio Grande do Sul (RS) at 11%, with Rio de Janeiro (RJ) and Santa Catarina (SC) tied for third at 7% apiece. This is particularly interesting to me, given that three states that do not have a plastic packaging waste law have managed to recycle as much or more than the one (RJ) that has had such a law for several years. The RJ law was poorly written and never fully implemented; we'll see if this changes at all now that its architect, ex-State Deputy Carlos Minc (Workers Party – PT), is now RJ's Environment Secretary. During his long reign as chair of the state assembly's Environment Committee, Minc frequently attacked state officials for not enforcing his plastic packaging law.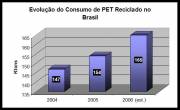 This bar graph (click to enlarge) shows that the volume of rPET consumption in Brazil rose 5% between 2004 and 2005, and that, once final figures are in for 2006, they are expected to show similar demand growth in 2006.
What Happens to the Recycled PET?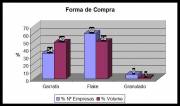 In what form do buyers purchase rPET? (click bar graph to enlarge) The majority of buyers (60%) buy flake, but in volume terms, buyers purchase nearly as much recycled PET bottles (49%, down from 60% in 2004) as flake (50%, up from 37% in 2004). In 2005 granulated dropped in volume terms from 3% to 1%.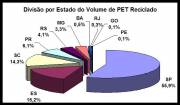 Where is the rPET going (where are the buyers located)? This pie graph (click to enlarge) breaks it down by state in volume terms. Again, the leader is SP, although it now buys only 55.9% of the rPET volume rather than 61.3% as in 2004. Notable is the swift rise of ES, which in 2004 was under 5% and in 2005 rose to 15.2%.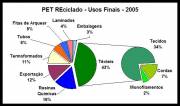 The graphic at right (click to enlarge) shows the various uses of rPET during 2005 (click to enlarge). The largest use category, as it is in the US and Europe, is textiles (fibers) at 43% (vs. 54% in the US and 47% in Europe) — 34% fabric, 7% cords, and 2% monofilament. The second and third largest categories are engineered resins (16%) and exports (12%, up from 8% in 2004 — interesting question would be exported to where?).
The difference in end-use for packaging between Brazil and the US is interesting: whereas nearly 21% of rPET in the US goes to food and non-food bottles (vs. 12.5% in Europe), in Brazil this percentage is a more modest 3%. The other end-uses in Brazil: molded products (11%), tubes (6%), strapping (5%) and laminates (4%).
And what about future rPET consumption? Three-fourths of the current users polled indicate that they intend to increase their purchase of rPET, one-fourth hold their use at current levels, and none indicated intent to diminish their consumption.
— Keith R
Tags: Abipet, Amazonas, Bahia, Brasil, Brazil, Carlos Minc, Ceará, census, embalagem, engineered resins, envase, Espírito Santo, fibers, garrafas PET, Goiás, laminates, Mato Grosso, Mato Grosso do Sul, Minas Gerais, molded products, monofilament, packaging, packaging waste, Paraná, Pernambuco, PET, PET bottles, post-consumer PET, PT, reciclagem, reciclaje, recycling, resíduos de embalagens, residuos de envase, Rio de Janeiro, Rio Grande do Sul, rPET, Santa Catarina, São Paulo, strapping, textiles, tubes
2 Responses to "One of the World's Top PET Recyclers"
Jayson Says:
February 20th, 2008 at 23:09

It's amazing that Brazil tops the world in recycling. I would have never mentioned any South American country – Europe seems to act like they're always doing the most. Thanks for the stats and information.

Green Geer Blog Says:
June 10th, 2010 at 6:14

[…] read more on RPET or Diet Coke's project, check these out: http://www.temasactuales.com/temasblog/environmental-protection/one-of-the-worlds-top-pet-recyclers/ […]
Leave a Reply