« LAC Urged to Pursue Low-Carbon, High-Growth Path | Home | Improving Sanitation and Water Quality in Canelones / Mejorando saneamiento y calidad del agua en Canelones »
By Keith R | December 15, 2008
Topics: Economics & the Environment, Environmental Protection | No Comments »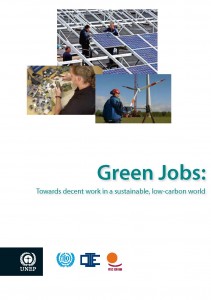 While the idea of creating a "green economy" with "green jobs" has been around quite a while, it really started to gain serious consideration as the climate change debate heated up,  and recently moved front-and-center during the US presidential elections and the debates about how best to respond to the global financial crisis (here, here, here and here).  The concept already has even attracted the fire of professional critics.
Trouble is, the true potential for "green employment" has remained poorly defined and elusive.  A few weeks back the International Labor Organization (ILO) released a report (English; executive summary in Spanish) taking a stab at defining it at the global level and discussing how policymakers should tackle it.  I think it's worthwhile reading that I am adding it to the Economics and Environment section of the Temas Reading List.
What does it tell us, particularly for Latin America and the Caribbean?
Provisos
Before discussing Green Jobs: Toward Decent Work in a Sustainable, Low-Carbon World, I want to state upfront a couple of assumptions and perspectives I utilize in examining the report and its implications for Latin America and the Caribbean (LAC) nations.
First, I don't feel personally qualified to pass judgment on the quality of the report's analysis and the confidence we should have in its conclusions. I'm not an economist by training and I don't analyze labor markets for a living.  But I note that the report was co-produced by the Worldwatch Institute and Cornell University's Global Labor Institute, under the watchful eyes of the ILO, the UN Environment Programme (UNEP), the International Organization of Employers (IOE) and the International Trade Union Confederation (ITUC).  Given the organizations involved and their track records, I'm willing to give them the benefit of the doubt that this is a honest, serious effort.
Second, I had become convinced, even before reading this report, that (1) there exists enormous potential for "green" employment worldwide in the coming years; (2) the economic debates now underway because of the financial crisis pose a unique opportunity to substantially rethink and reshape our economies, and if we seize the challenge, we should seek to do it in as "green" a fashion as we can.
Third, I see the role of the report not as the final word on the green economy, but rather as a catalyst for getting us all to discuss seriously and openly where the potential, challenges and opportunities are, and what policy options make the most sense to get us to a greener economy.  Some of the specifics of the analysis might change if re-done today in the wake of the global financial crisis (the report was finished before the collapse of Wall Street), but its general outlines and thrust, I think, would remain the same.
Fourth, bear in mind that the focus, the lens through which I deal with all topics here in The Temas Blog, is Latin America and the Caribbean.  So if you're looking for a discussion of what the report means for US or European or Chinese policy, then I'm afraid you should keep looking.
Fifth, like it or not, many countries, developed and developing, have already decided that "green" is the future, and they are already jockeying to establish themselves as the dominant green leader in segments of the global economy.  Policymakers and business and labor leaders in LAC need to start assessing and shaping their nation's role in such a future or else risk missing out on a major economic development wave.  As the report says,
Companies and regions that become leaders in green innovation, design, and technology development are more likely to retain and create new green jobs. But workers and communities dependent on mining, fossil fuels, and smokestack industries—or on companies that are slow to rise to the environmental challenge—will confront a substantial challenge to diversify their economies.
What is a "Green" Job?
The report defines "green jobs" as
work in agricultural, manufacturing, research and development (R&D), administrative, and service activities that contribute substantially to preserving or restoring environmental quality. Specifically, but not exclusively, this includes jobs that help to protect ecosystems and biodiversity; reduce energy, materials, and water consumption through high-efficiency strategies; de-carbonize the economy; and minimize or altogether avoid generation of all forms of waste and pollution.
The report admits, however, that this may be difficult to define in practice.  Some jobs are more far-reaching and transformational than others.  And whether work is "green" in some areas — such as improving efficiency in water, energy and materials use —  depends on where one sets the bar, and that bar will likely move over time (i.e., what is considered efficient today may not be so regarded five or ten years from now).
Not Enough Just to be "Green"
The report also argues that it is not enough for employment in "green" tasks, companies or sectors.   It should also be decent work — with adequate pay, safe working conditions, respect worker rights and offer job security and advancement prospects.
It is not enough, for example,  for catadores in Brazil to be working in recycling — they should have decent living and working conditions.  It is not enough to help bring in the sugarcane crop for ethanol production or palm oil for biodiesel production if the field worker's conditions are akin to modern slavery.
Probable Shifts in Employment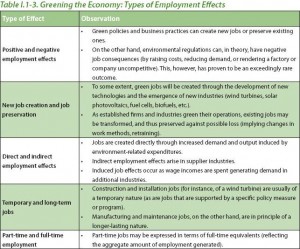 Broadly speaking, the move toward greater sustainability will affect employment four ways:
additional jobs created, as in manufacturing new pollution control or clean production technologies;
jobs substituted, "as in shifting from fossil fuels to renewables, or from truck manufacturing to rail car manufacturing, or from landfilling and waste incineration to recycling" or producing more efficient lamps in place of incandescent bulbs;
jobs eliminated without replacement, as when materials are banned;
jobs are transformed, as when electricians become specialists in upgrading system energy efficiency, or construction workers become specialists in green building.
Overall, the global market for environmental products and services is projected to double by 2020, from US$1,370 billion per year at present to US$2,740 billion:
Energy efficiency technologies (appliances, industrial processes, electrical motors, insulation, etc.): from $617 billion at present to $1,233 billion by 2020;
Water supply/sanitation/water efficiency: from $253 billion now to $658 billion by 2020;
Sustainable transport (more efficient engines, hybrids, fuel cells, alternative fuels, etc.): from $247 billion to $493 billion by 2020;
Waste management/recycling: from $41 billion now to $63 billion by 2020.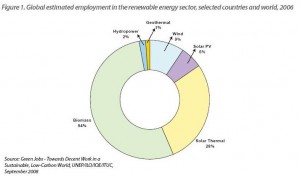 Energy Supply
Renewables. The use of renewable energy sources is expanding rapidly, but only 3.1% of global investment in renewables in 2006 was in Latin America, vs. 7.5% in China and 74.1% in the US and European combined. The report estimates current employment in this segment at about 2.3 million jobs worldwide, but given the state current state of data, this likely is a conservative figure. It's estimated that the wind power industry employs about 300,000 people worldwide, the solar photovoltaic (PV) sector around 170,000, and the solar thermal industry more than 600,000.  Currently most of the solar thermal jobs are in China, but this sub-segment is growing quickly in Brazil through the "Solar Cities" initiative seeking to retrofit old buildings with solar water heaters and adopt local laws requiring new condominiums and public buildings to be constructed with them.
Biofuels. About half of all present renewables jobs are found in the biofuel industry — around 1.2 million in just four countries: Brazil, China, Germany, US.  There are doubts, though, about the environmental benefits and socioeconomic impacts of some types of biofuels.  Many of the jobs in biofuels are as field hands in the sugarcane fields and palm oil plantations, where wages tend to be low, working conditions poor and worker rights ignored or suppressed. What is the job creation potential of the sector in LAC?  Well, the report suggests that Colombia's ethanol blending mandate may add 170,000 new jobs, while a 10% ethanol blending mandate in Venezuela might create nearly a million new jobs in the cane fields.  What about feedstocks other than sugarcane?  Well, In Brazil, harvesting castor oil requires 0.3 jobs per hectare, jatropha 0.25, and soybeans 0.07.
Fossil Fuel Industry. A greener economy implies a substantially reduced role for fossil fuels. However the oil, natural gas, and coal industries are not major employers, and growing automation and mechanization in these sectors is reducing employment already.
Carbon capture and sequestration (CCS). Although the coal industry and its trade unions like argue that "clean coal technology" (i.e. CCS) will reduce coal's carbon footprint, but there's many, many questions about whether it will actually work and how soon and fully, if ever, it can be employed. As currently conceived it would be capital intensive, so it is doubtful that it will generate much in the way of new employment.  And one has to wonder if it would ever be employed in coal-burning plants in developing countries like those in LAC.
Energy Efficiency/Buildings
Energy Efficiency. The report asserts that "nearly all efficiency measures, especially in the building sector, show positive employment and economic effects."  A 2000 UK Government study, for example, found that for every $1.4 million (€1 million) invested in residential energy efficiency, 11.3-13.5 full-time equivalent (FTE) jobs were created.  The Inter-American Development Bank (IDB) recently showed that there's considerable scope for savings through energy efficiency programs in LAC, and the IDB, Global Environment Facility (GEF) and the World Bank already are funding energy efficiency projects in LAC (here, here, here and here).  But does this generate new employment?  The report points to Mexico's ILUMEX project in the late 1990s to replace old lighting with one million compact fluorescent lamps (CLFs), which did.  Several LAC nations — Belize, Bolivia, Brazil, Chile, Colombia, Costa Rica, Cuba, Dominican Republic, Ecuador, Honduras, Panama, Peru, Uruguay and Venezuela — have initiated or are launching similar programs.  An upcoming Temas Blog post will look at such programs in LAC.
Green Buildings. Simply by using existing technology "high-performance buildings" can be built with potential energy savings of 80% or more compared to traditional construction.  This work likely will be performed by people already working construction, but with redefined jobs in terms of new skills, training, and certification requirements.  The "green building" movement is spreading to Latin America, with Green Building Councils already in Brazil and Mexico ones forming in Argentina, Chile, Guatemala and Panama (see box). 

Note

: An upcoming Temas Blog post will look at the green building movement in LAC.
Retrofitting. The report says that "In the building sector, retrofitting has the largest potential to reduce greenhouse gas emissions by 2030, creating jobs in construction, building operations, auditing, architecture, engineering, manufacturing, and administration, among others. Most of the jobs are performed directly at the work site, which is significant for rural and developing economies."  Several major LAC cities — notably Bogotá, Buenos Aires, Caracas, Lima, Mexico City, Rio de Janeiro and São Paulo — have committed to undertake major retrofitting programs as part of the Clinton Climate Initiative.
Efficient Building Components. The building sector has four of the most cost-effective ways to reduce emissions: lighting, insulation, air conditioning and water heating. The U.S. Department of Labor estimates that higher energy efficiency standards for clothes washers, water heaters, and fluorescent lamp ballasts would create 120,000 jobs in the United States through 2020.  Are LAC nations setting and/or tightening efficiency standards for such products?  Yes, Brazil and Mexico are, and to a lesser extent so are Argentina and Colombia, while other nations are considering doing so and/or copying their peer's standards. 

Note

: An upcoming Temas Blog post will survey LAC energy efficiency and energy labeling programs in LAC.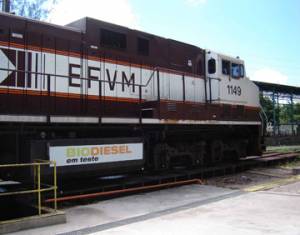 Transportation
Railways. The reports argues that because of their high energy efficiency, in general railways can be regarded as sources of green employment.  Over the the last few decades transport in many countries has shifted from railways to cars, trucks, and planes.  Can and will this be reversed?  It is worth noting that a few LAC nations (notably Argentina and Brazil) are discussing renovating and possibly expanding their rail systems, and perhaps even adding high-speed ("bullet") trains between major metropoles.
Urban Mass Transit. The Bus Rapid Transit (BRT) concept originated in Curitiba, Brazil, and have spread to several LAC cities, including Mexico City (click on the green box at right from the report to read about Mexico City's BRT), Bogotá and Pereira in Colombia, Guayaquil and Quito in Ecuador, Belo Horizonte and Porto Alegre in Brazil, and Guatemala City.  Such systems provide affordable and reliable transit options plus good green employment potential (

Note

: an upcoming Temas Blog post will look at BRT in Latin America and the lessons it is teaching the rest of the world). The report also suggests substantial green employment opportunities are to be had in retrofitting diesel buses to reduce air pollutants, and in substituting diesel buses with cleaner compressed natural gas (CNG) or hybrid-electric buses.
Automobiles. The report suggests that "relatively green auto-manufacturing jobs" account for about a quarter million out of roughly 8 million direct jobs worldwide, most of them in Europe and Japan.  [Which raises a good question: why is the substantial automotive industry in Brazil (about 289,000 jobs) doing more to "green" its output than producing flexfuel engines and car seats filled with coir?]
Two- and Three-Wheelers. Motorcycles and motorbikes with highly polluting two-stroke engines are founded everywhere among developing countries, including LAC. Pilot projects in the Philippines suggest that retrofits can cut fuel consumption 35–50% and air emissions up to 90%.  Jobs can be created through installing and servicing retrofit kits.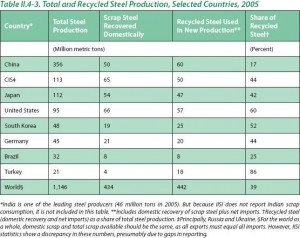 Basic Industry
Steel. One way to "green" steel production is to utilize recycled scrap ("secondary production"), as it requires 40–75% less energy than primary production. In 2006 42% of worldwide steel output was based on scrap, accounting for 200,000 jobs or more. As you can see by this table (click on the image at right to view a larger version), among LAC nations only Brazil is a significant secondary steel producer, and even so, only 8 million metric tons of its 45 metric tons production in 2005 was secondary.  That said, though, there are notable exceptions: Brazil's largest producer, the Gerdau Group (14th largest in the world), relies mostly on scrap. Another way to "green" the industry is to reuse byproducts such as steel slag, which in the US alone employs close to 3,000.  The Gerdau Group's Açominas plant in Minas Gerais recovers 98% of the energy contained in byproduct gases, covering 75% of the plant's energy requirements.  Brazil likes to say that its iron and steel industry uses "green pig iron" because they utilize charcoal — this would only be considered green if the charcoal is derived from sustainably managed forests, a big "if."
Aluminum. Secondary aluminum production (recycling scrap) uses 5–10% the amount of energy that primary production does. About 1/4 of global production is scrap-based — in Japan nearly all production is secondary, and its percentage is high in Germany and the US, but not in LAC (click on the table at right to see larger image) — probably because of the ready availability of relatively cheap hydroelectric power.  Global employment figures for secondary production are not available.
Cement. Both Brazil and Mexico are major cement producers, the former producing 37 million tons in 2006, the latter 40 million tons.  Mexico is home base to the world's third largest cement firm, Cemex.  How to make this industry "green"?  Mostly though energy-efficiency measures and by utilizing alternative and recycled content.  However, such steps are not expected to generate many new "green" jobs.
Pulp and Paper. The report says that recycling paper is the fastest-growing source of new green employment in the pulp and paper industry. Figures in LAC are not easy to come by.  The World Bank estimates Brazil had over 28,000 formal jobs in paper recycling in 2002.  In LAC, as in most developing countries, paper recycling is often performed by an informal network of scrap collectors (pepenadores or catadores), often under poor working (and living) conditions.  However, scrap collectors are forming cooperatives in some LAC nations (Brazil, Colombia, Uruguay) to improve working conditions, get paid better for their scrap and even get collective health and education benefits.
Recycling. The Bureau of International Recycling (BIR) estimates that its 800 members in 70 countries employ more than 1.5 million people, but employment in recycling and remanufacturing is likely much, much higher than that — it's estimated at more than 1 million in the US alone, and at least 500,000 in Brazil — so what about the jobs in the high recycling nations of Japan and Western Europe?  The informal waste pickers in Mexico, Peru, Colombia and Argentina?  Brazil has a growing and increasingly successful formal recycling sector (here, here, here and here), but to what extent can other LAC nations create such a sector?
Food and Agriculture
Organic Farming. Organic sales reached $100 billion worldwide in 2006, with Argentina and Brazil among the top six nations in organic production. Greener and somewhat more labor intensive than industrialized agriculture, the conversion of more farmland for organic production could provide a good source of green employment in the future. A study of 1,144 organic farms in the United Kingdom and the Republic of Ireland showed they employed 1/3 more full-time equivalent workers per farm than conventional farms.  Another study involving the Dominican Republic showed organic production of bananas, cocoa and coffee there requires intensive use of hand labor, both generating employment and slowing migration within the DR from the countryside to the capital.
Sustainable Small Farming. Small farms are more labor and knowledge intensive than agroindustrial farms and tend to use fewer energy and chemical inputs. Yet many smallholders are being squeezed out by larger competitors and the demands of "big retail."  The report suggest, though, that "with adequate technical and infrastructural support, yields from small farms using crop rotation, manuring, natural pesticides, and other sustainable methods can match the larger (but more environmentally damaging) facilities."  It admits that a policy-driven conversion to such farming may "take decades," but argues that "the potential for green and decent work is considerable and the environmental benefits could be enormous."
Payment for Environmental Services (PES), Improved Natural Resource Management. Paying rural dwellers to repair and protect the natural environment — known as PES — can generate very large numbers of jobs, as many of the activities involved (reforestation, land terracing or contouring, water conservation, etc.) are labor intensive. The report suggests that perhaps a "global toward PES" administered as public works projects would generate major green employment.
Climate Change Adaptation/Mitigation can create green employment, but it's hard to estimate just how much. Soil conservation efforts (conservation tillage, rehabilitation of degraded lands) may create employment and sustain rural livelihoods.
Forestry
Afforestation/Deforestation. Tree planting creates many jobs, but they tend to be part-time, seasonal, and low paying.  Greening these jobs will require more rigorous project requirements for labor standards.
Agroforestry. A growing practice in Latin America, agroforestry combines tree planting with traditional farming.  It can create employment, food, and fuel security, and provide small farmers with supplementary income.  However, the upfront costs of most agroforestry projects come from external funding, so its potential may be limited by the availability of such funding.
Sustainable Forestry Management (SFM). The around 50 certification schemes — the most prominent and best-known of which are the Forest Stewardship Council (FSC) and the Programme for the Endorsement of Forest Certification (PEFC) — are a small but growing portion of the global wood market. Most of these certificates are held in North America and Europe; LAC is usually only a small fraction (around 11% in the case of the FSC, and PEFC only operates in Brazil in LAC).  The employment consequences of SFM have been mixed, says the report. "In the short term, adopting certification schemes often leads to layoffs and a decrease in employment. However, in the long run, such schemes provide more stable employment over a greater period of time and opportunities to increase labor standards."
Recommended Policies
The report stresses that "forward-thinking government policies" are important for funding, goal-setting, providing infrastructure and maintaining a level playing field.  Key policies promoted by the report include:
Subsidies. Phase out subsidies for environmentally harmful industries, and shift a portion or all of those funds to renewable energy, efficiency technologies, clean production methods, and public transit.
Carbon Markets. Fix the current shortcomings inherent in carbon trading and Kyoto Protocol related innovations like the Clean Development Mechanism so that they can become reliable and adequate funding sources for green projects and employment.
Tax Reform. Scale up eco-taxes, such as those adopted by a number of European countries, and replicate them as widely as possible. Eco-tax revenues can be used to lighten the tax burden falling on labor while discouraging polluting and carbon-intensive economic activities.
Targets and Mandates. Ensure that regulatory tools are used to the fullest extent in the drive to develop greener technologies, products, and services—and thus green employment. This includes land-use policies, building codes, energy-efficiency standards (for appliances, vehicles, etc.), and targets for renewable energy production.
Energy Alternatives. Adopt innovative policies to overcome barriers to renewable energy development, including feed-in laws that secure access to the electrical grid at guaranteed prices.
Product Takeback. Adopt "extended producer responsibility" laws (requiring companies to take back products at the end of their useful life) for all types of products.
Eco-Labeling. Adopt eco-labels for all consumer products to ensure that consumers have access to information needed for responsible purchasing decisions (and hence encouraging manufacturers to design and market more eco-friendly products).
R&D Budgets. Reduce support for nuclear power and fossil fuels and provide greater funding for renewable energy and efficiency technologies.
International Aid. Reorient the priorities of national and multilateral development assistance agencies as well as export credit agencies away from fossil fuels and large-scale hydropower projects toward greener alternatives.
Challenges To Creating More Green Employment
Also worth noting are the broad challenges to creating more green employment worldwide identified by the report:
Green jobs are not yet growing rapidly enough. The reports notes that the ILO reported record unemployment globally in 2006 (195.2 million) — just imagine what the figures for 2008 will look like!  This does not even count the huge underemployed, particularly in developing countries such as in LAC.  Even if governments make green jobs the core of their job creation efforts, can "green" jobs really fill enough of that void?
Outside of China and Brazil, green employment has yet to gain a firm foothold among developing nations — where 80% of the world's workforce reside.
"Current experience…suggests that a purely market-driven process will not be able to deliver the changes needed at the scale and speed demanded by the climate crisis. Truly sustainable development requires a long-term approach, whereas today's business practices are too often driven by short-term considerations. Governments must therefore establish an ambitious and clear policy framework to reward, support, and drive sustainable economic and social activity, and be prepared to confront those whose business practices continue to pose a serious threat to a sustainable future."
'New mechanisms need to be developed that overcome obstacles to expedited technology diffusion." Companies and nations with cutting-edge green technologies often are reluctant to share them freely, preferring instead to pursue their competitive advantage to get market share.
________________________
From the International Labor Organization (ILO):
Landmark new report says emerging green economy could create tens of millions of new "Green Jobs"

A new, landmark study on the impact of an emerging global "green economy" on the world of work says efforts to tackle climate change could result in the creation of millions of new "green jobs" in the coming decades.

The new report entitled Green Jobs: Towards Decent work in a Sustainable, Low-Carbon World, says changing patterns of employment and investment resulting from efforts to reduce climate change and its effects are already generating new jobs in many sectors and economies, and could create millions more in both developed and developing countries.

However, the report also finds that the process of climate change, already underway, will continue to have negative effects on workers and their families, especially those whose livelihoods depend on agriculture and tourism. Action to tackle climate change as well as to cope with its effects is therefore urgent and should be designed to generate decent jobs.

Though the report is generally optimistic about the creation of new jobs to address climate change, it also warns that many of these new jobs can be "dirty, dangerous and difficult". Sectors of concern, especially but not exclusively in developing economies, include agriculture and recycling where all too often low pay, insecure employment contracts and exposure to health hazardous materials needs to change fast.

What's more, it says too few green jobs are being created for the most vulnerable: the 1.3 billion working poor (43 per cent of the global workforce) in the world with earnings too low to lift them and their dependants above the poverty threshold of US$2 per person, per day, or for the estimated 500 million youth who will be seeking work over the next 10 years.

Green jobs reduce the environmental impact of enterprises and economic sectors, ultimately to levels that are sustainable. The report focuses on "green jobs" in agriculture, industry, services and administration that contribute to preserving or restoring the quality of the environment. It also calls for measures to ensure that they constitute "decent work" that helps reduce poverty while protecting the environment.

The report says that climate change itself, adaptation to it and efforts to arrest it by reducing emissions have far-reaching implications for economic and social development, for production and consumption patterns and thus for employment, incomes and poverty reduction. These implications harbour both major risks and opportunities for working people in all countries, but particularly for the most vulnerable in the least developed countries and in small island States.

The report calls for "just transitions" for those affected by transformation to a green economy and for those who must also adapt to climate change with access to alternative economic and employment opportunities for enterprises and workers. According to the report, meaningful social dialogue between government, workers and employers will be essential not only to ease tensions and support better informed and more coherent environmental, economic and social policies, but for all social partners to be involved in the development of such policies.

Among other key findings in the report:

The global market for environmental products and services is projected to double from US$1,370 billion per year at present to US$2,740 billion by 2020, according to a study cited in the report.
Half of this market is in energy efficiency and the balance in sustainable transport, water supply, sanitation and waste management. In Germany for example, environmental technology is to grow fourfold to 16 per cent of industrial output by 2030, with employment in this sector surpassing that in the country's big machine tool and automotive industries.
Sectors that will be particularly important in terms of their environmental, economic and employment impact are energy supply, in particular renewable energy, buildings and construction, transportation, basic industries, agriculture and forestry.
Clean technologies are already the third largest sector for venture capital after information and biotechnology in the United States, while green venture capital in China more than doubled to 19 per cent of total investment in recent years.
2.3 million people have in recent years found new jobs in the renewable energy sector alone, and the potential for job growth in the sector is huge. Employment in alternative energies may rise to 2.1 million in wind and 6.3 million in solar power by 2030.
Renewable energy generates more jobs than employment in fossil fuels. Projected investments of US$630 billion by 2030 would translate into at least 20 million additional jobs in the renewable energy sector.
In agriculture, 12 million could be employed in biomass for energy and related industries. In a country like Venezuela, an ethanol blend of 10 per cent in fuels might provide one million jobs in the sugar cane sector by 2012.
A worldwide transition to energy-efficient buildings would create millions of jobs, as well as "greening" existing employment for many of the estimated 111 million people already working in the construction sector.
Investments in improved energy efficiency in buildings could generate an additional 2-3.5 million green jobs in Europe and the United States alone, with the potential much higher in developing countries.
Recycling and waste management employs an estimated 10 million in China and 500,000 in Brazil today. This sector is expected to grow rapidly in many countries in the face of escalating commodity prices.

The report provides examples of massive green jobs creation, throughout the world, such as: 600,000 people in China who are already employed in solar thermal making and installing products such as solar water heaters; in Nigeria, a bio fuels industry based on cassava and sugar cane crops might sustain an industry employing 200,000 people; India could generate 900,000 jobs by 2025 in biomass gasification of which 300,000 would be in the manufacturing of stoves and 600,000 in areas such as processing into briquettes and pellets and the fuel supply chain; and in South Africa, 25,000 previously unemployed people are now employed in conservation as part of the 'Working for Water' initiative.

Pathways to green jobs and decent work

"A sustainable economy can no longer externalize environmental and social costs. The price society pays for the consequences of pollution or ill health for example, must be reflected in the prices paid in the marketplace. Green jobs therefore need to be decent work", the report says.

The report recommends a number of pathways to a more sustainable future directing investment to low-cost measures that should be taken immediately including: assessing the potential for green jobs and monitoring progress to provide a framework for policy and investment; addressing the current skills bottleneck by meeting skill requirements because available technology and resources for investments can only be deployed effectively with qualified entrepreneurs and skilled workers; and ensuring individual enterprises' and economic sectors' contribution to reducing emissions of greenhouse gases with labour-management initiatives to green workplaces.

The report finds that green markets have thrived and transformation has advanced most where there has been strong and consistent political support at the highest level, including targets, penalties and incentives such as feed-in laws and efficiency standards for buildings and appliances as well as proactive research and development.

The report says that delivery of a deep and decisive new climate agreement when countries meet for the crucial UN climate convention meeting in Copenhagen in late 2009 will be vital for accelerating green job growth.

The report was funded and commissioned by the UN Environment Programme (UNEP) under a joint Green Jobs Initiative* with the International Labour Office (ILO), and the International Trade Union Confederation (ITUC) and the International Organization of Employers (IOE), which together represent millions of workers and employers worldwide. It was produced by the Worldwatch Institute, with technical assistance from the Cornell University Global Labour Institute.

________________

* The Green Jobs Initiative is a partnership established in 2007 between UNEP, the ILO and the ITUC, joined by the IOE in 2008. The Initiative was launched in order to promote opportunity, equity and just transitions, to mobilize governments, employers and workers to engage in dialogue on coherent policies and effective programs leading to a green economy with green jobs and decent work for all. The ILO is a tripartite UN agency that brings together governments, employers and workers of its member states in common action to promote decent work throughout the world. IOE is recognized as the only organization at the international level that represents the interests of business in the labor and social policy fields. Today, it consists of 146 national employer organizations from 138 countries from all over the world. ITUC is the International Trade Union Confederation. Its primary mission is the promotion and defense of workers' rights and interests, through international cooperation between trade unions, global campaigning and advocacy within the major global institutions. The ITUC represents 168 million workers in 155 countries and territories and has 311 national affiliates. UNEP is the voice for the environment in the United Nations system. It is an advocate, educator, catalyst and facilitator, promoting the wise use of the planet's natural assets for sustainable development.
________________________
Desde Organización Internacional del Trabajo (OIT):
Un nuevo informe dice que la emergente economía verde podría crear decenas de millones de nuevos "Empleos Verdes"

Un nuevo estudio sobre el impacto de la emergente "economía verde" en el mundo del trabajo, dice que los esfuerzos para combatir el cambio climático podrían conducir a la creación de millones de "empleos verdes" en las próximas décadas.

El informe titulado: Green Jobs: Towards Decent Work in a Sustainable, Low-Carbon World ("Empleos verdes: Hacia el trabajo decente en un mundo sostenible con bajas emisiones de carbono"), afirma que la transformación de modelos de empleo e inversiones como consecuencia de los esfuerzos por reducir el cambio climático y sus efectos generan nuevos empleos en muchos sectores y economías, y podrían crear millones de puestos más, tanto en los países industrializados como en países en desarrollo.

Pero el informe también alerta que el proceso de cambio climático en curso continuará teniendo efectos negativos sobre los trabajadores y sus familias, en especial sobre aquellos cuyo modo de vida depende de la agricultura y el turismo. Es urgente que las acciones para combatir el cambio climático, además de enfrentar sus efectos, sean diseñadas para generar trabajo decente, agrega.

Aunque el informe es en general optimista acerca de la creación de nuevos empleos para abordar el cambio climático, también alerta que muchos de estos trabajos pueden ser "sucios, peligrosos y difíciles". Las áreas que despiertan preocupación –en especial aunque no exclusivamente en las economías en desarrollo– incluyen la agricultura y el reciclado, en donde es necesario modificar con rapidez situaciones de bajos salarios, inseguridad de los contratos de trabajo y exposición a materiales peligrosos.

El informe dice además que se crean muy pocos empleos verdes para los más vulnerables, es decir los 1.300 millones de trabajadores pobres (43 por ciento de la fuerza de trabajo mundial) del mundo con ingresos tan bajos que no les permiten a ellos ni a sus familiares superar el umbral de la pobreza de 2 dólares por persona al día, o los cerca de 500 millones de jóvenes que buscarán trabajo en los próximos 10 años.

Los empleos verdes reducen el impacto ambiental de las empresas y el sector económico hasta niveles sostenibles. El informe se concentra en "empleos verdes" en la agricultura, industria, servicios y administración que contribuyan a preservar o restablecer la calidad del ambiente. Hace además un llamado a adoptar medidas que garanticen "trabajo decente" con el fin de reducir la pobreza al mismo tiempo que se protege el ambiente.

El informe dice que el cambio climático en si mismo, el proceso de adaptación y los esfuerzos para frenarlo al reducir las emisiones, tienen repercusiones de gran alcance en el desarrollo económico y social, en los modelos de producción y, por lo tanto, en el empleo, ingresos y reducción de la pobreza. Estas repercusiones implican tanto mayores riesgos como oportunidades de empleo para los trabajadores en todos los países, pero en particular para los más vulnerables, en los países menos desarrollados y en los pequeños Estados Insulares.

El informe hace un llamado a lograr "transiciones justas" para aquellos afectados por el cambio hacia una economía verde y para aquellos que deben adaptarse al cambio climático, facilitando el acceso a economías alternativas y oportunidades de empleo para empresas y trabajadores. De acuerdo con el informe, es esencial un diálogo social entre gobiernos, trabajadores y empleadores, no sólo para aliviar las tensiones y sostener políticas ambientales, económicas y sociales mejor informadas y más coherentes, sino también para involucrar a los interlocutores sociales en el desarrollo de estas políticas.

Otras conclusiones importantes del informe:

El mercado global de productos y servicios ambientales debería aumentar de los actuales 1.370 millones de dólares al año a 2.740 millones para 2020, de acuerdo con un estudio citado en el informe.
La mitad de este mercado se refiere a la eficiencia energética y el resto a transporte sostenible, suministro de agua, gestión de servicios sanitarios y de los desechos. En Alemania, por ejemplo, la tecnología ambiental se cuadriplicará hasta alcanzar el 16 por ciento de la producción industrial para 2030, el empleo en este sector superará el de la gran industria de herramientas y automotriz de ese país.
Los sectores que tendrán especial importancia en términos de impacto ambiental, económico y en el empleo son el suministro de energía, en particular la energía renovable, edificios y construcción, transporte, industrias básicas, agrícola y forestal.
En Estados Unidos, las tecnologías limpias constituyen el tercer sector que capta más capital de riesgo después de la información y la biotecnología. En China, el capital de riesgo verde se duplicó con creces, hasta alcanzar el 19 por ciento del total de la inversión en los últimos años.
2,3 millones de personas encontraron nuevos empleos en el sector de la energía renovable en los últimos años, y el potencial del crecimiento del empleo en este sector es enorme. El empleo en energías alternativas podría crecer hasta 2,1 millones en energía eólica y 6,3 millones en la solar.
La energía renovable genera más trabajos que los combustibles fósiles. Están previstas inversiones por 630 mil millones de dólares para 2030 que se traducirán en por lo menos 20 millones de nuevos empleos en este sector.
En agricultura, 12 millones de personas podrían trabajar en biomasa para la producción de energía y otras industrias relacionadas. En un país como Venezuela, una mezcla de etanol de 10 por ciento en los combustibles podría generar un millón de empleos en la industria de la caña de azúcar para 2012.
Una transición hacia la eficiencia energética en las viviendas a nivel mundial podría generar millones de trabajos, al mismo tiempo que hacer más limpios los empleos existentes para muchos de los cerca de 111 millones de trabajadores que trabajan en el sector de la construcción.
Inversiones en el aumento de la eficiencia energética de los edificios podrían generar otros de 2 a 3,5 millones de empleos verdes en Europa y Estados Unidos, con un potencial mucho más alto para los países en desarrollo.
En la actualidad, el reciclado y la gestión de los desechos emplea cerca de 10 millones de personas en China y 500.000 en Brasil. Se espera que este sector crezca con rapidez en muchos países frente al aumento de los precios de las materias primas.

El informe ofrece ejemplos de la creación masiva de empleos verdes en todo el mundo: en China, 600.000 personas están empleadas en la producción de energía térmica y en la instalación de productos como calentadores de agua solares; en Nigeria, la industria de biocombustibles basada en el cultivo de la mandioca y la caña de azúcar podría sustentar y emplear a 200.000 personas; en India, para 2015 se podrían crear 900.000 empleos en la gasificación de biomasa, de los cuales 300.000 en la fabricación de hornos y 600.000 en áreas como la fabricación de briquetas y gránulos y en la cadena de suministro de combustible; en Sudáfrica, 25.000 personas desempleadas, trabajan ahora en la conservación como parte de la iniciativa "Working for Water".

El camino hacia empleos verdes y trabajo decente

"Una economía sostenible no puede continuar externalizando los costos ambientales y sociales. El precio que la sociedad paga por las consecuencias de la contaminación o las enfermedades, debe reflejarse en los precios del mercado. Por lo tanto los empleos verdes deben ser trabajo decente", dice el informe.

El informe recomienda un número de alternativas para avanzar hacia un futuro más sostenible al orientar inversiones hacia medidas de bajo costo que deberían ser tomadas de inmediato y que incluyen: la evaluación del potencial para empleos verdes y vigilancia de los progresos para constituir un marco para políticas e inversiones; abordar el actual cuello de botella en las calificaciones profesionales y satisfacer las exigencias de capacitación porque la disponibilidad de tecnología y recursos para inversiones sólo puede ser desarrollada de manera eficaz con empresarios calificados y trabajadores capacitados; y garantizar la contribución de las empresas y del sector económico en la reducción de las emisiones de gases de efecto invernadero con iniciativas para generar empleo en lugares de trabajo verdes.

El informe muestra que los mercados verdes prosperan y la transformación avanza sobre todo en los países donde ha habido un apoyo político fuerte y consistente en los más altos niveles, incluyendo objetivos, sanciones e incentivos, como leyes de introducción y normas de eficiencia para edificios y electrodomésticos así como investigación activa y desarrollo.

El informe recomienda además la redistribución de subsidios, beneficios de las ecotasas y/o de la subasta de los créditos de carbón que generan enormes flujos de recursos de cientos de miles de millones de dólares. Aquellos generados en Estados Unidos y Europa bastarían para apoyar economías más verdes y la creación de empleos verdes tanto en el sur como en el norte industrializado. La cooperación Sur-Sur puede desempeñar un papel más importante al transferir tecnologías probadas y conocimientos prácticos.

El informe dice que el logro de un nuevo acuerdo sobre clima más exhaustivo y decisivo, cuando los países se reúnan para la Cumbre de las Naciones Unidas sobre clima que se realizará en Copenhague a finales de 2009, será vital para la aceleración del crecimiento de los empleos verdes.

El informe fue encargado y financiado por el Programa de las Naciones Unidas para el Medio Ambiente (PNUMA), en el marco de la iniciativa conjunta "Empleos verdes"* del PNUMA, la Organización Internacional del Trabajo (OIT), la Organización Internacional de Empleadores (OIE) y la Confederación Sindical Internacional (CSI), que juntas representan millones de empleadores y trabajadores en todo el mundo. Fue elaborado por el Instituto de la Vigilancia Mundial (Worldwatch Institute) con asistencia técnica Cornell University Global Labour Institute.

_____________________

* La Iniciativa Empleos Verdes es una asociación establecida en 2007 entre el PNUMA, la OIT y la CSI. La OIE se adhirió en 2008. La Iniciativa fue lanzada con el objetivo de promover oportunidades, equidad y transiciones justas; movilizar a los gobiernos, empleadores y trabajadores a participar del diálogo sobre políticas coherentes y programas eficaces orientados hacia una economía verde con empleos verdes y los trabajadores de sus estados miembros en una acción común para promover trabajo decente en el mundo. La OIE es reconocida como la única organización a nivel internacional que representa los intereses de las empresas en el ámbito de las políticas laborales y sociales. En la actualidad, está formada por 146 organizaciones de empleadores de 138 países en todo el mundo. CSI es la Confederación Internacional de Trabajadores. Su misión principal es la promoción y la defensa de los derechos e intereses de los trabajadores, a través de la cooperación internacional entre sindicatos, campañas globales y actividades de concientización dentro de las principales instituciones mundiales. La CSI representa 168 millones de trabajadores en 155 países y territorios y tiene 311 afiliados nacionales. PNUMA es la voz para el ambiente del sistema de las Naciones Unidas. Es promotor, educador y catalizador al apoyar un uso inteligente de los recursos naturales del planeta para lograr un desarrollo sostenible.
Tags: afforestation, agriculture, aluminum, bananas, Belo Horizonte, Biofuels, biomass, Bogotá, Brasil, Brazil, Buenos Aires, building code, bus rapid transit, buses, cafe, cambio climático, cana-de-açúcar, Caracas, carbon markets, carbon trading, castor oil, China, clean development mechanism, clean production, clean technologies, Climate Change, cocoa, coffee, Colombia, compressed natural gas, Costa Rica, CSI, Curitiba, Dominican Republic, eco-tasa, eco-taxes, ecolabeling, Ecuador, empleos verdes, energía eólica, energía renovable, energía solar, Energy Efficiency, environment, environmental services, etanol, ethanol, export credit, extended producer responsibility, fossil fuels, Green Building, green economy, Green Jobs Initiative, Guatemala City, Guayaquil, hazardous materials, hydropower, ILO, India, IOE, ITUC, Jatropha, Kyoto Protocol, Lima, mamona, medio ambiente, meio ambiente, Mexico City, mudanças climáticas, Nicaragua, Nigeria, nuclear power, OIE, OIT, organic agriculture, photovoltaics, PNUMA, Porto Alegre, Quito, railroads, reciclaje, recycling, reforestation, renewable energy, República Dominicana, Rio de Janeiro, saneamiento, Sanitation, São Paulo, solar power, solar water heater, South Africa, Sustainable Transport, take-back, tourism, UNEP, Usiminas, Venezuela, venture capital, waste management, water supply
Subscribe to My Comments Feed
Leave a Reply