« PAC'ing Brazil II: Regulatory Agencies | Home | PAC'ing Brazil IV: Water, Sanitation and Waste »
By Keith R | March 3, 2007
Topics: Biofuels, Energy & the Environment, Environmental Protection, Renewable Sources | No Comments »
In Part I, I provided an overview of what the Program for Accelerated Growth (Programa de Aceleração do Crescimento – PAC) proposed by President Lula is and why it matters to the issues I discuss in The Temas Blog. I also discussed its most direct impact on environment policy, the proposed changes in environmental licensing. In Part II I examined the provisions regarding the so-called Regulatory Agencies. Here in Part III we'll look at the energy (and petrochemical) components, and in Part IV the portions regarding water, sanitation and waste.
Energy, The True Star of the PAC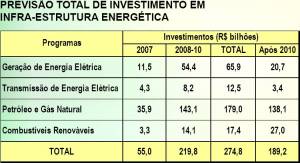 There is a heavy emphasis in the PAC on the energy sector, and with good reason(s). Brazilian officials see energy as the key to their economic growth, and they are all too aware that, despite their impressive growth in biofuels production, they remain vulnerable to foreign oil and gas and to an electricity shortfall in the near future. So it is no surprise that the PAC's stated energy goals include:
ensuring Brazil's long-term oil self-sufficiency, with a minimum production 20% above Brazil's internal consumption, a minimum 15-year reserve/production ratio, and greater light oil production;
boosting and modernizing refining, increasing Brazilian participation in the processed load and improving byproduct quality;
accelerating gas production and offer;
ensuring Brazilian leadership in biofuels.
The Petrobras Factor
65% of the PAC's energy infrastructure projects involve oil and gas, mostly investment by stated-owned Petrobras and most of them in the southeastern states. 183 of these are already in Petrobras' Strategic Plan, representing R$172 billion in Brazil-based investment through 2010, including:
the Rio de Janeiro State Petrochemical Complex (Comperj), a R$21 billion project expected to begin construction in 2008 and once done is expected to process 150,000 bbl/d heavy oil to produce diesel, ethane, propene, benzene, paraxylene, butadiene, polyethylene, polypropylene (PP), PET, PTA (primary material for making PET and polyester), ethylene glycol and styrene. Rio state's Environment Secretary, Carlos Minc, says that the environmental license package for Comperj — 50 different environmental licenses — is the largest in Latin America. Some environmental advocates are upset about Comperj's siting, saying it poses huge risks for the area's wetlands and rivers and to nearby Guanabara Bay itself.
the Abreu e Lima Refinery in Pernambuco state (PE), a R$10 billion project in cooperation with Venezuela's PDVSA expected to break ground this year and once online in 2012, process 200,000 bbl/d heavy oil and produce diesel, coke, naphtha, LPG and bunker.
two biofuel export pipelines, one just for ethanol from Goiás state (GO) to São Sebastião (São Paulo state – SP) port, the other for both ethanol and biodiesel, to run from Cuiaba (Mato Grosso – MT) to Paranagua (Paraná – PR)
the Gas Production Anticipation Plan (Plangás) – a R$25 billion (about US$12 billion) investment to increase natural gas production to 40 million cubic meters (m3) by end-2008 and to 55 million m3 by end-2010.
Interestingly enough, the PAC does not include the trans-Amazonian pipeline proposed by Venezuelan President Hugo Chávez and in which President Lula has expressed some interest.
Since the unveiling of the PAC, Petrobras has become one of the Program's most vocal defenders, leaving some to wonder aloud about how blurred the line between government and enterprise has become at Petrobras since Lula took office.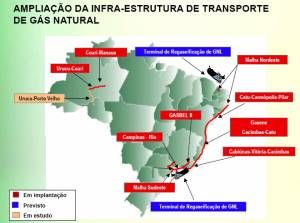 Natural Gas
Most press reports on the PAC's energy element focus on the shopping list of projects, whether conventional or biofuel. Most skip over the PAC's call for quick approval of the natural gas bill sent to Congress by Lula in March 2006, which is intended to amend the existing (1997) law to (1) authorize the use of natural gas in power production plants and treat its industrial use as a secondary market; (2) set clear rules for access to gas pipelines and setting tariffs for such service; (3) create a concessions regime for the constructions and operation of pipelines. This bill faces problems in Congress, because as written it would wrest control over authorizing pipelines from the states and give it to the feds, which many state delegations are opposed to.
As for projects, in addition to Petrobras' Plangás (see above), the PAC envisions about 4,526 kilometers of new gas pipeline — hence the worry among some state officials and NGOs about the proposal for shifting environmental licensing for such projects to federal hands (see Part I).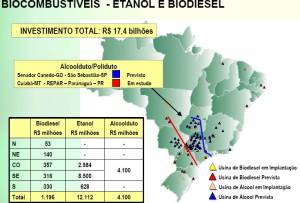 Swimming in Green Fuel
Beyond the pipelines mentioned above, in biofuels the PAC envisions some 120 new projects over the next four years to raise the country's ethanol output to 23.3 billion liters by 2010 and biodiesel production to 3.3 billion liters. The projects breakdown as follows:
ethanol

: 77 new plants producing about 40% more ethanol than currently;

biodiesel

: 46 new plants to quadruple current production by 2010;

H-bio

: Petrobras will invest some R$150 million (about US$71 million) in four refineries in Minas Gerais (MG), SP, PR and Rio Grande do Sul (RS) to produce "H-bio", the blend of vegetable oil and diesel.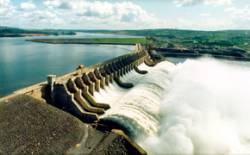 Hydroelectric Fever
As promised in the recently released national energy plan, Brazil plans to invest heavily in hydroelectric dams. The PAC envisions:
North

: 10 regular hydroelectric plants — three already under development and due online between now and 2010 for a total of 1403.5 MW new capacity, plus seven otherss envisioned post-2010;

Northeast

: seven foreseen sometimes after 2010;

Southeast

: 12 plants — five under development, four foreseen after 2010;

South

: 8 plants under development, seven envisioned after 2010;

Center-West

: 10 in development, 10 more foreseen after 2010.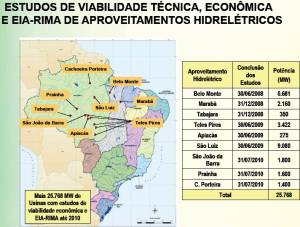 All of these projects must undergo environmental impact assessment (EIA), public hearings and licensing, and many are expected to face opposition from NGOs, perhaps even court battles. Hence some of the timelines for the projects listed (click on image) in the PAC are considered optimistic.
Lots of Lines
The PAC envisions investing R$12.5 billion over the next four years in stringing 13,826 kilometers of high-tension power lines (and their attendant substations) across Brazil. The regional breakdown is as follows:
North

: 4,721

Northeast

: 2,276

Southeast

: 2,900

South

: 2,078

Center-West

: 1,851
Fully a third of the lines will go to link up the North to the Center-West and Southeast. Some NGOs have asked why so much emphasis has been placed on linking to the larger power grids of the coastal zones, in the process reinforcing dependencies on the latter, rather than on finding ways — perhaps though wind and solar power, bio-energy and micro-hydro — to make some of the interior self-sufficienct in energy.
Also-Rans? Non-Bio Renewables
It's not that the PAC doesn't mention renewable energy sources other than bio-energy, but rather how it mentions them — just barely, in an almost offhand manner. In fact, no mention at all is made of solar, wave, geothermal, tidal or OTEC. The only non-bio renewables mentioned are small hydro (pequena central hidrelétrica – PCH) and wind power, and even then treated as asides (such as "PROINFA – 6 PCH's – 102 MW"), with no names or specific locations noted.
The PAC envisions the following, nearly all within the context of the existing Incentive Program for Alternative Electrical Energy Sources (Programa de Incentivo às Fontes Alternativas de Energia Elétrica – PROINFA):
North

: 6 PCHs

Northeast

: 3 PCHs, 35 wind farms

Southeast

: 19 PCHs, 2 wind farms

South

: 11 PCHs, 11 wind farms

Center-West

: 21 PCHs
Nuclear?
In the original press briefing packets on the PAC was a special annex regarding the relaunch of work on the Angra III nuclear power plant. This was quickly removed and the Minister of Energy and Mines (MME) has since denied that Angra III is part of PAC.
Even so, it has re-ignited (yet again!) the debate within the Lula Administration about whether Angra III should be finished and another nuclear plant built (as MME advocates and Environment Minister Marina Silva vocally opposes) or whether Brazil instead should pursue a combination of energy conservation and alternative energy sources.
In the final Part I'll examine the small but important role PAC foresees for drinking water, basic sanitation and waste collection and disposal.
— Keith R
Tags: Angra III, avaliação do impacto ambiental, benzene, biocombustiveis, biodiesel, Biofuels, Brasil, Brazil, bunker, butadiene, Carlos Minc, coke, Comperj, Cuiabá, diesel, EIA, energía, energy, environmental licensing, etanol, ethane, ethanol, ethylene glycol, evaluación del impacto ambiental, Goiás, Guanabara Bay, H-bio, heavy oil, Hugo Chávez, licença ambiental, LPG, Lula, Mato Grosso, Minas Gerais, MME, naphtha, nuclear power, PAC, paraxylene, PDVSA, pequenas centrais hidroelétricas, Pernambuco, PET, Petrobras, petrochemicals, pipelines, Plangás, polyester, polyethylene, polypropylene, Programa de Aceleração do Crescimento, PROINFA, propene, PTA, refining, Rio de Janeiro, Rio Grande do Sul, São Paulo, São Sebastião, styrene, trans-Amazonian pipeline, wetlands
Subscribe to My Comments Feed
Leave a Reply