« More Coconut Recycling / Mais Reciclagem de Coco | Home | PAC'ing Brazil II: Regulatory Agencies »
By Keith R | March 2, 2007
Topics: Energy & the Environment, Environmental Governance, Environmental Protection | No Comments »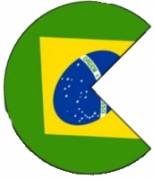 If you are not resident in Brazil or a regular Brazil-watcher, you could be forgiven for never having heard of PAC.
No! Not the video game character that chomped on "power pills" in order to consume brightly colored ghosts! Rather instead complex package of proposals from Lula's Government intended to energize the Brazilian economy through 2010. Most media and analysts have focused on its big-ticket projects and how they will be funded, all but ignoring its environment dimension.
Hence why am I mentioning it here in The Temas Blog! The Program for Accelerated Growth (Programa de Aceleração do Crescimento – PAC) is more than just another shopping list of planned public investments in infrastructure, tinkering with tax credits and lending terms. It has many elements that — if maintained in the package approved by Congress and signed and implemented by the Lula Administration — will have a major impact on topics frequently discussed on this blog.
I want to avoid getting mired in a long discussion of the economic and/or political merits of the package that many in the Brazilian media and political circles are currently trapped in, but I don't think I can simply ignore the 800-pound gorilla in the room and pretend it's not there and that it will not affect the issues I cover. Potentially too important for that.
The PAC in a Nutshell
The infrastructure investment part of the PAC amounts to R$504 billion (about US$237 billion at current exchange rates), more than half of which (R$275 billion, about US$130 billion) earmarked for energy projects, R$171 billion (about US$80 billion) for housing and sanitation, and R$58 billion (about US$27 billion) for "logistics" (essentially transport links). Much of the investment will be done by state-owned firms such as Petrobras, with the federal budget contributing (directly) just R$70 billion (about US$33 billion).
The package also contains a dizzying array of other measures, including tax breaks and incentives (particularly for construction, and for producers of tech items such as semiconductors, digital television, laptops and PCs), regulatory changes (including in how competition rules are enforced), special deals with the National Development Bank (BNDES), a law on small and medium-sized enterprises (SMEs), tinkering with the reinsurance market, modernization of government procurement procedures, guaranteed raises in minimum salary and civil service pay, and the creation of a new R$5 billion (about US$2.4 billion) Infrastructure Fund using part of workers' compulsory savings (Fundo de Garantia por Tempo de Serviço – FGTS).
Let's look at the elements most directly linked to issues covered by this blog, starting with a revamp of the nation's environmental licensing regime.
Environmental Licensing
One of the clearest environmental impacts of the PAC will be the bill included in the package to "regulate" (adopting implementing/interpreting legislation for) Article 23 of the 1988 Federal Constitution. Article 23 calls for shared competence among federal, state and municipal authorities in several fields, including environmental protection (and thus environmental licensing).

In recent years many in industry have complained that excessive delays bureaucratic red tape involved with environmental licensing, and unclear rules about which level of government has the final say in licensing which type of undertakings, have delayed many infrastructure projects. Federal authorities recently released data refuting most of these charges where the federal enforcement authority, IBAMA, is concerned. And they point out that they have been trying to set up a single national internet portal for all levels of environmental license processing in Brazil, and have attempted to increase the number of license reviewers working at IBAMA.
The feds acknowledge that court disputes over licensing jurisdiction have delayed some projects, however, and suggest that some bottlenecks have occurred at the state level. Some applicants bring their environmental impact assessments (EIAs) and license applications to IBAMA's national office, only to be told that they must go instead to a state authority or state office of IBAMA that may take far longer to review their file and impose more onerous conditions. At the state level some 100,000 environmental licenses are emitted every year, and the Environment Ministry calculates that some 60% of these are minor and probably most logically left up to municipal environmental authorities, leaving state authorities and state offices of IBAMA free to tackle the bigger, more complex cases.
To clear up which types of cases should go to the feds, which to states and which to municipalities, the PAC includes a bill for a "supplementary law" on environmental licensing with "urgent character" status, meaning that a special congressional committee must review it within 45 days and then submit it to accelerated debate and approval subject to absolute majority voting. The table at right (click to enlarge) summarizes the proposed division of responsibilities.
Not everyone is comfortable with this proposal. Some municipal authorities fret that their workload is about to increase significantly without the manpower, budget or technical resources to handle it. Some federal officials acknowledge the concern: "It won't work to have billions for infrastructure investments but only cents for the structure of environmental organs…there will be an insolvable impasse: growing demand from undertakings and the incapacity of organs to emit their licenses," explains Cláudio Langone, Executive Secretary of the Environment Ministry (MMA).
Luiz Prado, however, sees it as a power grab by the feds. Prado, a former state environment official in Rio de Janeiro (RJ), says that the framing of the bill allows for the feds to cut states out of reviewing any projects "causing or could cause" "national or regional" environmental impact. He points out that most medium-to-large projects — dams, refineries, power transmission lines, railroads or pipelines — can be argued to have at least "regional impact" and thus national review will prevail even if one state is more affected than most.
A possible example: the petrochemical complex planned by Petrobras for RJ state (see Part III), where the feds say that IBAMA should handle licensing because of its broad impact but RJ officials steadfastly insist on state licensing, saying that they will seek tougher emission standards than those imposed by federal officials.
In Part II, we'll look at the biggest chunk of PAC, the energy and petrochemical component.
— Keith R
Tags: BNDES, Brasil, Brazil, construction, dams, digital television, environmental licensing, FCTS, IBAMA, incentives, laptops, licenciamento ambiental, licensamiento ambiental, MMA, PAC, Petrobras, petrochemicals, pipelines, power transmission lines, Programa de Aceleração do Crescimento, PYMEs, railroads, refineries, Rio de Janeiro, semiconductors, SMEs, tax breaks
Subscribe to My Comments Feed
Leave a Reply