« Peru Launches Anti-tobacco Program | Home | Brazil Creates a National Consumer Defense School »
By Keith R | August 10, 2007
Topics: Environmental Protection, Hazardous Substances | No Comments »
Panama's National Environment Authority (ANAM) recently signed a memorandum of understanding (MOU) with the United Nations Institute for Training and Research (UNITAR) to launch in that country the Pilot Project for Developing an Inventory and Risk Management of Mercury. The project will draw up a national inventory of emissions and products that contain the heavy metal mercury (button batteries, switches, thermometers, etc.) and a national plan to management risks associated with mercury. The program will also draft a proposal for a broader national Registry of Emissions and Transfers of Contaminants (RETC).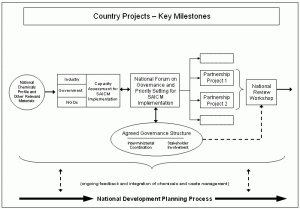 The project is part of Panama's national implementation of the Strategic Approach to International Chemicals Management (SAICM). SAICM is a policy framework for action on chemical hazards approved by an international conference held in February 2006 in Dubai. Switzerland is underwriting UNITAR's work with 15 developing countries, including Panama, to implement SAICM. The SAICM implementation projects executed by UNITAR — with input/help from other SAICM partners such as the UN Environment Programme (UNEP), the Basel and Stockholm Convention secretariats, etc. — include:
development of a national governance structure for SAICM implementation;
preparation of a National SAICM Capacity Self-Assessment;
organization of a National Forum on Priority Setting; and
implementation of two partnership projects through involvement of government, industry, and public interest NGOs.
Panama selected mercury as one of the priorities for its "partnership projects."

_____________________________________
Desde la Autoridad Nacional del Ambiente (ANAM) de Panama:
ANAM inicia proyecto piloto de gestión racional de productos que contienen mercurio

Con la firma de un memorando de entendimiento, la Autoridad Nacional del Ambiente y el Instituto de las Naciones Unidas para la Formación Profesional e Investigaciones (UNITAR) iniciaron formalmente la implementación del Proyecto Piloto en Refuerzo del Desarrollo de un Inventario y Gestión de Riesgos en la toma de decisiones sobre el Mercurio.

Panamá fue seleccionada, junto a Chile y Ecuador, para desarrollar esta iniciativa que se pretende replicar en otros países debido a que los últimos estudios brindan evidencias de que el mercurio es un contaminante que compromete seriamente la calidad ambiental y la calidad de vida, al ser un elemento persistente, bioacumulable y biomagnificable.

Con esta iniciativa, el país podrá contar con un inventario de las emisiones y productos que contienen mercurio, un plan de gestión de riesgos y además se presentará una propuesta para el establecimiento de un Registro de Emisiones y Transferencia de Contaminantes (REC). Esto permitirá establecer las políticas y programas que faciliten la recuperación ambiental y sobre todo, la prevención de problemas relacionados a la exposición al mercurio y sus compuestos.

Cabe destacar, que el Programa de las Naciones Unidas para el Medio Ambiente (PNUMA), ha declarado el mercurio como "una seria amenaza global", por los efectos en la salud humana y la vida silvestre.
Tags: ANAM, Basel Convention, button batteries, Chile, Convenio de Basilea, Convenio de Estocolmo, Ecuador, emissions registry, gestión de riesgos, mercurio, mercury, Panama, PNUMA, registro de emisiones, RETC, risk management, SAICM, Stockholm Convention, switches, thermometers, UNEP, UNITAR
Subscribe to My Comments Feed
Leave a Reply