« An Agreement to Promote Caribbean Renewable Energy Projects | Home | Groundbreaking Project of Carbon Credits for Avoided Deforestation »
By Keith R | August 7, 2007
Topics: Environmental Protection, Packaging, Waste & Recycling | No Comments »
Synopsis in English: The southern Brazilian state of Paraná reportedly has reached, in just six years, a 98% recovery rate for used pesticide packaging, which if true places it in the top position (by percentage, if not in volume) among Brazilian states implementing the federal mandate to take back such packaging. It's also a recovery rate North America and most European nations would envy.
But it's not enough for Paraná, the state that has embraced both organic agriculture and a state-wide Zero Waste goal and recently challenged Tetra-Pak to take responsibility for the post-consumer waste involving their packaging. Paraná wants to reach 100% recovery of pesticide packaging over the next 12 months. It has just signed an agreement with the National Institute of Empty Packaging Processing (Instituto Nacional de Processamento de Embalagens Vazias – inpEV) and the Federal University of Paraná (UFPR) to educate and train all paranaense agricultural producers (farmers) on the importance of, and procedures for, returning used pesticide containers in the hopes that this will make the difference. UFPR will be responsible for training, education and research linked to the program, inpEV for the transport and correct destination of the used packaging — either recycling, or incineration if too contaminated in an incinerator licensed for that purpose.
According to inpEV data, Paraná recovered 1.72 million kilograms of empty pesticide containers in the first half of 2007 alone, second (by volume) only to Mato Grosso and nearly 16% of the national total. About 89% of the recovered packaging went through the triple washing procedure, while the rest was deemed too contaminated.
_____________________________________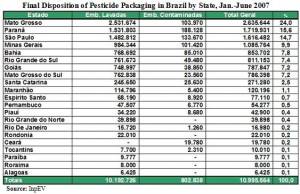 Desde a Secretaria de Estado de Meio Ambiente e Recursos Hídricos (SEMA) de Paraná:
Paraná define meta de recolher 100% das embalagens de defensivos agrícolas

O secretário do Meio Ambiente e Recursos Hídricos, Rasca Rodrigues, juntamente com o reitor da Universidade Federal do Paraná (UFPR), Carlos Moreira Junior, e o presidente do Instituto Nacional de Processamento de Embalagens Vazias (Inpev), João Rando, assinaram nesta quarta-feira (01) a renovação do convênio entre as entidades visando orientação e capacitação de agricultores paranaenses para devolução e destinação correta das embalagens vazias de agrotóxicos. A meta é passar de 98% das embalagens recolhidas para 100%, ampliando a capacitação dos agricultores envolvidos.

De acordo com o presidente do Inpev, nestes últimos quatro anos o Paraná tem aumentado seus índices de recolhimento e garantido a permanência na colocação entre os estados que mais devolvem embalagens de agrotóxicos no mundo.

"Para o Inpev é uma honra estar junto com a Universidade e Governo do Estado nesta causa, que é trabalhar pra preservar o meio ambiente. Nestes quatro anos de convênio o Paraná evoluiu muito na capacitação dos agricultores e das pessoas que trabalham nas unidades de recebimento. E os resultados estão aí, hoje o Paraná é líder no Brasil e no mundo nessa questão trazendo um grande exemplo. É um convenio que ajuda a construir um meio ambiente melhor, uma sociedade melhor e um Paraná melhor", declarou o presidente, João Rando.

Destinação – O Paraná é referência na destinação final de embalagens vazias de defensivos agrícolas, sendo responsável por 16% do total recolhido no país, entre os meses de janeiro a junho deste ano. No último mês de junho, foram devolvidas por agricultores paranaenses 3,7 toneladas de embalagens, o que representa 97% da produção consumida no estado e garante ao Paraná a segunda colocação nacional.

"Há seis anos o Paraná alcançava a nona colocação em recolhimento de embalagens. Com esta parceria, que envolve um trabalho constante e efetivo junto aos agricultores, fabricantes, cooperativas e poder público, em favor do meio ambiente temos garantido índices de recolhimento de 98% superiores ao da Bélgica, por exemplo, que recolhe 85%", destacou o secretário Rasca Rodrigues.

Dia do Campo Limpo – O presidente do Inpev disse que aproximadamente 50 mil alunos de escolas públicas estaduais e municipais participarão no próximo dia 17 das atividades do Dia Nacional do Campo Limpo no Paraná, que são desenvolvidas há três anos pelo Instituto Nacional de Processamento de Embalagens Vazias (Inpev) e este ano será interligado ao Programa Mata Ciliar.

"No dia nacional do campo limpo nos teremos 14 unidades ou municípios trabalhando intensamente junto com as escolas rurais, municipais, universidades e faculdades para promover a conscientização da necessidade de ter o campo limpo", mencionou. Ele explicou que todas as 72 unidades de recolhimento do Paraná promoverão concursos de desenho e de redação nas escolas relacionadas ao tema, sendo que 14 unidades estarão abertas para que a comunidade conheça o sistema de reciclagem e devolução das embalagens.

Convênio – O programa de recolhimento de embalagens é coordenado pela Superintendência de Recursos Hídricos e Saneamento Ambiental (Suderhsa). "O Paraná dá mostras de que o meio ambiente é prioridade nessa parceria que atingiu um grau excepcional de conscientização dos produtores rurais, modelo no Brasil e no mundo", destacou o presidente da Suderhsa, Darci Deitos.

O Inpev é responsável pelo transporte e destinação correta das embalagens vazias coletadas nas centrais e encaminhadas para reciclagem ou incineração. Já a UFPR realiza o trabalho de treinamento e pesquisa de campo, com o apoio de universitários e orientação dos professores.

"Não é importante apenas para os alunos e sim para todo o Paraná, na medida que a UFPR se envolve num programa como esse que recupera as embalagens dos agrotóxicos e da um destino adequado. Os estudantes têm a oportunidade de fazer pesquisas e, acima de tudo, orientar os produtores rurais a fazer um destino correto", destacou o reitor Carlos Moreira.

Ao todo, foram capacitadas 4,7 mil pessoas no Paraná, que atuam em 14 centrais de recolhimento e outros totalizando 75 pontos de recolhimento.

O diretor de saneamento ambiental da Suderhsa, Jorge Callado, falou que dentre as metas para o próximo ano está o recolhimento total das embalagens produzidas no estado. "Com educação e planejamento ambiental nós temos a previsão de fechar os 100% de recolhimento. Apesar de ser uma meta ambiciosa já chegamos no 98%", reforçou Callado.

Unidades de recebimento – Os produtores rurais paranaenses têm à sua disposição uma ampla rede de unidades de recebimento de embalagens vazias, formada por 14 centrais, localizadas em Cambé, Campo Mourão, Cascavel, Colombo, Cornélio Procópio, Maringá, Palotina, Ponta Grossa, Prudentópolis, Francisco Beltrão, São Mateus do Sul, Guarapuava, Santa Terezinha do Itaipu e Umuarama, além de outros 57 postos licenciados para o recebimento.

Para o engenheiro agrônomo e chefe de departamento de tecnologia e saneamento da Suderhsa, Rui Mueller, o resultado positivo deste programa se deve à pesquisa de campo, que identificou a situação do agricultor e repercussão dos trabalhos de educação ambiental e monitoramento. "O Estado atingiu um patamar muito alto na qualidade do recolhimento e trabalho de educação ambiental com os agricultores: Não se admite mais um agricultor que não tenha conhecimento do processo da tríplice lavagem, ele já sabe o que é correto. É importante atingir o agricultor para que ele tome atitudes corretas", relatou Muller.
Tags: Bélgica, Brasil, Brazil, Cambé, Campo Mourão, Cascavel, Colombo, Cornélio Procópio, desperdício zero, educação ambiental, embalagens de agrotóxicos, Francisco Beltrão, Guarapuava, incineração, incineration, inpEV, Maringá, Mato Grosso, Palotina, Paraná, pesticide packaging, Ponta Grossa, Prudentópolis, reciclagem, recolhimento de embalagens, recovery rates, recycling, Santa Terezinha do Itaipu, São Mateus do Sul, SEMA, Suderhsa, triple lavado, tríplice lavagem, UFPR, Umuarama, zero waste
Subscribe to My Comments Feed
Leave a Reply