« Electric Cars for Chile | Home | Update: International Health Regulations »
By Keith R | August 4, 2008
Topics: Environmental Protection, Hazardous Substances, Packaging, Waste & Recycling | No Comments »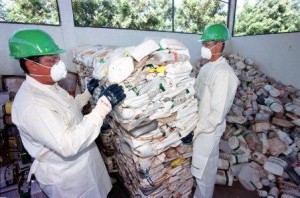 Synopsis in English: In June the southern Brazilian of Paraná announced that it had increased its recovery of pesticide packaging by 20% (by weight) over the prior year. Just last year Paraná announced that they want to become the first state to comply 100% with the federal mandate to take back such packaging. North America and most European nations come nowhere near Paraná's recovery rates for pesticide packaging in the high 90's.
In the first five months of 2008 Paraná collected 1,600 metric tons of used pesticide packaging instead of 1,300 during the same period in 2007. Each ton represents about 25,000 pesticide packs. The state has 74 collection centers for the packaging — 14 run by municipalities, 60 other posts licensed by the state. As is the case with pesticide packaging collected in the rest of Brazil, the plastic portion is recycled to make motor oil containers, insulation for electrical cables, casings for car batteries, plastic rope, sacks for hospital wastes, electric junction boxes, sewage tubing, caps for pesticide containers, and large waste containers.
________________________
Desde a Agência Estadual de Notícias:
Paraná aumenta em 20% o recolhimento de embalagens de agrotóxico

Os dados divulgados pelo Instituto Nacional de Processamento de Embalagens Vazias (Inpev) na última segunda-feira (09) reafirmam o Paraná como um dos Estados brasileiros que mais recolhem e reciclam embalagens de agrotóxicos do Brasil. Somente nos cinco primeiros meses deste ano, foram coletadas 1,6 mil toneladas de recipientes – 20% a mais do que o mesmo período do ano passado (1,3 mil toneladas). Cada tonelada representa aproximadamente 25 mil embalagens retiradas do meio ambiente.

Os bons resultados do sistema de destinação final são atribuídos à parceria de sucesso entre agricultores, indústria fabricante – representada pelo inpEV -, canais de distribuição e o poder público, no Paraná representado pelas Secretarias da Agricultura e Abastecimento, do Meio Ambiente e Recursos Hídricos, Superintendência de Desenvolvimento de Recursos Hídricos e Saneamento Ambiental, e Instituto Ambiental do Paraná (IAP).

Apenas em maio deste ano, o Paraná retirou do meio ambiente 269,6 toneladas – o equivalente a 16% do total recolhido em todo país durante o mês. O presidente da Suderhsa, Darci Deitos, destacou que os índices de recolhimento demonstram a participação efetiva do homem do campo.

Atualmente o Paraná conta com 74 pontos de recolhimento de recipientes. 14 centrais instaladas nos municípios de Cambé, Campo Mourão, Cascavel, Colombo, Cornélio Procópio, Maringá, Palotina, Ponta Grossa, Prudentópolis, Francisco Beltrão, São Mateus do Sul, Guarapuava, Santa Terezinha do Itaipu e Umuarama; e mais de 60 postos licenciados para o recebimento.

Com o material resultante da reciclagem das embalagens são fabricados 12 artigos como barricas de papelão, conduítes, caixas de passagem de fios elétricos, embalagem para óleo lubrificante, sacos plásticos para descarte de lixo hospitalar, entre outros.
Tags: agrotoxicos, Brasil, Brazil, Cambé, Campo Mourão, caps, car batteries, Cascavel, Colombo, conduítes, Cornélio Procópio, electric junction boxes, electrical cables, embalagens de agrotóxicos, envase de plaguicidas, Francisco Beltrão, Guarapuava, IAP, inpEV, Maringá, Palotina, Paraná, pesticide packaging, plastic rope, Ponta Grossa, Prudentópolis, reciclagem, recycling, resíduos de embalagens, Santa Terezinha do Itaipu, São Mateus do Sul, sewage tubing, Suderhsa, Umuarama, waste, waste containers
Subscribe to My Comments Feed
Leave a Reply