« Update: International Health Regulations | Home | Getting Mercury Out of Healthcare »
By Keith R | August 4, 2008
Topics: Chemicals, Environmental Protection, Hazardous Substances, Sustainable Agriculture | 1 Comment »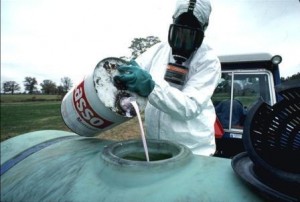 Synopsis in English: Starting with the next major planting this month, Paraná plans to substantially increase its Integrated Pest Management (IPM) Program with the goal of reducing pesticide use in plantings by its farmers 30% over the next four to five years. The new Program push is motivated in large part about foreign market scrutiny of pesticide residues on agricultural imports, and wanting to improve the perceived value of the state's "Paraná Quality" seal (Selo Qualidade Paraná) branding label for agricultural goods. Pesticide applications in the state have increased 87% over the last nine years.
The initial focus will be on insecticide use regarding the state's three largest crops: soya, corn and wheat. The emphasis will be on reduced and more selective use of pesticides, utilizing less aggressive and more targeted pesticides, and promoting the application of biological controls instead of chemicals.
To do so, the State Agriculture Secretariat (SEAB) — working with the Brazilian Agricultural Research Corporation (Empresa Brasileira de Pesquisa Agropecuáia – Embrapa), the Paraná Agronomic Institute (Instituto Agronômico do Paraná – Iapar), the Paraná Instituto of Rural Technical Assistance and Extension (Instituto Paranaense de Assistência Técnica e Extensão Rural – Emater), the Paraná Syndicate and Organization of Coops (Ocepar) and other groups in the agricultural sector — has been convening six regional meetings on the subject in Campo Mourão, Cascavel, Guarapuava, Londrina, Maringá and Ponta Grossa. At each meeting 8-10 technicos are recruited to undergo training so that they can train 8-10 other specialists in the countryside, eventually creating a network of 400-500 specialists to train farmers.
_________________________

Desde a Agência Estadual de Notícias:
Programa de controle de pragas vai reduzir uso de agrotóxico no Paraná

A Secretaria da Agricultura e do Abastecimento (Seab) vai realizar um amplo programa de Manejo Integrado de Pragas no Paraná já a partir da próxima safra de verão, cujo plantio começam em agosto. O objetivo é reduzir em 30% o número de aplicações de inseticidas nas lavouras num prazo de quatro a cinco anos. A preocupação é estancar a aplicação excessiva de agrotóxicos nas lavouras, procedimento que futuramente poderá ser apresentado como barreira sanitária aos produtos produzidos no Paraná.

De acordo com o secretário Valter Bianchini, a Seab pretende incentivar a redução do uso de agrotóxicos para elevar a marca Qualidade Paraná. "Queremos evitar a devolução, por parte de outros países, de mercadorias com a justificativa de excesso de resíduos de agrotóxicos nos produtos", explicou

A meta inicial é conter o uso de inseticidas nas lavouras de soja, milho e trigo, que ocupam o mesmo espaço geográfico no Estado. "Mas nada impede que os procedimentos sejam adotados em outras culturas", diz o engenheiro agrônomo e entomologista da Emater-PR, Lauro Morales.

Os inseticidas sãos os produtos mais agressivos ao meio ambiente e são aqueles que causam maior número de acidentes com mortes. São considerados nocivos aos seres vivos porque ataca o sistema nervoso dos insetos e também do homem e dos animais.

De acordo com Morales, o volume de inseticidas que está sendo usado nas lavouras de soja, milho e trigo daria para fazer 1,6 aplicações em todo o território paranaense, que abrange 20 milhões de hectares.

No Paraná a aplicação de inseticidas aumentou 87% em nove anos, passando de 2,14 aplicações em média para quatro aplicações, ou seja, quase 10% ao ano nos últimos anos. Essa aplicação excessiva tem impactos negativos no ambiente como solo, água e ar. Os produtores ficam expostos à ação nociva desses produtos, aumentando o número de intoxicações e o risco de resíduos nos produtos é maior, o que prejudica a comercialização dos produtos, explica Morales.

ENCONTROS REGIONAIS – Inicialmente a Seab irá coordenar a realização de encontros regionais para apresentação da proposta de redução do uso de agrotóxicos a todas as instituições ligadas a agricultura. O projeto que visa a conscientização do agricultor foi elaborada em parceria com a Embrapa, Iapar, Emater e Ocepar e outras entidades ligadas ao setor e será apresentada em seis regiões do Estado: Maringá, Campo Mourão, Cascavel, Londrina, Guarapuava e Ponta Grossa.

A Seab pretende voltar a incentivar o controle biológico e o uso de produtos mais seletivos. "Propomos a racionalização na hora de aplicar os agrotóxicos e também a revisão das recomendações atuais quanto ao tipo de produtos", explica Morales. Segundo ele, a proposta visa recomendar o uso de produtos menos agressivos ao meio ambiente. "O grande problema dos produtos mais agressivos é que eles provocam problemas neurotóxicos nas pragas mas também nos homens e animais", diz o técnico.

Para isso, a Seab quer envolver nesse movimento também os profissionais técnicos que recomendam os produtos. "Muitas vezes é inevitável recomendar produtos mais tóxicos. Por isso, será necessário fazer um monitoramento e aplicar o produto somente quando o ataque de pragas for provocar danos às lavouras", diz Morales.

MARINGÁ – A aplicação prática dessa proposta em todo o Estado será definida nos seis encontros regionais já marcados, onde haverá a formação de uma rede de assistência técnica. O primeiro deles vai acontecer nesta quinta-feira (19) em Maringá. A Seab irá recrutar de oito a 10 técnicos em cada reunião das instituições parceiras como cooperativas, sindicatos, Emater e outras, totalizando 60 técnicos que serão treinados como especialistas. Esses técnicos irão treinar outros oito ou 10 técnicos no campo.

A previsão é ter cerca de 400 a 500 técnicos treinados no período de um ano que, por sua vez, irão treinar os produtores "Esperamos contar com 10 mil produtores já treinados e que sejam referência em suas regiões para reduzir a aplicação de agrotóxicos na próxima safra de verão", calcula Morales.
Tags: agrotoxicos, biocides, Brasil, Brazil, Campo Mourão, Cascavel, Guarapuava, harvest, insecticides, inseticidas, integrated pest management, lavouras, Londrina, manejo integrado de pragas, Maringá, Paraná, pesticides, plaguicidas, Ponta Grossa, safra, SEAB
One Response to "Paraná Seeks to Cut Pesticide Use"
Lorelei Derosset Says:
November 2nd, 2016 at 19:51

Very nice post. I just stumbled upon your blog and wanted to say that I've truly enjoyed surfing around your blog posts. After all I will be subscribing to your feed and I hope you write again soon!
Leave a Reply