« Stay at Marriott, Save the Brazilian Rainforest? | Home | A Map of Malnutrition Among Central American & Dominican School Children »
By Keith R | February 18, 2009
Topics: Biodiversity, Biotechnology, Energy & the Environment, Environmental Protection, Extractive Sectors, Hazardous Substances | No Comments »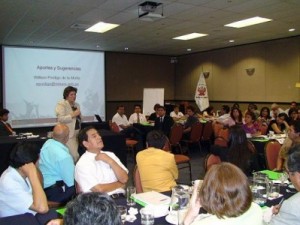 Peru's Environment Ministry (Minam) is circulating for public comment its proposal for a National Environment Policy. Interested parties can submit comments and suggestions through a web-based form. Minam will also be holding consultative workshops on the draft Policy in Lima and four regions.
The draft Policy is clear and concise, with a set of overarching objectives and a specific list of objectives, policy lines and priorities for each of five thematic areas: (a) management of natural resources; (b) management of environmental quality; (c) international agreements, trade and environment; (d) environmental citizenship; (e) environmental Institutions.
Among the actions foreseen in the draft Plan are:
Biodiversity and Conservation

:

Set value on the environmental services provided by biodiversity;
Promoting organic farming and biotrade, with the establishment of biodiversity-based productive chains for both domestic consumption and export;
Promote sustainable financing of the conservation of Peru's biodiversity, natural resources and environment;
Promote the functon of forests as carbon sinks, promoting conservation and sustainable management of existing forests, as well as forest plantations in degraded lands that have no forest cover;
Strengthen the autonomy and technical capacity of the National Service of Protected Natural Areas (SERNANP) to effectively manage forest conservation in the form of protected natural areas;
Manage forests with local communities, private enterprises, and NGOs in the form of concessions for ecotourism, conservation and private protected areas.

Biotechnology

:

Regulate, under scientific parameters, any activity involving the use of living modified organisms (LMOs), also promoting safe and responsible use of modern biotechnology and its derived products;
Build and develop a biotechnology regulatory system based on the application of transparent and scientific risk analysis, that is capable of ensuring the safety and traceability of goods and/or services obtained through the application of modern biotechnology;
Establish scientific, environmental, socioeconomic and political criteria for a system of biosafety and the responsible use of biotechnology;
Promote, implement and update the National Policy on Biosafety under the advisory and concertation framwork of the National Biodiversity Commission (CONADIB).

Wastewater

: Promote the treatment and reuse of all wastewater in productive and municipal activities, in coordination with national government, regional and local levels;

Mining and Energy

:

Broaden community participation in the mining and hydrocarbon project approval process;
Improve environmental and social standards for mining and hydrocarbon activities, with concerted and transparent codes and standards of conduct, and verify compliance;
Promote change of the national energy matrix, providing incentives for private investment in power generation from renewable sources like wind, solar and geothermal, and reduce fossil fuel use and carbon emissions;
Encourage energy saving through modern technologies, economic incentives and transparent information systems on energy efficiency;
Aggressively develop the use of hydropower to replace oil and gas and reduce carbon emissions, ensuring adequate mitigation of environmental and social impacts;
Encourage the use of forestry industry waste and waste from sugarcane cultivation for energy generation;
Encourage private investment in the use of methane gas from landfills as an energy source;
Improve fuel quality, particularly diesel, to secure less air pollution;
Promote biofuels in (already) deforested areas in Amazonia, ensuring that it does not stimulate the clearing of primary forests, and on uncultivated coastal land with highly effiecient irrigation techniques and where they will not compete for water and soil used to grow food crops;

Air, Water, Soil Quality

:

Push for the adoption of environmental quality standards (ECAs) for water, air, soil and noise, and the maximum pemissible limits (LMPs) for all productive activities, and monitor pollution and its main emitters, seeking the establishment of automated continuous monitoring and taking steps to minimize emissions;
Take action to restore water, air and soil quality in priority watersheds affected by environmental liabilities;

Economic Instruments

: develop proposals for use of economic instruments to improve environmental quality and promote their implementation;

Environmental impact assessments

: establish a "single window" for filing EIAs;

Chemicals, Waste and Hazardous Materials

:

Discourage the importation of used goods that may pose negative environmental and health risks;
Establish appropriate arrangements for the management of chemicals, wastes and other hazardous materials, and control their strict compliance;
Modernize the vehicle fleet with incentives to remove obsolete vehicles, implement an import ban on used vehicles and discourage the use of contaminating fuels;
Promote the formalization of recyclers, inserting them into the waste management system;
Develop an inventory of hazardous chemicals that currently are marketed and used in Peru, and establish mechanisms for authorization, control, registration, monitoring and compliance for their marketing, use and disposal;
Identify obsolete chemicals, waste and other hazardous materials, with a view to ensuring their proper disposal;
Take effective steps to proscribe the use of chemicals banned by the national legislation and international agreements, including penalties for marketers;
Promote the construction of adequate infrastructure for the proper use and disposal of hazardous materials and substances;
Establish the obligation of formulating contingency plans for handling hazardous substances.
________________
Desde el Ministerio de Medio Ambiente (Minam):
MINAM PONE EN CONSULTA PÚBLICA PROPUESTA DE POLÍTICA NACIONAL DEL AMBIENTE

Con la finalidad de recibir los aportes y sugerencias de las entidades privadas y públicas vinculadas con el sector, así como de la ciudadanía en general, el Ministerio del Ambiente anunció hoy la puesta en consulta pública de la propuesta de Política Nacional del Ambiente que contiene como líneas de acción principales: recursos naturales, calidad ambiental, comercio y ambiente, ciudadanía e institucionalidad ambiental.

El documento en consulta establece un marco orientador de largo plazo con objetivos, lineamientos de política, y prioridades, para la gestión de todas las entidades públicas con competencias ambientales. Al mismo tiempo, configura un marco adecuado para el óptimo desenvolvimiento de la gestión ambiental privada.

La Política Nacional del Ambiente tiene el objetivo de conservar la calidad de vida de las personas, garantizando la existencia de ecosistemas saludables, viables y funcionales en el largo plazo; y el desarrollo sostenible del país, mediante la prevención, protección y recuperación del ambiente y sus componentes, la conservación y el aprovechamiento sostenible de los recursos naturales, de una manera responsable y congruente con el respeto de los derechos fundamentales de la persona.

La primera línea se basa en la Gestión de los Recursos Naturales, destacándose el manejo y conservación de los recursos como el agua, el suelo, el aire y la biodiversidad; pero también se centrará en la evaluación y valoración de los ecosistemas, el cambio climático y el ordenamiento territorial.

La segunda línea está centrada en la Gestión de la Calidad Ambiental, es decir, se abordan temas de contaminación y salud ambiental, entre ellos la calidad del agua y el aire, así como el manejo de los residuos sólidos.

La tercera línea temática considera el cumplimiento de los Acuerdos Internacionales y las políticas sobre Comercio y Ambiente, en particular la promoción del comercio y las actividades económicas vinculadas al uso adecuado de nuestra biodiversidad.

La cuarta línea es Ciudadanía Ambiental, la cual se refiere a la mejora de la educación y conciencia ambiental de la población, el aseguramiento del acceso a la información y la transparencia para propiciar una efectiva participación ciudadana en los procesos de toma de decisiones públicas a nivel nacional, regional y local, relacionadas con la gestión ambiental.

La quinta línea es sobre la Institucionalidad Ambiental, contiene las políticas para el fortalecimiento y desarrollo de las entidades que conforman el Sistema Nacional de Gestión Ambiental.

Como parte del proceso de consulta, el MINAM realizará talleres descentralizados en Lima y en 4 regiones, con la participación del sector académico y profesional, el sector empresarial y las Organizaciones No Gubernamentales, así como los funcionarios públicos.
Tags: agricultura orgánica, Air Quality, Amazonia, biocombustibles, biodiversidad, Biodiversity, Biofuels, biosafety, bioseguridad, Biotechnology, biotecnologia, BioTrade, calidad ambiental, caña de azúcar, carbon sink, chemicals, ciudadanía ambiental, code of conduct, código de conducta, CONADIB, conservación del suelo, diesel, ECAs, ecotourism, ecoturismo, educación ambiental, EIA, energía eólica, energía geotérmica, energía renovable, energía solar, energy matrix, environment, environmental health, environmental quality, environmental services, geothermal energy, Hazardous Substances, hazardous waste, hidrocarburos, hydrocarbons, hydropower, LMOs, LMPs, matriz de energía, medio ambiente, metano, methane, Minam, minería, mining, organic farming, Peru, químicos, reciclaje, recursos naturales, recyclers, recycling, renewable energy, residuos peligrosos, residuos sólidos, salud ambiental, servicios ambientales, solar power, solid wastes, sugarcane, sumidero de carbono, used goods, vehicle fleet, water quality, wind power
Subscribe to My Comments Feed
Leave a Reply