« BNDES Finances "Green Polyethylene" Production | Home | Checking on the Green Protocol »
By Keith R | May 12, 2009
Topics: Biodiversity, Climate Change, Environmental Protection, Environmental Services | No Comments »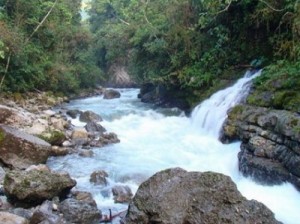 A bill on payment for environmental services has been presented by Peru's Environment Ministry (Minam) to  the Congress that Minister Antonio Brack argues is "innovative."
The three short paragraphs of the General Environment Law's Article 94 says that the State will "establish mechanisms for valuing, paying for and maintaining the provisions of such services" and defines such services as protection of water resources, protection of biodiversity, mitigation of greenhouse gas emissions and scenic beauty, among others."
The bill sent to Congress would set the general framework on environment services — defining what is considered an environmental service, what different types of compensation regimes are allowed, and who can be compensated under what conditions.  It would define as environmental services:
protection and conservation of water sources and watersheds;
protection and conservation of atmospheric basins;
land protection, conservation and reclamation;
protection or conservation of biodiversity, species and ecosystems;
emissions mitigation and the fixation, reduction, sequestration, storage and absorption of greenhouse gases;
scenic or landscape beauty;
the assimilation and dissemination of effluents and emissions; and
generally maintaining essential ecological processes of natural ecosystems.
The bill would allow compensation to individuals or communities that support or maintain sources (such as forests or reefs) that provide such environmental services.  It would also allow the participation in compensation regimes of private companies which wish to get involved in businesses providing environmental services, such as tree planting.
_________________
Desde el Ministerio del Ambiente (Minam):
INNOVADOR PROYECTO SOBRE LEY DE SERVICIOS AMBIENTALES FUE PRESENTADO ANTE EL CONGRESO

El Ministro del Ambiente, Antonio Brack Egg, resaltó que el proyecto de Ley de Servicios Ambientales, propuesto por su sector y actualmente en manos del Congreso, es uno de los primeros dispositivos legales en el mundo que se refiere a la regulación del pago o compensación por los servicios ambientales. "Se trata de una innovación en el campo de la defensa y promoción del ambiente", dio a conocer el titular del sector.

El proyecto establece el marco general para la compensación y/o retribución de los servicios ambientales con la finalidad de coadyuvar a la conservación, recuperación y uso sostenible de la diversidad biológica y los recursos naturales del país.

"Cuando conservamos y protegemos los ecosistemas o nuestros recursos naturales estamos realizando servicios ambientales. Si tenemos un bosque en pie y no lo talamos, logramos contar con un sumidero o espacio de almacenaje de carbono; cuando plantamos árboles captamos con ello CO2 o dióxido de carbono de la atmósfera y estamos descontaminando ese espacio; todas esas actividades se denominan servicios ambientales y hasta hoy nadie otorga una compensación ni un pago por ello", afirmó el titular del sector Ambiente.

Vale la pena señalar que la Ley Nº 28611, Ley General del Ambiente, en su artículo 94º, establece el marco general para el tratamiento de los servicios ambientales. Con el proyecto de ley planteado por el MINAM se promueve los mecanismos de financiamiento y pago por dichos servicios. Los servicios ambientales cumplen funciones que permiten mantener en buenas condiciones los ecosistemas y el ambiente, suministrando así un conjunto de beneficios que sustentan la economía nacional, favorecen la inversión privada y apoyan el desarrollo de las poblaciones más vulnerables en el medio rural.

El proyecto de ley califica como servicios ambientales la protección y conservación de fuentes de agua y cuencas hidrográficas; la protección y conservación de las cuencas atmosféricas; la protección, conservación y recuperación del suelo; la protección o conservación de la biodiversidad, especies y ecosistemas; la mitigación de emisiones y la fijación, reducción, secuestro, almacenamiento y absorción de gases de efecto invernadero; la belleza escénica o paisajística; la asimilación y diseminación de efluentes y emisiones y, en general, el mantenimiento de los procesos ecológicos esenciales de los ecosistemas naturales.

Con el proyecto se busca que sean compensadas las comunidades y personas que apoyan o mantienen las fuentes y/o patrimonio natural que prestan el servicio ambiental; lo mismo que conservarlas y estimular la participación privada en la conservación del patrimonio natural.

Al respecto, el Ministro Antonio Brack indicó que el proyecto de Ley de Servicios Ambientales permitirá que las empresas privadas incursionen en negocios ambientales, tales como manejo de recursos forestales, nuevas plantaciones de árboles, reducción de emisiones de dióxido de carbono, disminución de consumo de combustibles fósiles, entre otros.
Tags: Antonio Brack Egg, belleza escénica, biodiversidad, combustibles fósiles, conservación del suelo, cuencas hidrográficas, dióxido de carbono, efluentes, environmental services, greenhouse gas mitigation, Minam, mitigación del cambio climático, patrimonio natural, Peru, plantaciones forestales, protección de especies, recuperación del suelo, servicios ambientales, water resources
Subscribe to My Comments Feed
Leave a Reply