« Assessment of Non-communicable Chronic Disease in Uruguay / Diagnóstico de las enfermedades crónicas no transmisibles en Uruguay | Home | Trash Photos XII: ¡Viva la Botella! »
By Keith R | July 22, 2007
Topics: Environmental Protection, Marine/Coastal Issues, Sustainable Agriculture | No Comments »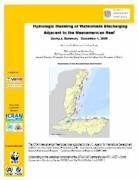 Another one from the backlog queue! A few hurried notes to myself from the beginning of December, then lost in the holiday shuffle. But the recent posts on the WWF-Coca-Cola freshwater partnership and WWF's agreements with agricultural producers in Honduras reminded me of this one still lurking in the queue. Hopefully better late than never.
The Washington-based World Resources Institute (WRI) released in December its ground-breaking watershed analysis (English, Spanish) for the Mesoamerican Reef (MAR). The report was produced as a contribution to the MAR Project of the International Coral Reef Action Network (ICRAN) supported by WRI, WWF, the US Agency for International Development (USAID), the United Nations Foundation (UNF), the UN Environment Programme (UNEP), and The Nature Conservancy (TNC).
The WRI report is an attempt to quantify the impact of human land-based activities (such as banana, oil palm, sugar cane, citrus and pineapple crop production) on the Reef, so that this information can be used in reforming land-use rules, agricultural policy and practice, setting conservation and coastal management priorities. It looks primarily at sediment and nutrient (nitrogen and phosphorus) runoff and loads, and makes projections for them until 2025 using different land-use scenarios.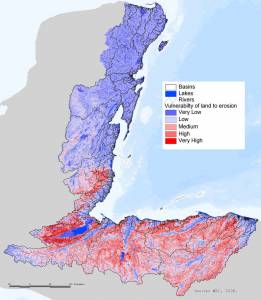 The MAR follows the Caribbean coastline of Mexico and Central America for over 450 miles, and as such is the hemisphere's longest continuous reef system and one of the world's largest (reputedly the world's second largest). It supports nearly 60 species of coral, 350 mollusks, 500 fish species, and among other creatures, Central America's largest population of manatees.
Hopefully I do not need to reiterate here the long list of reasons why protecting such reef systems is important. Anyone desiring a refresher on their importance can check my September 2006 post on the subject.
Key Findings
The Origin of Sediments/Nutrients Reaching the MAR
Of the 400 watersheds in the MAR region, the Ulua in Honduras contributed the most sediment, nitrogen and phosporus. Other large contributors among rivers were Patuca (Honduras), Motagua (Guatemala and Honduras), Aguan (Honduras), Dulce (Guatemala), Belize River (Belize), and Tinto o Negro (Honduras).
80% of sediment and over half of all nutrients originate in Honduras.
Guatemala accounted for about 1/6 of all sediments and 1/4 of the nutrients entering coastal waters along the MAR.
Belize contributes 10-15% of the nutrients and little of the sediment load.
Mexico contributes at least 5% of the nutrient load (probably an underestimate because the analysis does not include loads delivered via underground rivers) and little of the sediment.
Scenarios Under Different Development and Land-use Paths
Scenarios favoring free markets and minimal environmental control probably would increase nutrient delivery 10% by 2025, and sediment by 13%.
Scenarios favoring sustainable development policies likely would cut sediment and nutrient load at least 5%, helping the degraded corals to recover.
Better agricultural management practices would provide ever greater load reductions.
The Report's Main Conclusions
Policy Action is Needed. Public support, recognition and continued investment is needed to sustain promising initiatives already underway, particularly improved land-use planning, reforestation and soil conservation in Honduras, and sustainable forestry and integrated watershed management in Guatemala.
Better agricultural management practices should be targeted in the areas identified as top sources for runoff.
More detailed modelling is needed. Regional-scale modeling such as this one is useful for providing an overview and identifying broad priorities, but national/local interventions need more detailed, watershed-specific data.
Multi-country analyses such as this one can help in building transnational cooperation in natural resource management.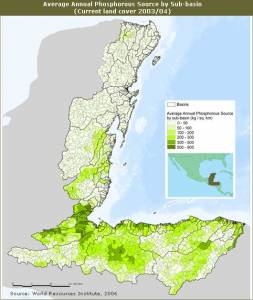 Are the Report's Findings Having an Impact?
Well, even before the WRI report was published (but with awareness of its principal findings) WWF, an ICRAN member, embarked on an ambitious campaign to change practices in the area and address several of the report's major recommendations. It has negotiated good agricultural management practice agreements with Honduran producers of sugarcane (Azucarera del Norte, S. A. – AZUNOSA), citrus (Asociación de Citricultores de Sonaguera – ACISON) and palm oil (Palmas de San Alejo and AGROTOR, subsidiaries of the JAREMAR Group). It is seeking similar agreements with pineapple and banana producers.
In addition, WWF's recently announced "freshwater partnership" with Coca-Cola includes a fund to address some of these issues in one of the river basins identified by WRI as a large contributor in sediment/nutrient load to the MAR, the Motagua in Guatemala.
This is a good start, but much more needs to be done, and WWF cannot do it alone.
— Keith R
Tags: ACISON, AGROTOR, América Central, Arrecife Mesoamericano, AZUNOSA, banana, Belice, Belize, Belize River, Central America, citrus, coastal management, coastal waters, Coca-Cola, coral, fish species, Guatemala, Honduras, ICRAN, JAREMAR Group, land use, manatees, Mesoamerican Reef, Mexico, mollusks, nitrogen, nutrient, oil palm, phosphorus, pineapple, PNUMA, Rio Aguan, Rio Dulce, Rio Motagua, Rio Patuca, run-off, sediment load, sugar cane, sustainable forestry, The Nature Conservancy, UNEP, watershed management, WRI, WWF
Subscribe to My Comments Feed
Leave a Reply