« Guyana Launches Consultations on Consumer Protection Legislation | Home | The 7th Round of REEEP Projects and LAC »
By Keith R | May 6, 2009
Topics: Chemicals, Electronic/Electrical Equipment, Protection of the Ozone Layer | No Comments »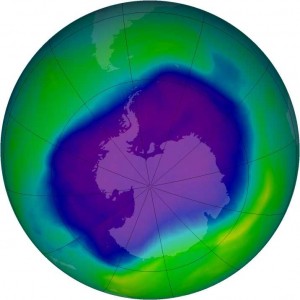 Brazil has just launched the Brazilian Program for the Elimination of HCFCs (PBH) to end that nation's use of hydrochlorofluorocarbons (HCFCs). HCFCs became the substitute of choice for many of the chlorofluorocarbons (CFCs) controlled under the Montreal Protocol (on substitutes that deplete the ozone layer) used a refrigerants in such products as freezers and air conditioners and blowing agents for foams.
Because of HCFCs' own potential to deplete the ozone layer and contribute to global climate change, the Procotol requires Article 5 (developing) countries such as Brazil to freeze their HCFC consumption as of 2013 (using a consumption levels baseline of 2009), and then phase it out by 2030 (10% by 2015, 35% by 2020, 67.5% by 2025).  Brazil, proud of their phaseout of CFCs three years earlier than required by the Protocol, are looking to also phase out HCFCs early — perhaps phase out as much as 75% as early as 2010 (which is the deadline for developed nations such as Canada, Japan, the US and Europe).
For Brazil, most of the effort will focus on just two chemicals: in 2007 53.8% of Brazil's 1.545 metric tons of HCFC consumption involved HCFC-22 (CHF2Cl), and 45.1% HCFC-141b (CH3CFCl2).
The PBH will be developed by the Inter-Ministerial Executive Committee for the Protection of the Ozone Layer (Prozon), composed of seven ministries* and coordinated by the Environment Ministry (MMA), in partnership with the German technical cooperation agency GTZ and with funding from the UN Development Programme (UNDP).
Yesterday MMA hosted a seminar in Brasilia entitled "Government and Society en Route to the Elimination of HCFCs" to formally launch the PBH and debate ideas for its components and timelines.  MMA's coordinator for the protection of the ozone layer, Magna Luduvice, said that Brazil has all the conditions to achieve achieving ambietious HCFCs reduction goals, including an investment of $400 billion from the Montreal Protocol's Multilateral Fund for the preparation of the program.
PBH's work will take into account the particularities of each production sector that uses HCFCs, with sectoral plans to be developed in four areas: refrigerators, air conditioners, foams and solvents.  Technicians will visit companies to map their HCFC consumption and generate a database that will facilitate the search for alternatives. MMA environmental analyst Tatiana Zanette points out that President Lula's government is already taking steps to curb HCFC use, such as the  November 2008 regulation from Brazil's environment technical agency, IBAMA, setting limits on annual imports of HCFCs.
To assist in the development of the PBH, seminars are to be held in three different regions of the country to discuss the issue of local consumption and maintenance of equipment with HCFCs. The Program will be evaluated by foreign experts, examining its potential for implementation. Then a full-fledged HCFC phaseout plan will be published for public consultation.
A focus of the work is the training of maintenance service providers that handle equipment containing HCFCs, with a view to issuing them certificates of good practice.  According to GTZ representative Flávia France, the maintenance service sector accounts for 53% of HCFCs released into the atmosphere.
__________
* MMA; Foreign Relations (MRE); Agriculture (MAPA); Health (MS); Science and Technology (MCT); Development, Industry and Trade (MDIC); Treasury.
____________________
Desde o Ministerio de Meio Ambiente (MMA):
Proteção à camada de ozônio será reforçada com plano de eliminação do HCFC

O governo federal lançou nesta terça-feira as bases do Programa Brasileiro de Eliminação de HCFC (PBH) idealizado para banir o gás – usado como fluido refrigerante em geladeiras e aparelhos de ar-condicionado – que destrói a camada de ozônio e possui potencial de aquecimento global. O PBH será desenvolvido pelo Comitê Executivo Interministerial para a Proteção da Camada de Ozônio (Prozon), composto por sete ministérios e coordenado pelo MMA, em parceria com as agências de cooperação técnica GTZ e Programa das Nações Unidas para o Desenvolvimento, e deverá estar concluído em novembro de 2010.

O programa ajudará o Brasil a cumprir os prazos acordados entre as partes do Protocolo de Montreal, que estabelece a redução gradativa do uso e consumo do HCFC em países em desenvolvimento, até a eliminação total em 2040. A primeira etapa define o congelamento dos níveis de consumo em 2013 e a diminuição de 10% do uso do gás em 2015, com base na média de 2009/2010.

Nesta terça-feira (5), o Ministério do Meio Ambiente realizou o seminário "Governo e Sociedade a Caminho da Eliminação dos HCFC", em Brasília, iniciando o debate em torno das propostas para a criação do PBH. A coordenadora de Proteção da Camada de Ozônio do MMA, Magna Luduvice, disse que o Brasil tem total condição de atingir as metas de redução do HCFC. Ela também ressaltou o investimento de US$ 400 mil do Fundo Multilateral do Protocolo de Montreal para a elaboração dos programa.

O PBH será desenvolvido pelo Comitê Executivo Interministerial para a Proteção da Camada de Ozônio (Prozon), composto por sete ministérios e coordenado pelo MMA, em parceria com as agências de cooperação técnica GTZ e Programa das Nações Unidas para o Desenvolvimento, e deverá ser concluído em novembro de 2010. O governo considera fundamental a participação de todos os setores envolvidos.

Para este trabalho serão levadas em consideração particularidades de cada setor produtivo que utiliza o HCFC. Assim, serão desenvolvidos planos setoriais para quatro áreas: refrigeradores, ar-condicionado, espumas e solventes. Os planos serão integrados ao PBH. Técnicos visitarão empresas para mapear o consumo do HCFC no Brasil e gerar um banco de dados que facilitarão na busca de alternativas. A analista ambiental do MMA Tatiana Zanette disse que o governo já está tomando medidas, como a portaria do Ibama que estabelece limites para importações anuais de HCFC.

Para ajudar no desenvolvimento do programa, serão realizados três seminários, em diferentes regiões do país, para debater a questão local do consumo e manutenção de equipamentos com HCFC. O programa será avaliado por técnicos estrangeiros, que analisarão seu potencial de execução. Em seguida, o plano será disponibilizado para consulta pública.

Umas das idéias apresentadas no seminário é adotar modelos de países desenvolvidos, que já em 2010 deverão ter reduzido em 75% o consumo de HCFC. Um dos focos do trabalho é a capacitação de prestadores de serviços de manutenção de equipamentos com o gás e no certificado de boas práticas. Segundo a representante da GTZ, Flávia Franca, o setor de serviço é responsável por 53% do gás liberado na atmosfera.
Tags: air conditioners, aquecimento global, ar-condicionado, Brasil, Brazil, camada de ozônio, CFCs, CH3CFCl2, CHF2Cl, environment, espumas, foams, geladeiras, GTZ, HCFC-141b, HCFC-22, HCFCs, hidroclorofluorcarbonos, hydrochlorofluorocarbons, IBAMA, maintenance services, meio ambiente, MMA, Montreal Protocol, ozone depleting substances, PBH, PNUD, Protocolo de Montreal, Prozon, serviço de manutenção, solventes, solvents, UNDP
Subscribe to My Comments Feed
Leave a Reply