« Disappearing Mangroves in Guatemala | Home | Nutrition Labeling for Airline Food in Brazil? »
By Keith R | July 14, 2009
Topics: Chemicals, Protection of the Ozone Layer | No Comments »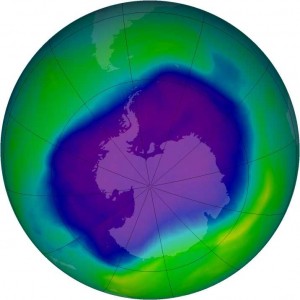 This week the Regeneration and Recycling Center of the Northeast (Centro de Regeneração e Reciclagem do Nordeste – CRN) will be inaugurated  in the capital of Pernambuco state, Recife. The principal purpose of the CRN is to collect, purify and recycle chlorofluorocarbon 12 (CFC-12), primarily taken from old refrigerators.  The Center can also regenerate other refrigerant fluids, such as hydrochlorofluorocarbons (HCFCs) and hydrofluorocarbons (HFCs). CFCs and HCFCs can deplete the Earth's ozone layer and are controlled by the Montreal Protocol.  All three classes of substances have high global warming potential.
Similar centers were opened in São Paulo in 2006, and in Rio de Janeiro in 2008.  In the coming months another will be opened in the capital of Rio Grande do Sul (RS), Porto Alegre, and a second one in SP.
The centers are an initiative of the Environment Ministry (MMA), with the help of the UN Development Programme (UNDP), and part of Brazil's National Plan for Elimination of CFCs (PNC) to meet its obligations under the Montreal Protocol.   The PNC not only called for Brazil to cut its consumption and imports of CFCs, but also their collection from existing sources (such as old refrigerators and air conditioners) and recycling.  The key is ensuring that the CFCs do not leak into the atmosphere.
In its first phase, the PNC provided training and capacity-building in the proper handling of CFC gas, and regarding the use of new technologies in refrigeration with low environmental impact.  In a second phase, machines were distributed to the gather CFC 12 and since 2006, in setting up regeneration centers. With them, cooling service companies can properly collect, store and transport the refrigerant for regeneration or recycling without leaks.  The refrigerant gets regenerated to the purity levels and same characteristics and properties of a new fluid — to levels certified by a laboratory.
The equipment donated by the PNC were purchased with funds donated to Brazil by the Montreal Protocol's Multilateral Fund for and delivered as a donation to domestic companies.
Tags: Brasil, Brazil, camada de ozônio, CFC-12, CFCs, CRN+, environment, geladeiras, HCFCs, HFCs, hidroclorofluorcarbonos, hydrochlorofluorocarbons, meio ambiente, Montreal Protocol, ozone depleting substances, Pernambuco, PNUD, Porto Alegre, Protocolo de Montreal, Recife, refrigerants, Rio de Janeiro, Rio Grande do Sul, São Paulo, UNDP
Subscribe to My Comments Feed
Leave a Reply