« And Now, a Programming Note… | Home | Pesquisa mostra Brasil vulnerável às mudanças climáticas »
By Keith R | January 13, 2007
Topics: Environmental Protection, Packaging, Waste & Recycling | 2 Comments »
Brazil is five times champion of what? Well, yeah, football (futbol, or soccer as my American friends insist on calling it).
But something else too: Brazil has led the world in recycling aluminum cans five years in a row (so it is not a anomaly or "blip"!). In 2005 Brazil recycled 96.2%, higher than Japan (91.7%), Europe (an average of 52%) and the US (52%) (see chart). [Interesting to note that since 2001 Argentina also has far surpassed the US and the median European rate in recycling aluminum cans!] Before my European readers complain about me using a regional average, I'll add that the current European leader in aluminum can recycling, Norway, came in at 93% in 2005, while Switzerland and Finland managed 88%.
For those of you interested in the raw data, the tonnage recycled by Brazil in 2005 was 127,600 tons, equivalent to about 9.4 billion cans (26 million cans per day).
The feat is all the more remarkable when you consider that aluminum cans were only introduced to the Brazilian market in 1989-90 and can recycling was nearly non-existent at first. Latasa launched the first formal effort in Brazil in 1991. By the year 2000 Brazil ranked second in aluminum can recycling only to Japan.
And yet in short order the Brazilian recycling rates surpassed countries which have been recycling aluminum cans longer (the US, Japan, much of Western Europe) and/or have legislation in place mandating high recycling rates for such packaging (EU nations) and special "third party recovery organizations" to organize packaging recovery.
The secrets of Brazil's success? Well, the high price for aluminum scrap certainly has helped, as it does in most nations. But it doesn't explain Brazil's success entirely.
The Brazilian Aluminum Association (ABAL), likes to point to the participation of what they call "collection associations or cooperatives" — what in Brazil are commonly known as catadores. These organized groups of wastepickers have grown to account for 52% of the aluminum cans recovered.
ABAL also points to growing participation by the middle class, as represented by condominiums and clubs. The participation of these entities have grown to providing 24% of the cans collected.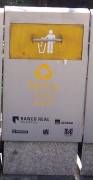 I would add a few other factors. One is the aggressive education and collection program conducted by Latasa during the 1990s, which other producers soon took up as well. [Latasa was also instrumental in organizing aluminum recycling campaigns in Argentina and Chile.]
Another is cooperation from major urban waste collection and sanitation firms such as Comlurb, which have provided ubiquitous specially marked bins for aluminum cans and special can collection points (some as simple as a waste hauler truck dedicated to can collection stationed on the main beach avenue).
A third is similar cooperation by private entities, such as supermarkets (several of which now have "reverse vending machines" paying to take back your cans), bars, banks, shopping malls, offices, etc. in providing collection points, especially in the larger cities. Many of these groups hand over their collected cans to the catadores, so their contribution is not always fully reflected in official figures.
Fourth is the prominent place given aluminum cans in the various public and private education and public awareness programs in Brazil urging consumers to recycle. The feeling among many educators is once they can get consumers into the habit of turning in their cans — and hearing that Brazil is a world leader in can recycling — it might be easier to convince them to start recycling other materials as well.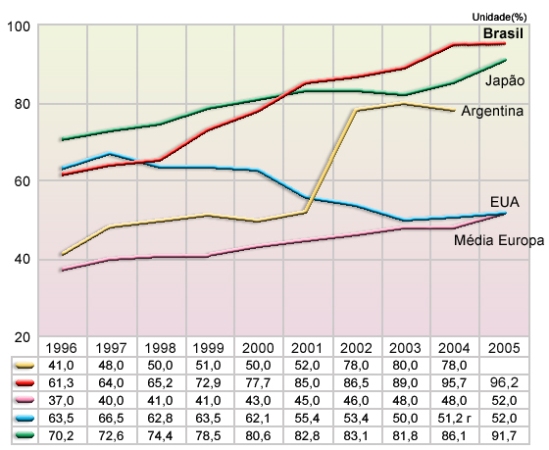 Source: ABAL
— Keith R
Tags: ABAL, aluminum cans, Argentina, banks, bars, Brasil, Brazil, catadores, Comlurb, drink cans, EUA, Europa, Europe, Finland, Finlandia, Japan, Japão, Japón, latas, Latasa, Norway, offices, packaging waste, reciclagem, reciclaje, recycling, resíduos de embalagens, residuos de envase, reverse vending machines, shopping malls, Suíça, Suiza, supermarkets, supermercados, Switzerland
2 Responses to "Quiz: Who is 5-Time World Champion Recycler of Aluminum Cans?"
Hellen Says:
February 28th, 2009 at 13:35

Thanks for posting this article.

I'd just like to point out that the last sentence in the last paragraph is somewhat misleading and inaccurate: "… and hearing that Brazil is a world leader in can recycling — it might be easier to convince them to start recycling other materials as well."

This suggests to readers that aluminum is the only thing being recycled in Brazil in significant numbers, which is far from the truth.

Recycling is a growing industry in Brazil, and although aluminum ranks at the top of the country's recycling list, Brazilians are recycling everything from paper and plastic (especially PET bottles) to hazardous materials such as old batteries and lamp bulbs, etc.

Aluminum recycling is not a temporary trend in Brazil, but part of much more complex phenomenon that involves various sectors of Brazil's society, such as government bodies, cooperatives and industry. Recycling is a relative new activity in Brazil, as it only started in the late 80's, but since then it has significantly grown to become a much more diverse and economically attractive activity.

According to CEMPRE – Compromisso Empresarial Para Reciclagem

In 2007 Brazil recycled:

– 79.5% of all corrugated cardboard consumed in the country,
– 38,1% of all office paper used nation wide (these include letter paper,forms, notepads, etc).
-47% of glass bottles,
-53% of PET bottles,
-49% of steel cans.

The data above indicates however, that although Brazil's taking some important steps towards a more sustainable approach on waste management and recycling policies, there is still great room for improvement, which hopefully Brazil will one day achieve.

Thanks!

H.

Keith R Says:
February 28th, 2009 at 17:07

Prezada Helen,
With all due respect, you take a single sentence from an old (2007) post here at The Temas Blog and completely misinterpret it.

Read the sentence again, please — I am saying that educators like to use aluminum can recycling as an example to exhort Brazilians to recycle other materials. That is true — I have heard it in person from many environmental educators in Brazil and from organizers of recycling campaigns in Brazil. I know many of them personally.

Nowhere, never did I say or imply that other materials are not recycled in Brazil. I know better than that! In fact, you quickly make quite a lot of assumptions about my supposed lack of knowledge about recycling in Brazil. If you took the time to read all my other posts about waste and recycling — about PET, aseptic packaging (Tetra Pak), glass, batteries, lamps, pesticide packaging, etc. — you would quickly realize that I know quite a bit about the subject and understand its social and economic complexities in Brazil and elsewhere in Latin America and the Caribbean. In point of fact, I am usually praising Brazil for its recycling efforts and talking about what aspects of its campaigns might and might not be used as models for other nations to emulate.

Also if you bothered to check my bio on the blog, you would find that I wrote a book about waste and recycling in Latin America!

And if you check with Andre Vilhena, Executive Director of Cempre, who I know well, he'd likely tell you that I have been dialoguing with Cempre since the mid-1990s and know their statistics very, very well. Indeed, I often cite those statistics and praise Cempre for its work — I more than most have probably made them well-known in the US.

Speaking of which, re-read carefully the very statistics from Cempre you cite. CAREFULLY!!!! Yes, Brazil recycles high percentages of aluminum cans, but not of all aluminum. Yes, Brazil recycles high percentages of glass bottles, but not of all glass. Yes, Brazil recycles high percentages of steel cans, not not of all steel. Yes, Brazil recycles high percentages of PET, but not of all plastic. Yes, Brazil recycles high percentages of office paper, but not of all types of paper. You see, the industry cites only the most favorable statistics from material sub-segments, and generally tends to gloss over the less favorable overall recycling figures. I understand the difference and have discussed it here many times so my readers are not misled by such figures. I hope that you have not been misled by them.

I do agree, though, that Brazil is making big strides in recycling and have said so many, many times here on The Temas Blog. I also agree that there is still room for improvement, and have pointed that out too. Mas, como um brasileiro como sou no coração, fico otimista.

I think before you jump to conclusions about me and my state of knowledge and start lecturing me, you need to do your homework first. I invite you to read more of The Temas Blog entries on waste and recycling and then decide whether or not I understand the subject.

Atenciosamente,
Keith
Leave a Reply