« Getting Toxics Out of Electronics: I Second the Motion | Home | Hearts and Minds in LAC »
By Keith R | October 31, 2006
Topics: Environmental Protection, Waste & Recycling | 11 Comments »
In Part I I looked at how some projects have sprung up in Latin America and the Caribbean (LAC) to convert those "empty" coconut husks discarded after agua de coco is served or bottled/packaged into useful products, such as flower pots, plant basket liners or "growing walls." But the market potential for such products may be finite, and there are far, far more useful and economically-viable products one can get from recycling coconuts. Here I look at a few.
If you came away from Part I thinking that the only products coconuts can be recycled into are flower pots, plant basket liners and growing walls, then you missed, skipped, ignored, overlooked or forgot the passage discussing the Brazilian Agricultural Research Corporation's (Embrapa) examination of alternative uses. Go back and check — I'll wait.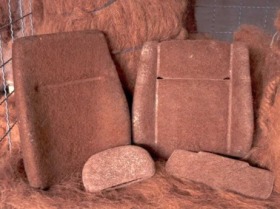 "Ahhhh yeeesss, the automobile seats!" you exclaim. Then it hits you that I also mentioned those in the "Husk Mountain" entry, didn't I? Go to the head of the class!
I'll tackle the car seats in a second. But first permit me to state the one conclusion I have come to since looking into coconuts and their recycling and the one I hope you'll carry with you once you finish this two-part look at the subject: coconuts may be one of those few products from which no waste need be generated. Most, if not all, of the coconut can be converted into useful and economically viable products or production inputs.
Can the coconut product life cycle become a shining example of the zero-waste ideal? I don't know enough yet about coconuts to say so, but they have potential, ladies and gentlemen, plenty of potential.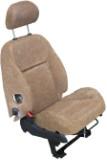 What's At Your Back?
Perhaps the best-known example of LAC coir ending up being used in motor vehicles belongs to DaimlerChrysler's Brazilian subsidiary [coir is the fiber that can be extracted from the coconut husk]. In 1992 — yes, you heard right, 14 years ago — Daimler-Benz do Brasil joined forces with UNICEF and the Federal University of Pará's (UFPA) Poverty and Environment in Amazônia (Pobreza e Meio Ambiente na Amazônia – POEMA) program in Belém (Pará's capital) to find ways to use natural fibers, resins and latex in vehicle parts.* The project started with making truck (lorry) headrests made of coir and natural latex on the island of Marajó. Now POEMA's incorporated successor, Poematec, provides coir-filled seats, headrests and sun visors for all the Mercedes-Benz commercial vehicles and Class A cars manufactured in Brazil, replacing plastics and foams such as polyurethane.
DaimlerChrysler do Brasil is justly proud of the program, and if you read Portuguese or don't mind the rough translation using Google or Altavista translation, check out their take on the program and their emphasis on recyclable parts.
Photo courtesy of Coco Verde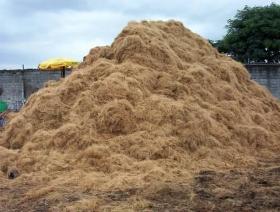 Since the European Union (EU) adopted its "end-of-life vehicle" (ELV) Directive in 2000 requiring more auto parts to be recyclable, other automotive manufacturers have taken an interest in doing likewise, and both Brazilian and Mexican manufacturers of coir products are seeking to capitalize on this.
The Incredibly Versatile Coir
In Part I you were introduced to garden products (pots, "growing walls," creeper poles, etc.) made with coir from recycled coconuts, and just now, automobile seats, visors and headrests made with coir. But that just scratches the surface of what can be done with the coir extracted from used coconuts! For example:
coir twine – either long ("bristle") or short fiber. A kind of rope can also be made from twining coir fibers.
car floor mats. One Mexican company already provides these to owners of Volkswagen minibuses and Beetles.
doormats made of coir fiber, sometimes mixed with jute yarn. If you visit homes in LAC nations much, chances are that at some point your feet passed over one of these. The ones you find at Home Depot in North America are mostly from Asia and tend to have vinyl or rubber backs; some of the ones being produced in LAC nations have woven or latex backs.
"geotextiles" – nets or wide-weave textiles made of coir fiber used for landscaping, soil stabilization or erosion control, because it will biodegrade over time.
carpet padding (the pad most people put beneath their carpets to make them last longer).
mattress fill – coir fiber mixed with latex, heated, pressed and vulcanized to make the bulk of mattresses. Although traditionally this is a market dominated by Asian producers, Poematec has decided to try its hand at it.
crib pads (check the tag on your baby's pad next time, you might be surprised).
shoe insoles — Poematec has been producing sheets of coir mixed with natural latex that can be cut into shoe soles for the domestic shoe producers, and is now exporting these to shoe manufacturers in Spain. Another Brazilian firm, Impec, offers an "ecologically correct" insole insert that combines coir with cotton to keep feet dry while "massaging" them (so Impec claims).
Other Coco Products
In Part I I discussed how the consumption of agua de coco generates a lot of waste coconuts. That's not the only food product from coconuts that results in recyclable waste. The cuisine of many, if not most, LAC nations features some coconut ingredient, whether dessicated (dried) coconut (what some call coconut flakes), coconut cream (leche de coco or leite de coco) or coconut oil. Ever had Jamaican "rundown" or gizzada, or Mexican coconut ice cream, or coconut flan, or the Dominican moro de grandules, pescado con coco, cocadas, conconete, arepas, or Brazilian quindins?
Think about how much coconut waste could be generated in bringing those foods to you. But they needn't be, since more than just the coir can be recovered to make other products. A few examples:
"coco peat" – powder (polvo de coco or pó de coco) resulting from the process of extracting coir fiber from the husk. It is used as a soil conditioner and peat moss substitute (particularly in Europe). Mexican producers are targeting the US and Japanese markets.
charcoal briquettes – made from the broken shell, used in barbecue grills, although in some countries also used for household heating or cooking. Coconut shells have a caloric value equivalent to wood, but a low ash content.
activated carbon – also made from the shell. Unlike charcoal made from wood or coal, coconut-derived charcoal is not chemically activated so it can be used in food processing.
Then there is the possibility of coconut waste as a biofuel. Coconut oil can be used as a straight vegetable oil (SVO) fuel — some experts, in fact, advocate using coconuts as a biofuel source over others (such as corn or rapeseed) because of their high oil yield per hectacre ratio. Or, as Embrapa proposes (see Part I), using the liquid residues from processing waste coconuts to generate electricity.
And When All Else Fails…
You can always use coconut shells for artesanal productions — unusual craft pieces such as the "coconut masks" featured in my favorite website on ecological projects among Brazil's poor, Ecopop (see photo). Embrapa and the university it is working with in the context of the Fortaleza project are trying to work with local artisans to develop "coco crafts." I have to wonder — why can't all tourism spots in LAC nations follow suit?
— Keith R
* Daimler-Benz is an interesting case study in using recycling of natural fibers to produce auto parts. For example, they also recycle used South American coffee sacks to combine their sisal with flax to make interior trim and acoustic insulation for their cars.
Tags: activated carbon, arepas, Belém, Brasil, Brazil, car seats, carpet padding, charcoal briquettes, cocadas, coco peat, coconut husks, coconuts, coir, conconete, crafts, creative recycling, crib pads, DaimlerChrysler, doormats, Ecopop, ELVs, Embrapa, European Union, floor mats, foams, geotextiles, headrests, Impec, latex, leche de coco, lorries, Marajó, Mercedes-Benz, Mexico, peat moss, pescado con coco, plásticos, plastics, pó de coco, POEMA, Poematec, poliuretano, polvo de coco, polyurethane, quindins, rope, shoe insoles, soil conditioner, Spain, trucks, twine, UFPA, União Europea, UNICEF, Unión Europea, Volkswagen
11 Responses to "Recycling Coconuts II: Need Anything Be Wasted?"
Leave a Reply