« The Dark Side of Scrap | Home | The Real Significance of the OAS Declaration of Panama on Energy »
By Keith R | June 21, 2007
Topics: Environmental Governance, Environmental Protection, Water Issues | No Comments »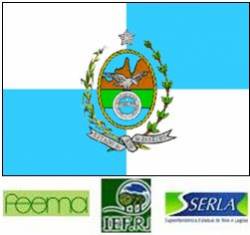 Synopsis in English: The governor of the State of Rio de Janeiro (RJ) has sent to the State Assembly (ALERJ) a bill to create am single agency — State Environment Institute (INEA) — to handle most implementation and enforcement matters involving environmental protection and management of the state's water resources. The agency would combine the existing State Environmental Engineering Foundation (Fundação Estadual de Engenharia do Meio Ambiente – FEEMA), the State Superintendency for Rivers and Lakes (Fundação Superintendência Estadual de Rios e Lagoas – SERLA), and the State Forestry Institute (Instituto Estadual de Florestas – IEF).
The new agency would take over all environmental licensing duties and most of the inspection/enforcement responsibilities. Environment Secretary Carlos Minc says that the hope is to make a stronger, more coherent, nimbler and less bureaucratic.
The bill would also largely decentralize licensing, putting most of it into the hands of nine regional units in places such as Campos, Ilha Grande Bay, Lagos, Médio Paraíba, Nova Friburgo and Resende. Minc hopes that ALERJ will approve it quickly so that the new Institute can be set up and running as early as January 2008. He has some cause for optimism: as a State Deputy, he chaired the Environment Committee for many years and still has many friends and allies in the Assembly.
Desde a Secretaria do Ambiente (SEA) do Estado de Rio de Janeiro (RJ):
Enviado à Alerj projeto de lei que cria o Instituto Estadual do Ambiente

Já está na Alerj para votação, desde sexta-feira passada (15/6), projeto de lei do Poder Executivo que cria o Instituto Estadual do Ambiente (Inea), a partir da unificação da Serla, do IEF e da Feema.

A unificação – idealizada pelo secretário estadual do Ambiente, Carlos Minc – tem por objetivo agilizar os trâmites na área ambiental, como, por exemplo, dos licenciamentos ambientais, com a diminuição da burocracia, e tornar a fiscalização mais rigorosa.

O PL prevê a criação de um plano de cargos e salários e de nove agências regionais para descentralizar licenciamentos e denúncias de crimes ambientais. Haverá a promoção de concurso público, até o fim do ano, com contratação planejada para janeiro de 2008.

– O concurso oferecerá 245 vagas para técnicos. Hoje nós temos três órgãos defasados em termos de pessoal, sem concurso há mais de 20 anos e sem presença no interior. Então queremos criar um órgão forte, com agências regionais na Região dos Lagos, na Baía de Ilha Grande, na Região do Médio Paraíba, de forma que o ecossistema seja defendido localmente – disse Carlos Minc.

Dentre as 245 vagas, 75 serão para profissionais de nível superior, com salários em torno de R$ 2 mil. Cargos como de químicos, biólogos, geógrafos, engenheiros de diversas categorias, dentre outros. Para nível médio, serão oferecidas 170 vagas para técnicos em química, em computação, dentre outros, com salário de cerca de R$ 1 mil.

Cerca de 90 dos profissionais concursados serão encaminhados para as nove agências regionais, para fortalecê-las. Haverá uma média de dez profissionais para cada uma, em regiões como Campos, Resende e Nova Friburgo. Apenas com a informatização do Inea, que já começou na Feema, a expectativa é de que o prazo de licenciamento ambiental seja reduzido em 45 dias. Com a implantação do Inea, não serão mais necessárias autorizações dos três órgãos.

– Em vez de três órgãos fracos, queremos implantar uma agencia ágil, moderna e informatizada. Cada interessado poderá acompanhar o processo de licenciamento por computador, eliminando a burocracia e a corrupção, defendendo o meio ambiente – afirmou o secretário.

Outra inovação do Inea, para impedir decisões arbitrárias ou suspeitas, é a de que os pedidos de licenciamento terão que ser decididos pela diretoria do instituto, com voto justificado, e não pelo seu presidente.

O Inea exercerá a função de executar as políticas estaduais do meio ambiente e de recursos hídricos. O instituto integrará, ainda, o Sistema Nacional do Meio Ambiente (Sinama) e os sistemas nacional e estadual de Gerenciamento de Recursos Hídricos.

– Queremos driblar essa dicotomia cruel entre a burocracia, que acaba sendo um atraso, e a necessidade de licenciamento, que é um instrumento de defesa da sociedade. Além disso, garantir concurso público é fundamental para oferecer licenciamento de qualidade – disse o secretário, destacando que espera que o Inea, que funcionará no prédio da Feema, em São Cristóvão, esteja operando até o final do ano.
Tags: ALERJ, Baía de Ilha Grande, biólogos, Brasil, Campos, Carlos Minc, crimes ambientais, engenheiros, environmental enforcement, environmental inspection, environmental licensing, FEEMA, fiscalização, geógrafos, IEF, INEA, licenciamento ambiental, licensamiento ambiental, Nova Friburgo, químicos, Região do Médio Paraíba, Região dos Lagos, Resende, Rio de Janeiro, SERLA
Subscribe to My Comments Feed
Leave a Reply