« All Public Entities in Colombia Must Switch to Efficient Lighting by 2008 | Home | Tapping Methane in Dam Reservoirs to Generate Electricity »
By Keith R | August 10, 2007
Topics: Environmental Governance, Environmental Protection | 1 Comment »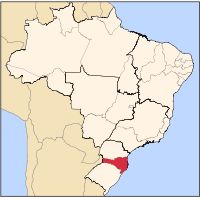 Recently the industry federation of the southern Brazilian state of Santa Catarina (SC) released the results of a special survey about SC-based industry's environmental concerns conducted with the help of the National Confederation of Industries (CNI). The survey updated one done in 2005 on the same issues. 131 companies responded to the 2007 survey.
Among other things, a majority of companies responding to the survey said that they experience delays in getting environmental licenses and excessive demands from regulators, that they take environmental management measures in order to comply with environmental regulations and/or company policies, and that they plan to make investments in environmental protection this year. The survey also suggests that companies are becoming more sensitive to the environmental concerns of their consumers.
SC, a small state of just over six million, is perhaps best known for its beautiful beaches and its strong agricultural sector. But half of its GDP is produced by industry and it boasts Brazil's fourth largest industrial sector, including ceramics, charcoal, crystal, food, furniture, metalworks, plastics and textiles.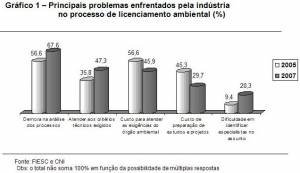 Environmental Licensing
In the survey, 78.6% of the respondents said that they must have environmental licenses, and of these, 71.8% have experienced some sort of problem in obtaining their license.
The most frequent complaint? Environment agency delays in analyzing their application, at 67.6%. This was followed (respondents were allowed multiple reasons) by:
dealing with the technical criteria demanded by the agency – 47.3%
the cost of meeting the agency's demands – 45.9%
the cost of preparing the studies and paperwork – 29.7% (down significantly from 2005)
the difficulty in identifying specialists on the issues their case treats – 20.3% (more than double the percentage in 2005).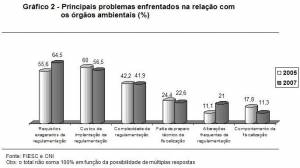 Dealing the Agencies in General
80.2% of the responding companies said that they have relations with an environmental agency, and 59% of those said that they have experienced some sort of problem at some point in the relationship.
The most frequent complaint? "Exaggerated requirements in regulations," at 64.5%. This was followed (respondents were allowed multiple reasons) by:
the costs of complying with environmental regulations – 56.5%
the complexities of the regulations – 41.9% (roughly the same response as 2005)
the lack of technical preparation by inspectors – 22.6%
too frequent changes in regulations – 21% (nearly double its 2005 response), and
the behavior of inspectors – 11.3%.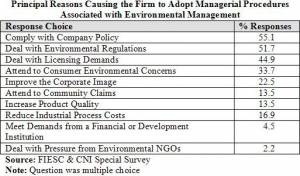 Company Environmental Management Procedures
When asked whether or not their company had adopted internal environmental management procedures, only 67.9% replied in the positive. The respondents were asked their motivations for adopting the measures, and allowed to provide multiple rationales. The top two reasons are not really a surprise — company policy (55.1%) and complying with environmental regulations (51.7%). The mixture of the others is interesting, though (click on table at right to enlarge). Notable is the sharp rise in respondents saying that they are meeting consumers' environmental concerns (23.9% to 33.7%). I think that this dovetails with what the recent PROCON-SP survey and GMI poll revealed about Brazilian consumers' attitudes about sustainable consumption.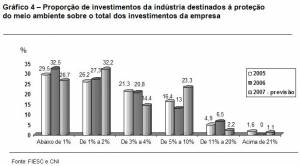 Industry Investment in Environmental Protection
Finally, asked if they planned to make investments in environmental protection during 2007, 68.7% said yes, up ten percentage points from the prior two years. When asked how much, expressed in terms of a percentage of their overall investments planned for 2007, 26.7% said that they would invest under 1%, 32.2% said they'd invest 1-2%, 14.4% said they intended to invest 3-4%, 23.3% replied that they expected 5-10%, followed by 2.2% intending 10-20% and 1.1% planning to earmark over one-fifth of their investments for environmental ends.
— Keith R
______________________________
Desde a Federação das Indústrias do Estado de Santa Catarina (FIESC):
Indústria catarinense está mais preocupada com o meio ambiente, mostra pesquisa

A preocupação da indústria catarinense com o meio ambiente cresceu nos últimos três anos, mostra a Sondagem Especial – Meio Ambiente, divulgada hoje pela Federação das Indústrias do Estado de Santa Catarina (FIESC). O principal problema nos processos de licenciamento, apontado por 67,6% das empresas, é a demora na análise pelos órgãos ambientais. Na sondagem anterior, realizada em 2005, 56,6% das empresas apontaram esta questão. A Sondagem Especial – Meio Ambiente contou com a participação de 131 indústrias.

O custo para atender às exigências dos órgãos ambientais deixou de ser a segunda preocupação das empresas e foi substituída pelas dificuldades em atender os critérios técnicos. Não são apenas as empresas catarinenses que estão preocupadas com o licenciamento. A 1ª Conferência da Indústria Brasileira para o Meio Ambiente, realizada semana passada em São Paulo com a participação da FIESC e representantes da indústria de todo o país, colocou o tema no topo das prioridades. Uma das proposições da indústria é instituir procedimentos mais rápidos de licenciamento ambiental, com cumprimento dos prazos definidos e sistemas de acompanhamento transparentes e informatizados, definindo-se, com critérios objetivos, a competência dos entes federados, dando enfoque à descentralização.

Se as indústrias catarinenses estão preocupadas com as dificuldades nos processos de licenciamento, também estão mais atentas à importância de investir na proteção ambiental. Enquanto em 2005 59,8% informaram investimentos em proteção ambiental, em 2007 68,7% declararam intenção de alocar recursos para esta finalidade. "A FIESC defende que as empresas considerem a sustentabilidade de seus negócios no longo prazo. E para isso devem levar em conta, além do aspecto econômico, também o social e o ambiental", diz o diretor de relações industriais, Henry Quaresma. "Temos ampliado a nossa participação no debate do tema com a sociedade, com destaque para a atuação das Câmaras de Qualidade Ambiental e de Desenvolvimento da Indústria Florestal", completa.

A sondagem mostra que 67,9% das indústrias adotaram procedimento gerencial associado à gestão ambiental. O principal motivo que levou a isso foi "estar em conformidade com a política social da empresa" (55,1%). Mas a resposta que mais cresceu, passando de 23,9% para 33,7% entre 2005 e 2007, foi "atender o consumidor com preocupações ambientais". "São dados que mostram como as empresas estão incorporando a preocupação ambiental em sua gestão e como o comportamento do consumidor é importante nesse sentido", avalia Quaresma.
Tags: Brasil, Brazil, CNI, encuesta, environmental licensing, environmental management, environmental regulations, FIESC, licenciamento ambiental, licensamiento ambiental, órgãos ambientais, PROCON, Santa Catarina, sondagem, survey
One Response to "Santa Catarina Industry Concerned About the Environment"
Suzy Says:
August 10th, 2007 at 9:32

Excellent article…..thanks for bringing this information to our attention.
Suzy
Leave a Reply