« Global Sustainable Tourism Criteria / Criterios Globales de Turismo Sostenible | Home | Promoting Organic Produce in Developing Countries / Facilitar la agricultura orgánica en los países en desarrollo »
By Keith R | October 8, 2008
Topics: Environmental Protection, Sustainable Tourism | No Comments »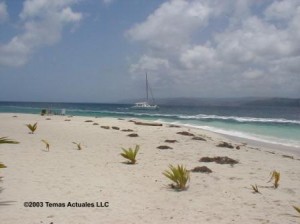 Mexico's Environment Minister, Juan Rafael Elvira Quesada, rejects the claims of some that tough enforcement of that country's environmental laws and regulations is harming tourism there.  He argues that respecting environmental law and tourism development can go hand-in-hand in Mexico.
Elvira Quesada points out that in the first 21 months of the Calderón Administration the Environment Secretariat (SEMARNAT) authorized 71 (out of 133 proposed) tourism projects worth 72.2 billion pesos in total, about 86% of the value authorized during the entire six years of the prior Fox Administration.  Requests for reviews of environmental impacts for tourism projects have increased 30% during the same period.
Also during that period SEMARNAT checked the compliance of 464 projects involving tourism or infrastructure related to tourism, and has held, together with the Tourism Secretariat (SECTUR), the Federal Environment Prosecutor's office (Profepa) and the National Fund to Promote Tourism (Fonatur), 77 meetings with governors, investor groups, mayors, companies and diplomats regarding the application of environment rules to the tourism sector.  "We're not blindly authorizing any project and in all of them the priority is caring for the environment."
Elvira Quesada announced that, in order to simply the process of getting tourism projects approved, SEMARNAT is creating a special one-stop "window" that can provide all information on applicable norms, procedures, forms, etc. from all levels of government — federal, state and municipal.  The ventana única will begin on a pilot basis by year-end in the state of Quintana Roo.
________________________
Desde la Secretaría de Medio Ambiente y Recursos Naturales (SEMARNAT):
El respeto a las leyes ambientales también permite el desarrollo turístico: Semarnat

El titular de la dependencia señaló que cada vez son más los inversionistas que presentan proyectos sustentables
La inversión en la presente administración representa el 86 por ciento de lo invertido en todo el sexenio pasado

En los primeros 21 meses de la gestión del Presidente Felipe Calderón, la Secretaría de Medio Ambiente y Recursos Naturales ha autorizado proyectos turísticos que ascienden a poco más de 72 mil millones de pesos, lo que representa el 86 por ciento de la inversión que se realizó en este ramo durante el sexenio pasado.

Esto, aseguró el titular de la Semarnat, Ing. Juan Rafael Elvira Quesada, es un indicativo de que el sector empresarial está cada vez más dispuesto a presentar sus proyectos, respetando los ecosistemas, la riqueza natural del país y las leyes ambientales.

En este sentido, señaló que la dependencia a su cargo, desde el 1 de diciembre del 2006 hasta agosto de este año, ha llevado a cabo alrededor de 77 reuniones con gobernadores, inversionistas, presidentes municipales, empresarios y diplomáticos de otros países, a través de un grupo de trabajo en el que también participan la Secretaría de Turismo (Sectur), la Procuraduría Federal de Protección al Ambiente (Profepa), el Fondo Nacional de Fomento al Turismo (Fonatur) y la oficina de la Presidencia de la República.

"Con estas reuniones de trabajo se busca asesorar y dar consultoría gratuita a los inversionistas, y en general a cualquier ciudadano, con la finalidad de que, desde un principio, sus proyectos no causen afectaciones ambientales y, por el contrario, permitan que la inversión y la sustentabilidad puedan convivir creando empleos y trabajando ordenadamente en una región".

Elvira Quesada informó que en lo que va de la presente Administración, la Semarnat, a través de sus oficinas centrales, ha atendido 464 proyectos turísticos y de infraestructura vinculada con el turismo, lo que significa que México es un país atractivo para los inversionistas y el Gobierno Federal busca que el desarrollo de este sector se apegue estrictamente a las leyes ambientales.

Por su parte, el Subsecretario de Gestión y Protección al Ambiente de la Semarnat, Mauricio Limón Aguirre, indicó que las solicitudes de impacto ambiental para proyectos turísticos se incrementaron un 30 por ciento al año con respecto a la administración pasada.

Explicó que los poco más de 72 mil 204 millones de pesos que se han invertido en nuestro país en materia turística, corresponden a 71 proyectos autorizados por la Semarnat, de 133 que han sido atendidos, lo que refleja que más de la mitad de ellos se apegan a la normatividad y a la Ley General de Equilibrio Ecológico y la Protección al Ambiente, ya que, aseguró, la Semarnat "no autoriza a ciegas ningún proyecto y en todos la prioridad es el cuidado del medio ambiente".

El funcionario anunció que con el objetivo de simplificar el proceso de autorización de proyectos, la Semarnat instalará una ventanilla única en la que se coordinarán los tres órdenes de Gobierno para dar información a inversionistas, como disposiciones legales, formatos, requisitos, etc., así como para dar orientación y asesoría especializada, y determinar la prefactibilidad para el desarrollo de los proyectos.

Al respecto, el Secretario de Medio Ambiente dijo que dicha ventanilla será una prueba piloto que se llevará a cabo en Quintana Roo antes de que concluya el año, la cual permitirá abreviar tiempos, asegurar que la inversión no se vaya de México, que tengamos un cumplimiento ambiental en todas las esferas, que se haga rápido y de manera eficiente y, lo más importante, eliminar cualquier indicio de corrupción durante el proceso de autorización de proyectos.

"Lo que queremos es juntar la esfera municipal con el gobierno del estado para que en una misma ventanilla, en un mismo escritorio, se expidan todos los permisos de manera tal que no haya complicaciones de un punto de vista federal en contra de uno municipal, o de un estatal en contra de otra esfera de gobierno", apuntó finalmente.
Tags: environment, Fonatur, Juan Rafael Elvira Quesada, medio ambiente, Mexico, Profepa, Quitana Roo, SECTUR, SEMARNAT, Sustainable Tourism, tourism, turismo, turismo sostenible, ventana única
Subscribe to My Comments Feed
Leave a Reply