« Combatting Deforestation I: How Bad Is It in LAC? | Home | Another Poll Suggests LAC Takes Climate Change Seriously »
By Keith R | March 15, 2007
Topics: Corporate Social Responsibility, Economics & the Environment, Environmental Protection, Sustainable Agriculture | No Comments »
My question: if this project is really to set environmental benchmarks for this sector in Brazil, why does the IFC only speak about deforestation? Granted, it is a critical issue in the Amazonian context, but what about reduction/minimization/reuse/recycling of the substantial wastes such operations entail, or steps taken to reduce the methane (a potent greenhouse gas) emissions associated? How about it, IFC?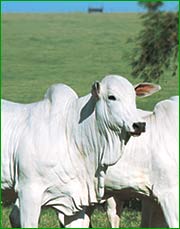 From the International Finance Corporation (IFC):
Project to set new benchmark for environmental and social standards in cattle ranching and meat processing in the Amazon

Today IFC announced approval by its board of a loan to Bertin, Brazil's second-largest meat processing company. The project allows IFC an opportunity to partner and engage a leading private sector company in tackling the most serious environmental and social issues facing the Brazilian Amazon. The project supports World Bank Group strategy for Brazil to support improved productivity and social and environmental responsibility of large-scale livestock and agricultural enterprises and small-scale farming in deforested areas.

The $90 million loan will support Bertin's corporate investment program to expand and modernize its operations across the country and help it develop a system, the first of its kind in Brazil, to ensure that Bertin's cattle is sourced from ranchers that use sustainable practices and do not contribute to increased deforestation of the Amazon. The project will adhere to IFC's environmental and social performance standards.

Bertin and IFC engaged in extensive consultations with local and national civil society organizations over the past year. The evaluation process included a thorough assessment of the direct and indirect impacts that the expansion of Bertin's meat processing plant in Maraba, in Para state, could have on deforestation and assessed how this project can be used to address social issues like forced labor and agrarian violence. IFC looks forward to continued engagement with the local community and civil society.

A substantial technical assistance program, jointly financed by IFC and Bertin, is a key element in assisting Bertin's suppliers to implement good agricultural practices in that region. This will result in more efficient use of pasture land, and ultimately raise suppliers' income and reduce pressure on critical forest resources. IFC has developed with Bertin a cattle purchasing procedure to ensure that the company's cattle suppliers in the Amazon region abide by a rigorous list of environmental and social requirements. IFC believes that careful monitoring and supervision will be key to the successful implementation of this project.

"There is a real need to reconcile the economic development of the Amazon with its environmental conservation," said Atul Mehta, IFC's Director for Latin America and Caribbean Region. "The cattle raising industry is an important component of the economic activity in the Amazon. By engaging with Bertin, IFC is seeking to develop new standards for dealing with some of the environmental and social challenges in this sector."

Mr. Jean-Paul Pinard, Director of IFC's Agribusiness Department said "We look forward to working closely with Bertin as they implement the project, thereby helping to establish sustainable standards for the Brazilian meat industry."

For Douglas de Oliveira, Grupo Bertin's Chief Financial Officer, IFC's loan attests to the company's commitment to sustainability. "No other investment bank is as strict as IFC on economic, environmental, and social assessments. Grupo Bertin wants to become a standard setter in sustainable development. We are making a long term commitment, in which we hope to engage not just IFC but all stakeholders. We are confident that we are helping bring about a new paradigm for the Brazilian cattle industry."

Bertin's project complements the activities that the World Bank is developing in the Amazon. Pará Rural, for example, is a project supported by the Bank that seeks to join sustainable production and generation of income, while at the same time creating solid land and structural bases for the integrated development of the State of Pará and the consolidation of the agricultural frontier.

ABOUT BERTIN

The Bertin Group is a diversified company operating in the agribusiness sector (meat, leather, food processing and biodiesel production), personal protection equipment, industrial cleaning products and infrastructure (electricity generation and transportation management). Established 30 years ago, Bertin now has 30 production units distributed throughout the country that generate 30,000 direct jobs.
Desde a Corporação Financeira Internacional (IFC):
Projeto busca estabelecer "benchmark" para padrões de desempenho social e ambiental para a pecuária e processamento de carnes na Amazônia

A IFC anunciou hoje a aprovação, pelo seu Conselho de Diretores, de um empréstimo para a Bertin, o segundo maior frigorífico do Brasil. O projeto é uma uma oportunidade para a IFC engajar-se com uma empresa líder do setor privado para buscar soluções às sérias questões ambientais e sociais na região amazônica. O projeto apoia a estratégia do Grupo Banco Mundial no Brasil de fomentar a produtividade e melhoria da responsabilidade sócio-ambiental de grandes empresas agrícolas e ligadas à pecuária, bem como de pequenos produtores, em áreas desmatadas.

O empréstimo de US$ 90 millhões vai apoiar o programa de investimentos corporativos da Bertin para expansão e modernização de suas operações em todo o país e ajudar a empresa a desenvolver um sistema, o primeiro desta natureza no Brasil, que assegurará que o gado comprado pela Bertin venha de produtores que usam práticas sustentáveis e que não contribua para o aumento do desmatamento da Amazônia. O projeto vai seguir os padrões de desempenho ambientais e sociais da IFC.

A Bertin e a IFC se engajaram em consultas extensivas com organizações da sociedade civil do Pará bem como organizações nacionais. A processo de avaliação do projeto incluiu uma análise completa dos impactos diretos e indiretos que a expansão da produção do frigorífico da Bertin, em Marabá, no estado do Pará, poderia ter no desmatamento; e ainda avaliou como este projeto poderia tratar questões sociais, tais como trabalho forçado, violência agrária e a necessidade de melhorar a densidade do rebanho em áreas já degradadas. A IFC espera continuar este diálogo com as comunidades locais e a sociedade civil.

Um programa significativo de assistência técnica, financiado conjuntamente pela IFC e o Bertin, vai ajudar seus fornecedores, grandes e pequenos, a implementar boas práticas agrícolas na região de Marabá. Estas medidas resultarão num uso mais eficiente do pasto, e eventualmente num aumento na renda dos fornecedores, enquanto ajudará a diminuir a pressão sob áreas críticas da floresta.

A IFC desenvolveu junto à Bertin um procedimento de compra de gado que garante que os fornecedores da companhia na região Amazônica cumpram com uma lista rigorosa de requerimentos sócio-ambientais. A IFC acredita que um cuidadoso monitoramento e supervisão serão essenciais para o sucesso da implementação deste projeto.

"Existe uma necessidade real de conciliarmos o desenvolvimento econômico da Amazônia e sua conservação ambiental," disse Atul Mehta, Diretor para a Região da América Latina e Caribe da IFC. "A indústria pecuária é um componente importante da atividade econômica na Amazônia. Através do engajamento com a Bertin, a IFC está buscando desenvolver novos padrões para lidar com os desafios sócio-ambientais neste setor."

Jean-Paul Pinard, Diretor do Departamento de Agronegócios disse, "Estamos aguardando ansiosamente a oportunidade de trabalharmos junto ao Bertin, na implementação deste projeto, ajudando a estabelecer portanto, padrões de sustentabilidade para a indústria brasileira de carne".

Para Douglas de Oliveira, Diretor Financeiro do Grupo Bertin, o empréstimo da IFC atesta que a empresa está de fato comprometida com a sustentabilidade. "Nenhum outro banco de investimentos é tão criterioso quanto a IFC em suas análises econômicas e sócio-ambientais. Pioneiro no setor, o Grupo Bertin quer ser uma referência em desenvolvimento sustentável, principalmente em regiões que demandam maior atenção como a Amazônia. É um trabalho de longo prazo, que envolverá não só a instituição e a empresa, mas também engajará organizações da sociedade civil. Estamos totalmente confiantes em ajudar a criar uma nova cultura na pecuária brasileira".

O projeto Bertin complementa as atividades que o Banco Mundial está desenvolvendo na Amazônia. O Pará Rural, por exemplo, é um projeto apoiado pelo Banco Mundial que busca conciliar a produção sustentável e a geração de renda, enquanto cria, ao mesmo tempo uma base fundiária e estrutural sólida para o desenvolvimento integrado do estado do Pará, e para a consolidação da fronteira agrícola.

SOBRE A BERTIN

O Grupo Bertin é uma holding, de capital 100% nacional, que atua nos setores de agroindústria (Agropecuária, Alimentos, Biodiesel, Couros, Cosméticos, Equipamentos de Proteção Individual, Higiene e Limpeza e Higienização Industrial) e infra-estrutura (Construção Civil, Energia Elétrica, Saneamento Básico e Transporte), contando ainda com um Resort. Com 30 anos de operação, possui 30 unidades produtivas distribuídas pelo País, que geram 30 mil empregos diretos. Suas atividades estão voltadas ao mercado interno e a mais de 80 países nos cinco continentes.
Tags: agribusiness, agroindústria, agropecuária, Amazon, Amazonia, benchmarking, Bertin, boas práticas agrícolas, Brasil, Brazil, cattle ranching, deforestation, desmatamento, fornecedores, frigorífico, good agricultural practices, IFC, livestock, Marabá, meat processing, Pará, pasture land, pecuária, suppliers, sustainability
Subscribe to My Comments Feed
Leave a Reply