« Is Meeting the MDGs for Water & Sanitation Good Enough? | Home | Organismo Andino de Salud desarrollará acciones en cuatro áreas prioritarias »
By Keith R | September 28, 2006
Topics: Climate Change, Corporate Social Responsibility, Design for the Environment (DfE), Environmental Education, Environmental Protection | No Comments »
I ran across a news brief about this contest the other day over at Treehugger. if you're not familiar yet with Treehugger, you should check it out. A great site on ecological issues and thought, particularly eco-design and environmentally friendly products and services. [And no, they did not pay me to say that!]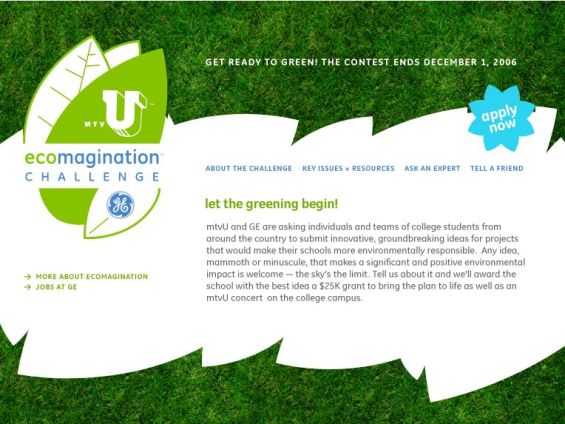 General Electric (GE) and mtvU (a college-focused project of music video empire MTV) are co-sponsoring a contest to prompt college students to submit innovative ideas for making their schools more environmentally responsible. The top ten finalists will be showcased on MTV, while the winners will get a US$25,000 grant for their school and a free music concert for their college campus sponsored by MTV to be held on Earth Day 2007.
The sponsors say that the contest entries will be judged on:
Ecology
Will the project limit contributions to global warming? Will it conserve water or cut down on energy use?
Imagination
In what cool and unique way can you protect our planet? Something technical? Artistic? Marketable?
Economics
How much will the project cost? Will the benefits outweigh the costs? How will it get done? Who are the players? What is the timeline?
What does all this have to do with Latin America and the Caribbean (LAC), you ask?

Actually, in a way, that question is related to what I was wondering: why is this contest limited to the US?

Let's take LAC, for example. MTV is shown on cable and satellite television systems throughout LAC nations. GE has operations in Argentina, Brazil, Chile, Mexico, Peru and Venezuela, and given their product line and particularly their Ecomagination lines, they should be interested in many more LAC nations, if not all.

So why not open the challenge to regional competition? Or do something similar for universities in LAC nations?

Why not foment LAC university interest in green issues? Why not promote more interest among LAC university faculty and students in eco-design, and in making their own universities more environmentally responsible?

US$25,000 is small potatoes for MTV and GE, but that (plus a free concert with Shakira or Maná or some Hip-Hop superstar) would be very welcomed by many LAC universities.

If GE is not interested, then maybe MTV can recruit another multinational with broad interest in the LAC market and promoting green values.

How about it, MTV?

— Keith R
Tags: calentamiento global, conservación del agua, Ecoimagination, energy conservation, GE, global warming, MTV, Treehugger, uso racional de energía, water conservation
Subscribe to My Comments Feed
Leave a Reply