« New Rules for Used Oil Recycling in Brazil | Home | Trends in Adult Smoking in Mexico »
By Keith R | September 23, 2007
Topics: Environmental Protection, Waste & Recycling | No Comments »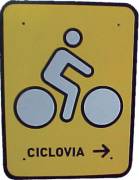 The next time you're in the city of Rio de Janeiro, take a closer look at that street, metro or park sign you're passing. Chances are good that you'll discover that it's made of recycled plastic, rather than metal like traditional signs are.
In August the city mayor issued a decree ordering all organs associated with the city, whether under direct or indirect control, a foundation or other relatively autonomous entity (such as COMLURB), to change all informative plaques installed in plazas, parks, bicycle paths (ciclovias), "ecological signage," general signage, traffic, identification of public works and more to those made with recycled PET (rPET). In essence, this means that eventually all of Rio's numerous parks, its miles of streets and bike paths, metro stations, bus stops, and public beaches and buildings will bear signs made of rPET.
The decree allows for gradual shift to the new signs, but all affected bodies must at least begin the shift by October.
Reportedly several other major Brazilian municipalities are studying following this example of encouraging a stronger end market for rPET.
Tags: bicycle paths, bus stops, ciclovias, ecological signage, metro stations, plaques, public beaches, recycled PET, recycled plastic, Rio de Janeiro, rPET, signs
Subscribe to My Comments Feed
Leave a Reply